Dax Shepard Joins The Cast Of 'The Ranch' After The Danny Masterson Allegations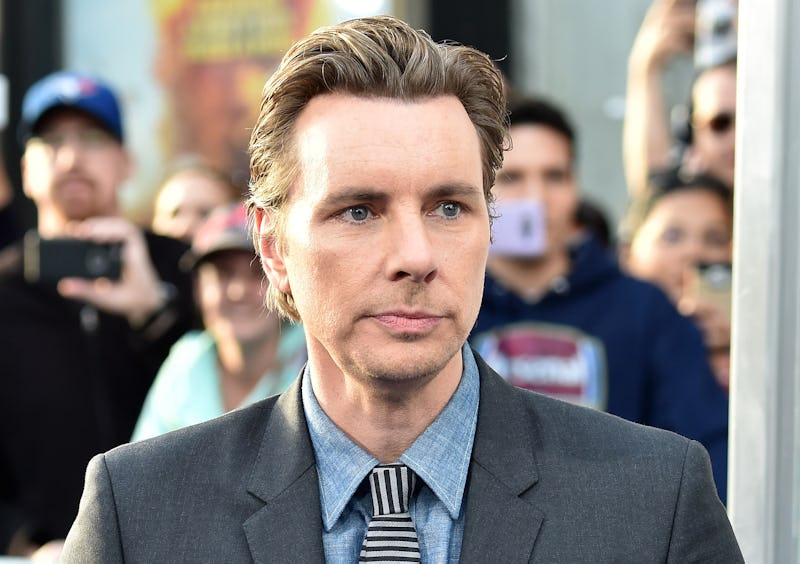 Frazer Harrison/Getty Images Entertainment/Getty Images
The Ranch lost a major character after Netflix fired Danny Masterson due to sexual assault allegations, but the show has found someone new to help fill that void. Deadline reported that Dax Shepard has joined The Ranch for a portion of Season 3. The Parenthood and CHiPS actor is set to be a recurring guest star on the series that follows the Bennett family who runs the Iron River Ranch in Colorado. No release date for Season 3 of The Ranch has been announced yet, and it's still not known how Masterson will be written off the show, but Shepard acting alongside Ashton Kutcher, Sam Elliot, Debra Winger, and Elisha Cuthbert proves that the show will go on.
Masterson has been accused of rape by five women and, although he has denied all allegations and has not been charged, he was under investigation by the Los Angeles Police Department in 2017. Netflix ultimately decided to remove Masterson from The Ranch in December 2017. Through his representative Jenni Weinman, Masterson issued the following statement to Bustle at the time of his firing:
"I am obviously very disappointed in Netflix's decision to write my character off of The Ranch. From day one, I have denied the outrageous allegations against me. Law enforcement investigated these claims more than 15 years ago and determined them to be without merit. I have never been charged with a crime, let alone convicted of one. In this country, you are presumed innocent until proven guilty. However, in the current climate, it seems as if you are presumed guilty the moment you are accused. I understand and look forward to clearing my name once and for all. In the meantime, I want to express my gratitude to the cast and crew that I've worked so closely with over the past three seasons. I wish them nothing but success. I am also so thankful to the fans that have supported me and continue to do so."
Currently, The Ranch has 40 episodes — or four parts — with each season containing two parts. Masterson will appear in the forthcoming first half of Season 3 (or the fifth part) with Shepard's character to be introduced in the second half (or sixth part).
On The Ranch, Masterson and Kutcher play brothers Rooster and Colt. And, oddly enough, Kutcher is no stranger to an actor replacing another actor on a TV series, since he did it for Charlie Sheen in Two And A Half Men. (Deadline noted that the creators of The Ranch also worked on the CBS sitcom.) Yet Shepard's character isn't necessarily going to replace Masterson's Rooster since he didn't sign on as a series regular. Instead, Shepard will guest star for multiple episodes as Luke Matthews, a former soldier who has a connection to the titular ranch. He'll apparently quickly get along with Colt and his no-nonsense dad Beau (played by Elliott), but "Luke's past has a way of catching up with him," Deadline reported.
While Masterson and Kutcher had previously worked together on That '70s Show, Kutcher and Shepard also share a few connections. Shepard pulled pranks on Kutcher's Punk'd back in the early 2000s and Kutcher appeared in Shepard's 2010 movie Brother's Justice. Plus, Kutcher's wife Mila Kunis and Shepard's wife Kristen Bell have starred together in Forgetting Sarah Marshall and the Bad Moms movies. After the announcement of Shepard's casting, Kutcher shared a photo of the two of them from The Ranch set on his Instagram. "Reunited with an old buddy," Kutcher wrote.
Beyond The Ranch, it was announced earlier in March that Shepard signed on to star in a FOX pilot. As Variety reported, Shepard will costar with Lake Bell (no relation to Kristen) as newlyweds in the comedy series Bless This Mess. And it sounds like the show could potentially fill the New Girl hole in your life since it's co-created by Lake Bell and New Girl creator Liz Meriwether. But it also means that Shepard most likely doesn't have time to be a series regular on The Ranch.
So while there will still be episodes with Masterson to come, Shepard's character in the sixth part will mark some new terrain for The Ranch.
If you or someone you know has been sexually assaulted, call the National Sexual Assault Telephone Hotline at 800-656-HOPE (4673) or visit online.rainn.org.