Dean From 'The Bachelorette' Can't Stop Channeling Justin Timberlake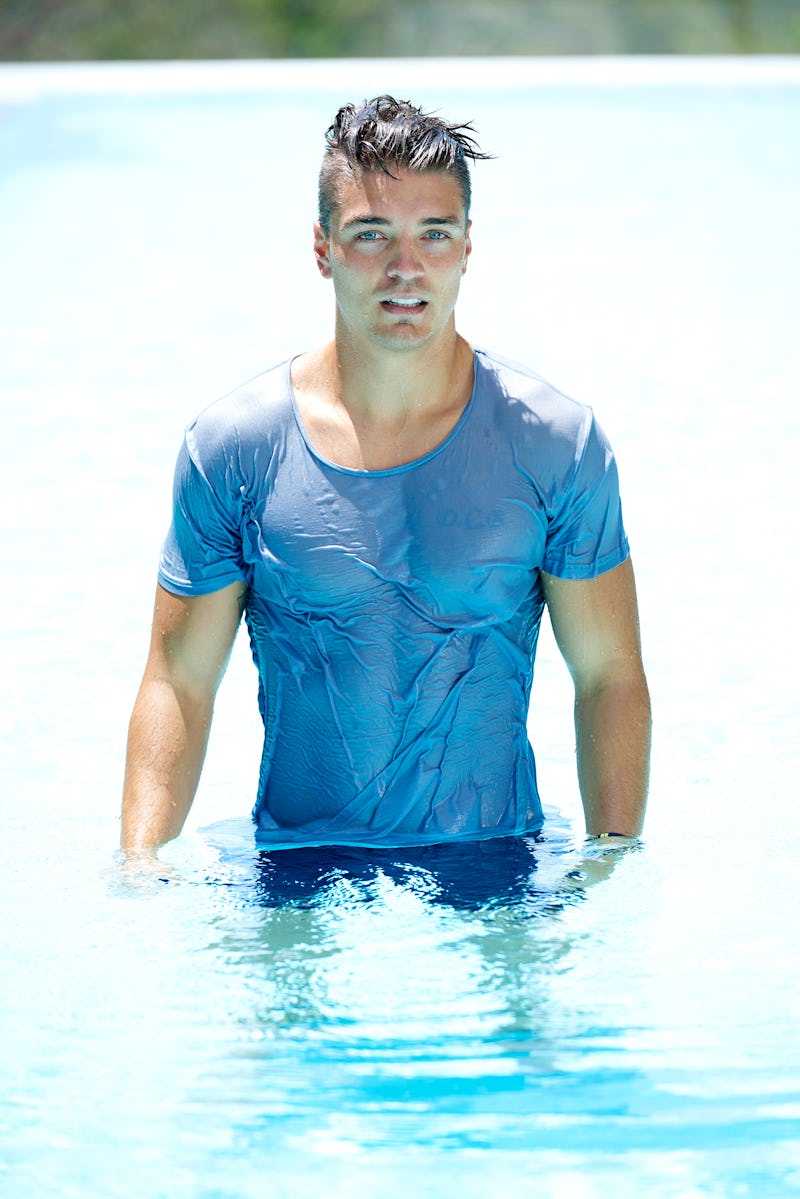 ABC/Bob D'Amico
Over a decade ago, a former member of *NSYNC appeared on the cover of Rolling Stone in a wet shirt, the drenched cotton clinging to his arms and torso. It's a very good cover. And thanks to a photo that ABC released earlier this week, my brain is now stuck on that JT Rolling Stone cover like a sopping tee on a pop superstar. In the picture, Bachelor in Paradise star Dean Unglert stands in a body of water, his shirt as soaked as it is fitted. All of this leads to a pressing question: Is Dean from The Bachelorette intentionally channeling Justin Timberlake, or is this nothing more than a happy coincidence?
No, Timberlake did not invent standing in front of a camera in a drenched top. There are many who stood in front of a camera in a drenched top before Timberlake, and there have been many since. That being said, the JT vibes of this particular photograph are strong. So much so, I felt compelled to scour the BiP contestant's Instagram account for any other JT-esque moments. And what do you know, the vibes did not lead me astray: The drenched top pic is just one of several Unglert posts that remind me of the "Cry Me A River" singer.
Speaking of rivers, ready to hop on a raft and float down a stream that's headed toward an embankment where I will pick up a stick and draw connections between Timberlake and Deanie Babies in the sand? Because that's what's about to happen. So, jockstrap in.
This "Suit & Tie" Look
Before the Men Tell All episode aired, Unglert posted a pic of this very Timberlake outfit. And so, it made the list.
Of course, JT wasn't the first person on the planet to put on a bow tie and a suit jacket with a contrasting lapel, but we're only getting warmed up.
This Golf Post
Oh, Unglert likes to hit the links? Well, guess who "doesn't just love golf, he lives it."
Yes, the answer rhymes with "Flustin Flimberlake."
This Charlie Chaplain Wall
Did Unglert stick his motorbike in front of this particular backdrop simply because he thought it'd make for a highly likable Instagram post?
Or was this pic in front of the Charlie Chaplain mural a deliberate nod to Timberlake's performance in *NSYNC's "Gone" music video?
This Ellen DeGeneres Show Moment
Before Deanie Babies was on The Bachelorette, he appeared on The Ellen DeGeneres Show as Random Audience Member Dancing Next To Will Smith.
Do you know who else has been on Ellen? Timberlake. Dude's been on the daytime talk show, like, a bajillion times. We see what you're doing, Deanie Babies.
His Instagram Handle
On the outset, the Instagram handle @deanie_babies appears to be a play on Ty Beanie Babies. .... But what if it's something else?
What if it is actually an incredibly specific reference to a certain bean-filled toy bear that happens to be clad in a T-shirt with Timberlake's face on it?
And Finally, The Picture That Kicked Off This Journey
Earlier this week, Unglert shared this BiP promo pic on Instagram. In 2006, this image graced newsstands:
Like Timberlake before him, Deanie Babies smized for the camera whilst wearing a wet shirt.
Sure, each of these "parallels" may be a coincidence/a reach/farfetched/totally ridiculous. And yet, it seems like he can't stop the JT feeling. So just Dean, dance, dance.