Deborah Ramirez's Lawyer Called The FBI Investigation Into Kavanaugh A "Failure"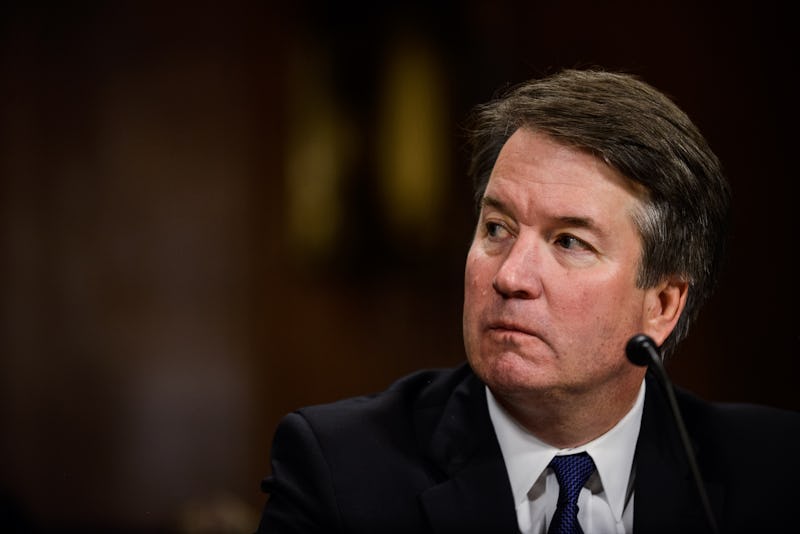 Pool/Getty Images News/Getty Images
Just days after Donald Trump authorized the FBI to expand its investigation of Brett Kavanaugh, the White House sent the FBI's report to the Senate Judiciary Committee Thursday with the belief that the Senate would vote to confirm the Supreme Court nominee. But Democrats have slammed the FBI investigation as a "sham" and "cover up," and an attorney for Deborah Ramirez — the second woman to come forward with an allegation of sexual misconduct — argued that the FBI's investigation of Kavanaugh was incomplete.
In a two-page letter sent to FBI Director Christopher Wray on Thursday, William Pittard, Ramirez's lawyer, argued that the FBI had concluded its probe after four days "without permitting its agents to investigate." According to Pittard, Ramirez had provided the FBI with a list of more than 20 witnesses, some of whom she suspected would be able to corroborate her allegation. Pittard went on to name some of these witnesses, and told Wray that the FBI never reached out to them for an interview.
"We are deeply disappointed by this failure," Pittard wrote. "We can only conclude that the FBI — or those controlling its investigation — did not want to learn the truth behind Ms. Ramirez's allegations."
Ramirez's allegation first became public in a New Yorker article, a week after Christine Blasey Ford spoke publicly for the first time about her own allegation against Kavanaugh, which Kavanaugh unequivocally denied. Ramirez was a student at Yale alongside Kavanaugh, and she alleged that Kavanaugh had exposed himself and thrust his penis in her face during a college dormitory party. Kavanaugh denied the allegation, arguing in a statement that the event in question had never occurred.
According to a statement issued by Senate Judiciary Committee Chairman Chuck Grassley, the committee received a report about the FBI's investigation at 2:30 a.m. on Thursday. The report is only available as a hard copy, Time reported, and is located within the Sensitive Compartment Information Facility in the Capitol. Only senators and certain staff members have been cleared to view the report. Grassley argued that the report uncovered "no hint of misconduct," but Democrats have accused the Trump administration of directing the probe, and suggested that it was not a thorough investigation.
In his letter to Wray, Pittard argued that FBI agents would have uncovered extensive corroboration of Ramirez's allegation had they been "permitted to investigate." Ramirez, meanwhile, told The New Yorker that the FBI didn't seem particularly willing to seek corroboration.
"I am very alarmed: first, that I was denied an F.B.I. investigation for five days, and then, when one was granted, that it was given on a short timeline and that the people who were key to corroborating my story have not been contacted," Ramirez told The New Yorker. "I feel like I'm being silenced."
Among the people the FBI reportedly did not interview were former Yale students who claimed to have information about the alleged incident Ramirez described. Kenneth G. Appold, who was a suitemate of Kavanaugh's at the time, told The New Yorker that he could corroborate Ramirez's account despite not knowing her well in college. Pittard also cited Richard Oh — now an emergency room doctor in California — as another witness to whom the FBI did not reach out.
After receiving the FBI report, Senate Republicans still plan to begin voting on Kavanaugh's confirmation Friday, CBS News reported, with final votes slated to take place on Saturday.
Read More About Brett Kavanaugh's Confirmation Process
Here's What Will Happen Next If Kavanaugh Is Confirmed To The Supreme Court
You Can Now Read Kavanaugh's Entire High School Yearbook — And What He Wrote In It
The Video Of Christine Ford's Opening Statement Is Gut-Wrenching
Trump Mocked Christine Blasey Ford In Front Of Thousands Of People
11 Brett Kavanaugh Petitions You Can Sign To Let Senators Know Where You Stand
How To Contact Joe Manchin, Susan Collins, & Other Possible Kavanaugh Swing Voters