Demi Lovato's Tweets About Her Grammy Nom With Christina Will Give You All The Feels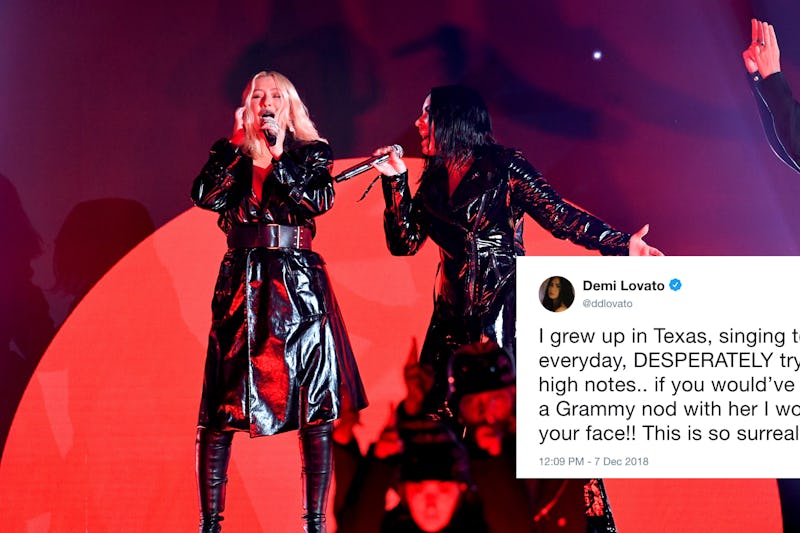 Kevin Winter/Getty Images Entertainment/Getty Images; Demi Lovato/Twitter
Demi Lovato just earned her second Grammy nomination, but the pop star is keeping the focus on another legendary singer instead. Lovato praised Christina Aguilera over their joint Grammy nomination, and it's clear she has so much respect for her fellow recording artist.
The 2019 Grammy nominees list includes a Best Pop Duo/Group Performance nod for Aguilera's song "Fall in Line," which features Lovato. In a tweet on Friday morning, the "Sober" singer shared just how much it meant to her to perform with Aguilera. Lovato wrote that she grew up listening to Aguilera's music and what a milestone this really is. She tweeted,
"I grew up in Texas, singing to @xtina everyday, DESPERATELY trying to hit her high notes.. if you would've told me I'd have a Grammy nod with her I would've laughed in your face!! This is so surreal.."
In an earlier tweet, Lovato wrote that her and Aguilera's nomination proved that "dreams come true," writing,
"Woke up filled with hope. Dreams come true y'all... thank you @xtina. I love you so much."
The first tweet also includes a screenshot from Lovato's Instagram Story, where she shared a screenshot of the full list of Best Pop Duo/Best Group Performance nominees. "Can't believe I'm nominated for a Grammy with someone I grew up singing to... my idol forever," Lovato wrote on Instagram.
Aguilera retweeted Lovato's original message, adding in some words of praise for her collaborator. The "Fighter" singer tweeted,
"You deserve it all and getting to work with you was its own award for me @ddlovato. There's no one I'd rather share this with!!"
In 2016, Lovato's album Confident was nominated for Best Pop Vocal Album, but Adele's 25 took home the Grammy that year. Aguilera, meanwhile, has 20 Grammy nominations under her belt, along with five wins. In fact, her most recent win was in the same Best Pop Duo/Group Performance category, in 2014, for A Great Big World's song "Say Something," which she was featured on.
Lovato seems to be doing super well these days, and it's great to see her active on social media and taking pride in her musical career. The "Sorry Not Sorry" singer has been slowly returning to Twitter and Instagram in the past few weeks, sharing updates with fans now that she's out of rehab. Based on her more recent posts, it looks like Lovato is happy and taking care of herself.
Last month, Lovato shared an Instagram about voting, her first post on the app since her release from treatment. Lovato went to a rehabilitation center for three months after being hospitalized for a reported overdose in July. In August, the singer shared a now-deleted Instagram post about her struggle with addiction, writing that "this illness is not something that disappears or fades with time."
It sounds like Lovato is doing well now, though, and it's great to see that she's so excited about the Grammy nom. And she deserves to celebrate her nomination — working with Aguilera is pretty legendary.