These 'Game Of Thrones' Spinoff Details Will Make You Even More Hyped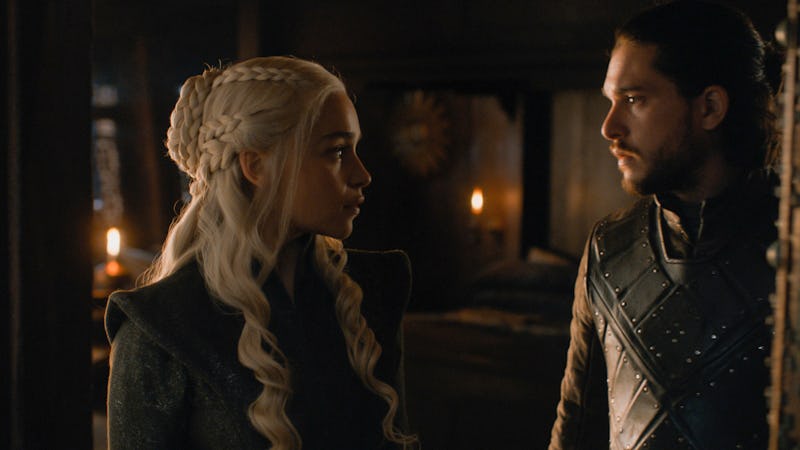 Courtesy of HBO
In the long drought that is Game of Thrones being off air until 2018, it's only reasonable that diehard fans are positively clamoring for details about the Game of Thrones spinoffs, or even about what the final season of GoT has in store for its characters. With rumors that five possible GoT spinoffs are up for greenlighting at HBO, it's easy to get excited. So many possible stories that could come to fruition and so much desire to not leave the epic world of GoT mean that the spinoffs couldn't come at a better time.
What fans know for certain is that at least one spinoff is happening, so don't fret. As the series barrels onward toward its final season, the hunger is palpable for more GoT, stat. The world which author George R.R. Martin has created is certainly detailed enough to feasibly produce a spinoff, and whatever spinoff does come into production mode, it will most likely be a prequel to GoT rather than a sequel. That's right: No matter what the story is, you're going to get a look at the history-defining events that fundamentally shaped the lives of the characters you love and that you've heard referenced time and time again on GoT because, as Entertainment Weekly reported, this planned spinoff will be a prequel.
So, what other crucial bits of GoT spinoff information are out there?
Chances Are Good It'll Focus On The Targaryens
The most recent intel that's surfaced on the GoT spinoff comes courtesy of the same Entertainment Weekly story mentioned above, where their reporting implies the spinoff will focus on the Targaryens. This makes the most sense since this is the family that is murdered and torn apart viciously at the decree of Robert Baratheon. The upcoming prequel/spinoff pilot script is being adapted from a book that Martin has yet to release titled Fire and Blood, which will focus fully on the history of Targaryen kings. All signs to point to the fact that this spinoff will be all about the Targaryens, all the time.
A Prequel Means An Entirely New Cast Of Characters
In case it wasn't clear already, focusing on events that happened well before GoT and focusing more closely on one of the most targeted families on GoT, the Targaryens, likely means that we're going to get an entirely new set of characters. For the moment, it's unclear if the younger actors who play Ned and Lyanna Stark, as well as Rhaegar Targaryen, would return to the series (in theory, you can't really cast a show with a script), but even so, it's safe to say that if the spinoff going way back in time, you'll see a lot of new faces popping up all over the place.
The Spinoff Could Happen In 2019
The newest info on when exactly this spinoff will emerge was actually recently published. IndieWire has Martin on record saying, "[W]e could possibly see two or even three make it to the pilot stage, with one series emerging on air in 2019 or 2020… and the others maybe later, if they come out as well as we all hope."
Now, this is interesting for two major reasons. First off, is the date when we could see this spinoff: 2019, at the earliest. That's great news for all, and it indicates that this spinoff train really has left that station; there is no reason to doubt it will happen if only because of this information. Additionally, that 2019 date makes it sound like HBO is going to want to get the spinoff on its feet as quickly as possible rather than letting the dust settle around the GoT series finale and taking a breather.
This Spinoff Could Very Well Be The First Of Many
Of course, the other interesting bit of information from IndieWire is Martin commenting that "two or even three" ideas could make it to the pilot stage. This kind of verbiage makes it feel like may more than one prequel is being written and stands a fair chance of getting the go-ahead, rather than acting as a distraction for those speculating on the actual spinoff (much in the same way GoT is shooting multiple series finales to avoid spoilers).
For now, the GoT spinoff news cycle is just starting to gain momentum. Stay tuned in to this space, because it's only going to get more exciting from here.