The Women's Convention In Detroit Just Teased Its Guest Speaker Lineup & You Need To Get Your Tickets, Stat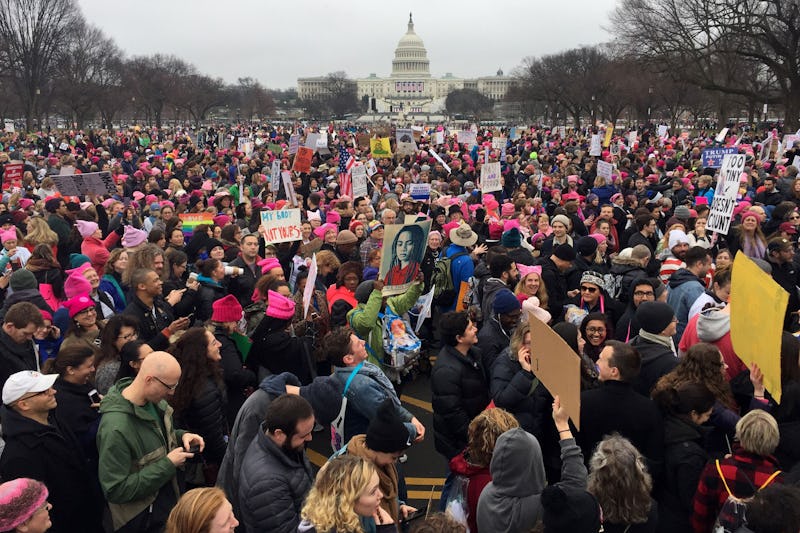 ANDREW CABALLERO-REYNOLDS/AFP/Getty Images
At the end of the month, the Women's Convention, put together by the organizers of the Women's March, will take place in Detroit — and as these details about the Women's Convention program show, it's going to be an event to remember. The programming details for the convention, which will occur from Oct. 27 through Oct. 29, 2017, were announced in an email newsletter sent out on Wednesday; although complete details still have yet to be released, the current list of speakers, panels, and workshops sounds promising, indeed.
Previously, the Women's Convention had described its goals as being to "provide a robust educational curriculum to train both first-time and experienced activists and better prepare each and every attendee for the resistance work ahead." With those goals in mind, the programming for the convention is centered around three tracks: Issue-Based Education, Skills Training, and Civic Engagement. Two additional tracks, the Youth Track and Self-Care Track, are aimed at young people who are 11 or older and at "restoration and personal growth," respectively.
The ways in which these tracks will be addressed are many. Speakers will be giving keynotes and addresses; workshops and panels will provide a hands-on approach; and a variety of other activities are on the docket, with more details about them on the way.
Here's what we know so far:
Speakers
The list of speakers lined up for the Women's Convention isstill growing, but right now, the following extraordinary activists will all bemaking appearances:
Workshops And Panels
In addition to speakers, the three-day convention will include "a wide range of workshops, trainings, and panels that reflect our growing intersectional community," according to the email announcing the program. Specific workshops and panels include:
Other Activities
Details on these additional activities are still scarce, but according to the Women's Convention organizers' email, the event will also include:
Film screenings;
A "Social Justice Concert";
A "Social Justice City," which will include a Women's Market where "socially conscious businesses can showcase their work";
And other opportunities for activists from all over the country to connect with each other.
If you want to join the Women's Market, by the way, the convention is currently seeking submissions from women of color, queer, trans and gender non-conforming people, immigrant women, women from Detroit, and members of the Women's March community in general; head here to apply.
The Women's Convention will take place from Oct. 27 through Oct. 29, 2017 at the Cobo Center in Detroit, Mich. Registration is still open; head here to register to attend. The cost of the tickets will "help … cover the expense of holding a conference," according to the Women's Convention website, although if you applied early enough, scholarship funds were available (alas, though, the deadline to apply for both the general scholarship fund and the Heather Heyer scholarship havepassed). Tickets will be available at their current prices until Oct. 13.