'Fuller House' Finally Resolved Steve & D.J.'s Fate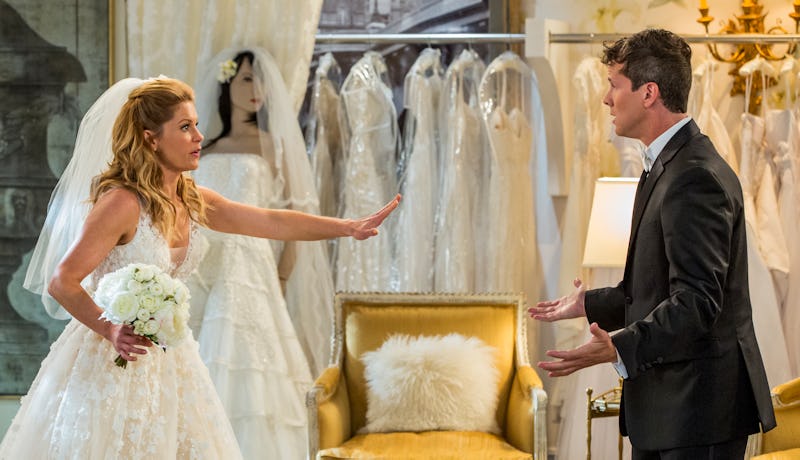 Mike Yarish/Netflix
After D.J.'s confession on the plane to Steve's wedding that she thought Steve was her soulmate, it seemed that D.J. and Steve should get back together in Fuller House Season 3, Part 2. Although there were some significant hiccups — like D.J. accepting Matt's proposal and Steve's wedding day to C.J. — the high school sweethearts ended the season by... Major SPOILERS for the entire season follow.
....deciding to date again. However, despite the buildup, their romance was not actually the focal point of the second part of Season 3. But that shouldn't stop original Full House fans from rejoicing that D.J. and Steve are officially reunited again.
Steve's presence has been polarizing for watchers of the original Full House. Even before Fuller House premiered, the idea of Steve and D.J. getting back together sounded like every fan's dream. Sure, it was sad that the show decided D.J. had to be like her dad and be a widow for her to date Steve again. But it gave people the hope that TV 'shipping dreams from over 20 years ago could come true. The problem was that Steve was a bit too overly obsessed with D.J. in a way that seemed desperate. Yet, by the second part of Season 3, Steve's feelings for D.J. don't seem unhealthy since she reciprocates them — or perhaps, you've just adjusted to the fact that, like its predecessor, Fuller House knows no shame when it comes to over-the-top emotions. Either way, it's time to accept the inevitable that Steve is here to stay.
Since her appearance, it has been obvious that Steve's fiancée C.J. existed as a placeholder until D.J. was ready to be with Steve. (Full House and Fuller House creator Jeff Franklin pretty much confirmed that to TVLine before the first half of Season 3 premiered.) That is terribly unfair to the character of C.J., but Fuller House isn't too, too worried about the collateral damage that came with getting Steve and D.J. together. And if you're angry with Steve for breaking up with C.J. during their vows at their wedding ceremony in Japan, D.J. isn't that much better since she accepted Matt's proposal in "My Best Friend's Japanese Wedding" even though she absolutely had feelings for Steve.
D.J. ended things with Matt too — and since Matt worked with D.J., he had a little more opportunity than C.J. to show how the breakup impacted him. Yet, in the end, C.J. and Matt won't really matter that much since D.J. and Steve chose to be together. That is, after they decided to give each other space for a month so they weren't bringing in the C.J. and Matt baggage into their relationship. (Uh, sure, guys, one month should do it.) And to Steve's credit — especially when you consider Season 1 Steve — he only broke the one-month rule once.
Although Steve and D.J.'s drama was relatively kept in check for most of the second half of Season 3, the complications didn't end after their one-month separation. During their third first date, Steve got offered to be the foot specialist for the Los Angeles Lakers and in the Season 3 finale, D.J. pushed him into taking this job opportunity. That means, Steve and D.J. will be dating long-distance for Season 4 (if there is a Season 4).
The show could jump six months in the future for Season 4 when Steve said he'd be back from his Lakers job. But you still shouldn't expect for Steve to move into the Fuller house or for D.J. and Steve to get married anytime soon. This job is just another hurdle for the couple, but Steve and D.J. fans can feel confident that they'll come out on the other side. And, at this point, Fuller House wants all of its viewers to be Steve and D.J. fans again.