Did Rachel Linsday Miss Her Engagement Party?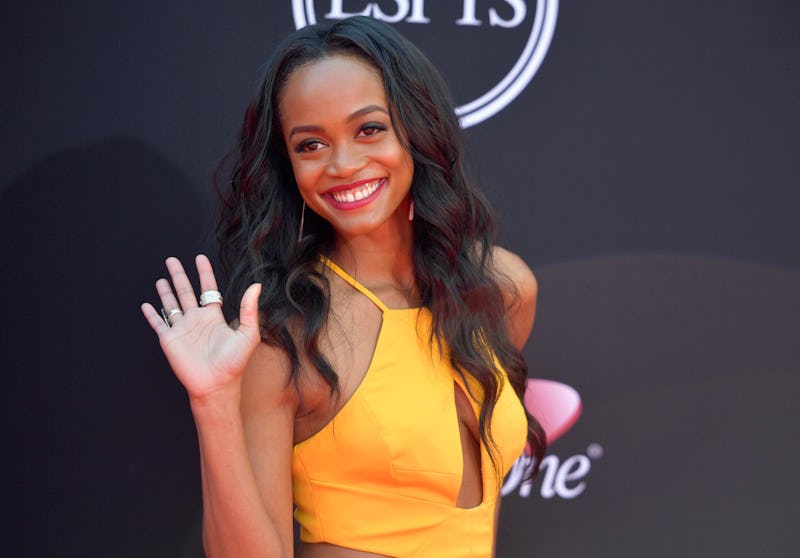 Matt Winkelmeyer/Getty Images Entertainment/Getty Images
Even though Bachelor Nation has known about Rachel Lindsay's Bachelorette engagement since it was announced in May, Rachel's official engagement party was held last weekend in Punta Cana, Dominican Republic. And though the photos shared on social media from the get-together appeared to showed Rachel's Bachelor friends having a great time on the white, sandy beaches of the island, there was only one tiny problem: It looks like the future bride wasn't there. Rachel Lindsay may have missed her engagement party, though it isn't exactly clear why.
E! News reported that Rachel and six other Bachelor alums — Alexis Waters, Jasmine Goode, Raven Gates, Astrid Loch, Sarah Vendal, and Danielle Lombard — were set to take a girls' trip to the Dominican Republic for the weekend, but Rachel ended up being a no-show at the last minute. Us Weekly reported that Rachel missed her flight, but did not specify any further information. As of now, Rachel hasn't publicly commented on the situation in Punta Cana in the media or on social media.
But Rachel's absence definitely didn't stop the remaining ladies from enjoying the beach. Waters posted on Instagram on Saturday, sharing a photo of herself and her fellow Bach besties at the Dominican Republic's Hard Rock Punta Cana, making note of the fact that Rachel wasn't there in her caption. "Celebrating @therachlindsay engagement without @therachlindsay #hardrockpuntacana," she wrote.
Raven Gates also shared a photo of the crew bikini clad in a cabana, where they were all smiles.
Earlier this week it was reported that Astrid Loch may or may not have accidentally spoiled the finale of The Bachelorette and given away who Rachel's fiance is. During an interview with Entertainment Tonight, the season 21 contestant opened up about how busy Rachel and her beau are, but one detail that she let slip may have spoiled it all.
"They are going to Dallas to have a party there. He gets to meet all of her friends and non-Bachelor people, too," she said. "And then they're going to Miami after that to have an engagement party there, too."
It's worth noting that Bryan Abasolo is from Miami, which could mean that he's the lucky man who gets the final rose.
Rachel's absence from her own celebration is definitely odd, but she's been (understandably) staying tight-lipped about a lot of the details surrounding her engagement. She just might explain her reasons no-show after the Bachelorette season finale airs in a week.