Trump Boasted About Winning Women's Vote, But He Got The Statistic Very Wrong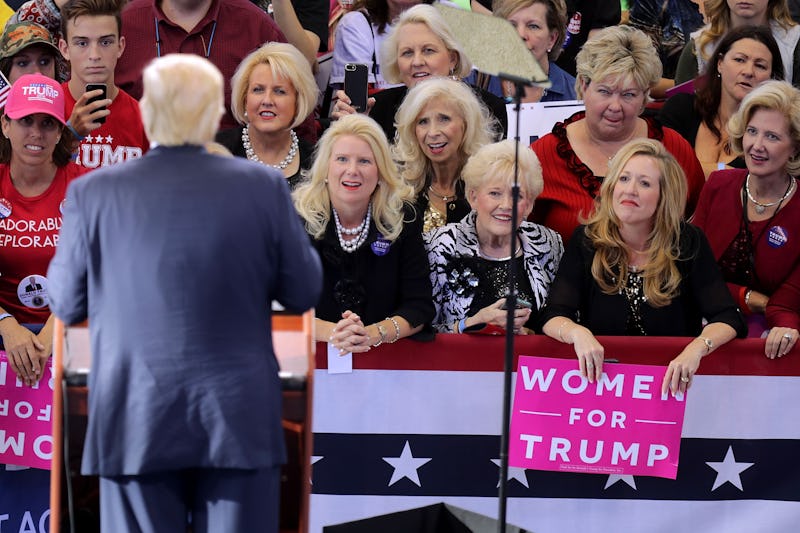 Chip Somodevilla/Getty Images News/Getty Images
During a campaign rally in Pennsylvania over the weekend for Republican congressional candidate Rick Saccone, Donald Trump bragged about winning the women's vote in the 2016 presidential election ... only, he didn't. While he claimed he won a majority of women's vote with "52 percent," he was actually referencing the statistic for white women. In fact, Trump earned just 41 percent of the women's vote overall.
While Trump received 52 percent of white women's vote, only 25 percent of Latino women voted for him, and just 4 percent of black women did. Trump actually won the presidency with the least support from black and Hispanic voters than any president in the last four decades, according to a Reuters report. Among women and men combined, he won 8 percent of the black vote, 28 percent of the Hispanic vote, and 27 percent of the Asian-American vote, a Reuters/Ipsos Election Day poll found.
When Trump was speaking to Republican supporters in Moon Township on Saturday, he was only discussing the results of the white vote. He saw the statistic — 52 percent of white women — as evidence that he proved his critics wrong. "'Women won't like Donald Trump,'" Trump quoted people as saying during the campaign. He responded:
I said, "Have I really had that kind of a problem?" I don't think so. But, "Women won't like Donald Trump. It will be a rough night for Donald Trump because the women won't come out." We got 52 percent, right? 52. And I'm running against a woman. You know, it's not that easy.
Hillary Clinton actually won 54 percent of women's vote overall.
During Trump's 2016 presidential campaign, his naysayers criticized crude comments he'd made about women, citing them as evidence that he is misogynistic and his presidency would be difficult for women. For instance, the president was caught on tape talking about grabbing women "by the pussy." He's also frequently made insulting remarks about the way women look, like his Republican primary opponent Carly Fiorina and MSNBC host Mika Brzezinski.
During the same campaign rally for Saccone, Trump called Democratic Rep. Maxine Waters a "low I.Q. individual" — not the first time he's said that about her and other women. He has attacked Oprah Winfrey, saying he would "love to beat her" in a presidential race. (She's since shut down rumors she'll run in 2020.) Many people view the president's comments as racist, because he has often chosen to attack women of color, which has been an identifiable pattern some people have noticed throughout his presidency.
After Trump boasted inaccurately about winning over women in the election, activist Shaun King said the comment demonstrated how "little" the president thinks of women of color in the United States. "Trump said the majority of women voted for him. They didn't," King wrote. "The majority of WHITE women voted for him. He thinks so little of women of color that they basically don't even count when he makes such an illustration. It's very gross."
Trump's comments seem to be his latest attempt to bolster his reputation among female voters. He recently bragged about making achievements for women with an International Women's Day statement in which he said his administration remained "committed to the worthwhile mission of enhancing women's leadership in the world and building a stronger America for all."
The White House also tried to dispel the idea that Trump is anti-women by touting the fact that he "appointed more women to senior-level government and campaign positions than previous administrations." However, included in that number were First Lady Melania Trump and Second Lady Karen Pence, who weren't appointed to positions in the White House, but hold informal titles as the wives of Trump and Pence.
Trump's comments about the women's vote were made in a speech full of eyebrow-raising remarks. During the campaign rally, he also suggested drug dealers should receive the death penalty, attacked the free press, and called NBC News Political Director Chuck Todd a "sleeping son of a bitch."