#TeamDaniel Has A Reason To Be Hopeful About 'Insecure' Season 3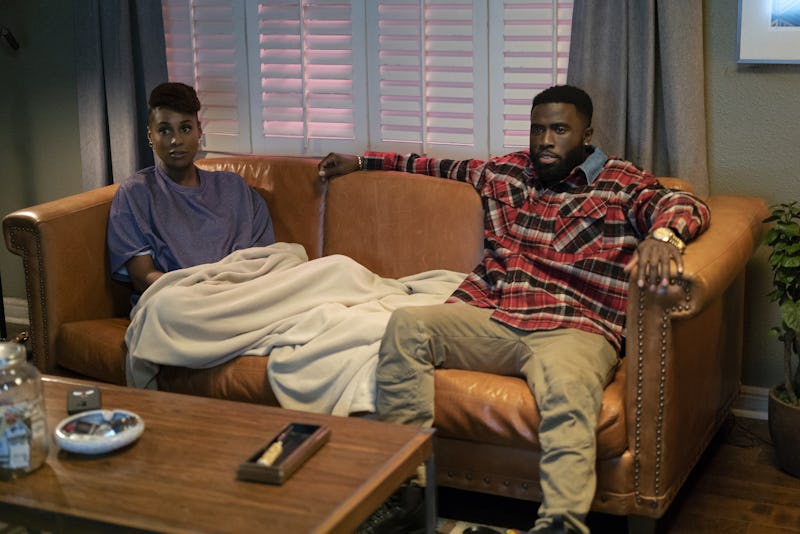 Merie W. Wallace/HBO
With Lawrence out of the picture and Issa crashing on Daniel's couch at the start of Season 3, it seems almost inevitable that Issa and Daniel will get back together on Insecure at some point. While Insecure is about much more than Issa's love interests, the will-they-or-won't-they dynamic seems like it will loom large throughout this season. Issa and Daniel addressed their feelings for one another in an honest way in the season premiere, but if this pair does end up hooking up again or dating, don't expect it to happen anytime soon. Because, based on interviews and previews, they both have some things to take care of and some growing up to do before they could enter a healthy romantic relationship.
Season 2 was all about Issa's "hotation," which was partially a reaction to her bad breakup with Lawrence. For Season 3, she's not as loaded down by the Lawrence baggage. So while she still needs to figure out her financial, living, and work situations, she's in a better emotional space for dating. Yet, as the Season 3 premiere made clear, she's not ready to act on any feelings she has for Daniel right now. Sure, she is still interested in him, but she chose to stay at his place because she knew he would provide her with the support she needs right now.
However, that doesn't really address what Daniel needs since he's hung up on Issa, too. So he flaunted how he was having sex with other women in front of her until she admitted the real reason why she's staying at his place. While that conversation led to a more respectful roommate situation between them, Daniel is still going to see other people and Issa is open to do the same. The preview for the second episode of Season 3, "Familiar-Like," shows that he's getting serious with a woman named Vanessa. And Issa will be moving on too since Issa Rae hinted to Bustle that her character could have two new love interests this season.
Still, there are plenty of reasons to ship Issa and Daniel. For instance, Rae Y'lan Noel, who plays Daniel, gave an optimistic view of their characters' relationship to New York's Vulture at the Season 3 premiere event, InsecureFest. "I always have hope for Issa and Daniel. I feel like they're connected," Rae said. Noel piggybacked on what the show's creator had to say. "I mean, I have hope for them," Noel said. "I feel like we have never had a real opportunity to see whether they can make it work because of the external circumstances. There's never been a full moment for them to really see that. That's what's exciting about Season 3."
Previews for the season also prove that even if they are dating other people, their romance is far from over. The promo shows that Issa may end up sleeping in Daniel's bed because of a bad neck and Molly is rightfully suspicious. The full Season 3 trailer has Issa admitting that she's thinking about Daniel all the time. Plus, they look like they are getting particularly cozy at the laundromat and she even appears to be helping him with his music.
But before any getting back together can happen, Issa and Daniel need to figure out their own stuff first, as showrunner Prentice Penny indicated to Variety. He noted that their relationship informed how he directed the Season 3 premiere. "Visually what I was trying to do was create a lot of distance between Issa and Daniel," Penny said. "There's a moment at the end of the episode where they're kind of laughing in close-ups, and they're close but they're not in the same frame, just to sort of show, 'OK they're starting to get to a place where they might be OK but they're not there yet.'"
Penny also addressed why the pair isn't together now. "I think their main complication is just to see whether or not they can actually work," Penny said. "They never really had an opportunity ... and when there's nothing in the way, 'Do I just like the high school version of you, or are we cool now?' ... He kind of comes in to rescue a situation, but the show's called Insecure, so we wanted to see, 'Well, what is he insecure about? What are the things that he doesn't want people to see?'"
So as Issa works on adulting in Season 3, Insecure will give more insight into the person that Daniel is and what he's dealing with. Perhaps when all is said and done this season, these two will end up together. But just like in real life, expect there to be complications as Issa and Daniel navigate their feelings for one another for at least a handful of new episodes.