Khloé Kardashian & Tristan Thompson Are Moving Forward On Their Terms — Not Anyone Else's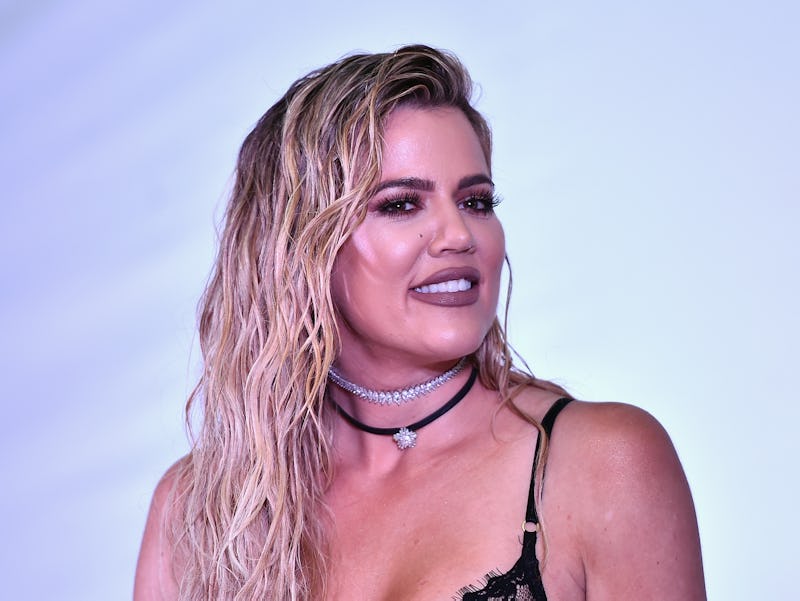 Alberto E. Rodriguez/Getty Images Entertainment/Getty Images
With Khloé Kardashian and Tristan Thompson's baby on the way, it's no surprise that fans are wondering what the next step may be for their relationship. Kardashian is already eight months pregnant, so the couple's child will be here before you know it. But do Kardashian and Thompson have a wedding date set? As much as fans might be hoping for a surprise announcement from the couple, they aren't even engaged — at least not yet. And honestly, there's no need to rush into anything. This couple tends to do things on their own terms, not anyone else's.
Back in September, an unnamed source told Us Weekly that Kardashian and Thompson "have long term plans" for their future together, but that she wasn't necessarily worried about being married before the arrival of their baby. That makes perfect sense, considering what matters most is that Kardashian and Thompson definitely seem over-the-moon happy. And based on Kardashian's recent social media posts, it looks like they're absolutely thrilled to be having a child together.
Earlier this month, Kardashian shared a sweet photo of Thompson cradling her pregnant belly in front of a set of balloons that spelled out "I [heart] you." She captioned the photo,
"'When a woman is loved correctly, she becomes ten times the woman she was before' Thank you my love ❤️"
It's understandable that fans might be excited at the thought of Kardashian and Thompson potentially getting engaged and married one day. Kardashian's previous marriage to Lamar Odom has been portrayed as rocky at best. And based on Kardashian's Instagram posts, it seems like she's completely at ease with Thompson.
Still, the two of them have every right to define their relationship on their own terms. It's their decision whether or not they decide to get engaged and married at all — and if they do decide to go down that path, it's up to them when to do so. Having a baby doesn't mean anyone has to get married. And it's clear that Kardashian and Thompson have plenty of love for each other, regardless of their marital status. The two appear happy with their relationship just where it is, so fans will just have to accept that. (Plus, Kylie Jenner and Travis Scott are also co-parenting their daughter, Stormi Webster, and they haven't announced any plans to get engaged or married either.)
Back in August, before the pregnancy news was announced Kardashian actually addressed the engagement questions directly, during an interview with Mail on Sunday's You magazine. "I'm in the best relationship I've ever been in, and it doesn't take a ring for me to feel that way," Kardashian told the magazine. She also said during the interview that Thompson was "a great dad" to his son Prince.
Still, though, her comments don't mean an engagement is off the table completely. During an April interview with the U.K.'s Evening Standard, Kardashian said she would accept a proposal from Thompson if things did go that way. Kardashian also told the outlet that she's "never been in this type of love" — engaged or not, these two seem happier than ever.
And based on Thompson's response to Kardashian's pregnancy announcement, he seems thrilled about the baby on the way, too. According to Pop Sugar, in a comment on one of Kardashian's Instagram post in December, the NBA player wrote that meeting her was "one of the best moments" of his life. He also referred to the baby on the way as their "little angel."
If Kardashian and Thompson do decide to get engaged, it seems like they'll have the support of friends and family, as well as fans. Until then, fans can keep supporting the couple on their next journey: having their first child together.