Khloé's Latest Post About Tristan Thompson Will Make Even The Biggest Cynics Swoon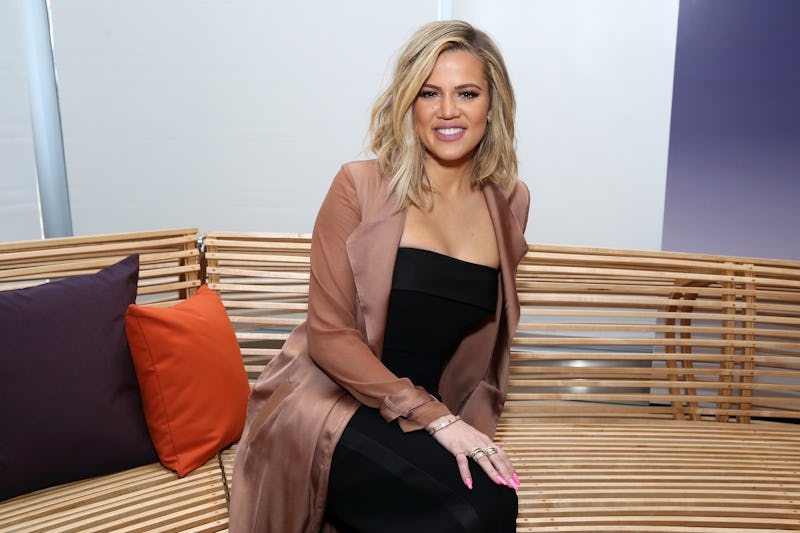 Cindy Ord/Getty Images Entertainment/Getty Images
Valentine's Day may have come and gone, but that doesn't prevent love from still flying in the air. Though belated, Khloé Kardashian's recent Instagram about Tristan Thompson has "I love you to the moon and back" written all over it. And it's oh-so adorable, while very real at the same time. In her Feb. 16 post, the reality star wrote,
"'When a woman is loved correctly, she becomes ten times the woman she was before' Thank you my love"
And accompanying that beautiful caption is a picture of the Keeping Up With The Kardashian's star with Thompson in front of a stunning bouquet of balloons, spelling out the words "I (heart) you."
The world first caught wind of the pair's relationship back in August 2016, when they were spotted hanging out with one another in Beverly Hills. And later, during that October, Kardashian made their love Instagram official with a picture of their hands intertwined, along with Thompson's NBA championship ring making a cameo. Since then, the basketball star and Kardashian have been going strong, so much so that the two announced that they would be expecting their first child together, after a ton of media speculation. From the outside looking in, things seem to be moving a little fast for the couple, but don't fret. According to Kardashian, she knew Thompson was the one pretty early on, because the two got to know the "ins and outs" of each other pretty early on in their relationship.
Though clearly about her love for Thompson, Kardashian's recent Instagram post could totally be drawing hints to her history of love and loss. Unless you've completely blocked it out of your memory, you probably already know that the California native was once married to another NBA star, Lamar Odom. The ups and downs of their marriage were captured by E! cameras throughout, and unfortunately, the two finalized their divorce in 2016, after having a seemingly on again, off again separation.
The relationship was tumultuous to say the least, with Odom's drug addiction and infidelity, two topics he's spoken openly about in the past, appearing to be at the helm of the couple's marital troubles. Kardashian's recent Instagram post, however, shows that she's her best self these days, and the love from her new NBA beau is one of the biggest factors.
Whether a huge fan of the famous family, or someone who skims entertainment news from time to time, you should also know that the Kardashian-Jenner clan is pretty enthused about holidays. And when it comes to celebrating, the family can't help but give fans sneak peeks of their themed, extravagant parties, or more low-key shindigs, across social media. For Valentine's Day, Kardashian wasn't the only one to let the world know just how much she appreciates her significant other. Her older sister, Kim Kardashian West, also joined in on the fun with a couple of her own.
Kim dedicated a sweet post to her husband, rapper Kanye West, on Feb. 14 with the caption, "I love you to infinity! Happy Valentine's Day!!!" She also shared a similar sentiment on her app.
And as if the Kardashian-Jenner family couldn't get any more adorable, Kim's husband made the grandest gesture of them all. After taking a long hiatus from social media, The Life of Pablo rapper reactivated his Instagram account to show the world just how iconic his love for Kim K is.
As for Khloé, it's so nice to see her head over heels in love with someone who seems to appreciate all that she is. And if anything, the reality star is showing the world that it's possible to find love after loss.