Gabriel Maddox On 'HTGAWM' May Be Connected To This Character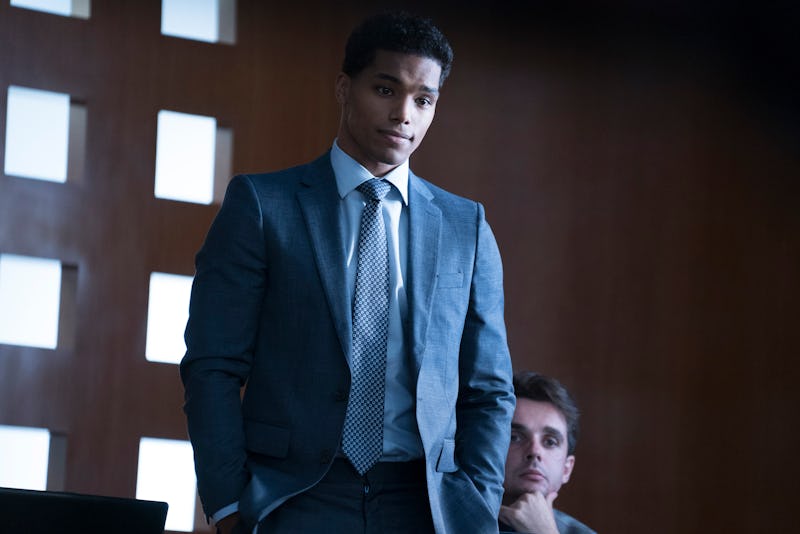 RIchard Cartwright/ABC
The fall finale of How to Get Away with Murder is almost here and right now everything is super messy. Bonnie's sister is piling up lies about her son's current status, Asher and Michaela are kind of friends again, and Nate's father was murdered right after he was set to be pardoned by the governor. And, this doesn't even include the ongoing mystery of Gabriel Maddox, who freaked Laurel out when he told her he was sorry about what happened to Wes. Wait, what? Does Gabriel know Wes? It's not clear yet, but Gabriel definitely cannot be trusted by anyone.
Last episode, Laurel's cautious friendship with Gabriel came to a halt after Frank revealed the truth about his identity. Their conversation wasn't shown (to build more suspense, obviously) but Laurel's concerned glances at Gabriel during their law clinic means the information wasn't good.
She asks Frank via telephone why he has been keeping this secret for so long and he says it's to keep everyone safe. He tells her to keep her mouth shut and play dumb until he gets back from another stalking mission. Laurel also says that this secret is something that she wishes she didn't know at all. What exactly did Frank tell her? Was it the whole truth? You never know with HTGAWM until the last minute.
Meanwhile, Gabriel is still being friendly to Laurel and offers to help her with ideas for Caplan & Gold's diet sham case. Predictably, she turns him down without explanation but he doesn't seem too concerned about her strange behavior. Laurel spends the remainder of the episode avoiding direct conversation with Gabriel until the end when he confronts her at Oliver and Connor's very weird joint bachelor party.
Gabriel, who has zero tact, says she doesn't have to avoid him because he is not attracted to her in a romantic way. According to him, it would be tacky if he made a move on her so shortly after Wes' death. Laurel is understandably shocked by his knowledge, especially after he questioned her about Christopher's dad in a previous episode. He claims he only "played dumb" to not seem like a creepy stalker and tells her he's sorry about everything she has endured since Wes died. She responds by telling him to never talk to her again, which is gonna be awkward because they have to work together at the clinic. Of course, Gabriel had a stoic reaction to her demand because he is probably a serial killer.
The dynamic between Laurel and Gabriel has been strange all season. He seems overly invested in her plight as a single mother and is much friendlier to her than Michaela and Connor. Why does he care so much? He told her that he knows about Wes' death because of campus chatter but perhaps he is related to Wes and he wants to get close to Laurel because of Christopher. But, if this was true, then Frank probably would have been upfront with Laurel about this connection. He may be a shady liar, but his soft spot for Laurel and Christopher would have made him tell the truth.
At the end of the episode, HTGAWM revealed clips for the upcoming episode and it seems like Gabriel is even shadier than fans thought. In the preview, Frank tells Laurel that he Annalise's worst nightmare and Gabriel is also seen stalking Michaela's Instagram page. So, it appears that he has it out for this crew as a whole. He has Annalise saved as "HER" in his phone and has been slowly earning her trust, which might be a weird sign that she's his target due to her involvement in Wes' life.
Does Gabriel blame the crew for his family member's death and now he is here to exact revenge? It's a strong possibility. Or, maybe the show is purposely throwing everyone off and Gabriel really works for Laurel's dad to ruin their lives. It might be a twist that even Frank doesn't see coming, which would be a miracle since Frank always two steps ahead of his enemies. This show will really make you question everything about life.
This week's episode will surely reveal some shocking secrets and might give us a few more hints about what Gabriel really knows about Wes, Annalise, and the rest of the Keating crew.