Meghan Markle Does Her Own Makeup Sometimes Because Duchesses, They're Just Like Us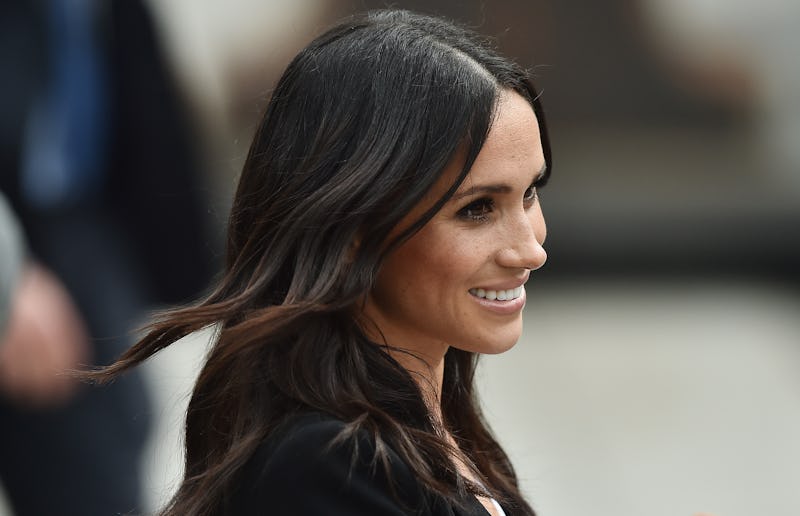 Charles McQuillan/Getty Images Entertainment/Getty Images
In terms of lifestyle, there's not a lot that people can have in common with the royals. From their fabulous, custom made dresses to their trips around the world, the life of a royal is not something most will experience. However, Meghan Markle is doing her own makeup in Ireland, and it proves that despite the wardrobe and royal perks, she's a normal person just like you.
In case you haven't been paying attention to the royal news (but you should because Markle is a gem of a new member of the family), Markle and her husband Prince Harry are on an official royal visit to Ireland at the moment. The pair arrived on Wednesday after attending the 100 anniversary celebration for the Royal Air Force. To say it was a big day for Markle would be an understatement.
The new Duchess of Sussex wore not one, not two, but three different outfits and hairstyles yesterday. From side-swept buns to long, wavy locks and a black bateau neckline frock to chic hunter green co-ord, she slayed the entire day from head to toe. As for her makeup, it turns out that while in Ireland, she may just be doing things all on her own, and she's doing it well.
According to Hello, a small royal entourage did make the travel list for the trip, and it did, actually include a hairstylist. Not on the royal travel list, though? A makeup artist. As it turns out, Markle can do her makeup just fine herself, thank you. Honestly, during her appearances today, she looked just as natural and glowing as ever.
During their royal events in Ireland, the duke and duchess met with the Taoiseach (or Prime Minister) of Ireland as well as the president and his wife. In fact, Markle even got to meet the president's adorable pups while in Ireland, and while dogs are always, always notable members of any event, Markle shone, and she did so by doing her own makeup.
The royal travel list isn't the only way people know that Markle has been doing her own makeup, though. They heard it straight from her makeup artist himself. According to Elle, Daniel Martin took to his Instagram to post an image of Markle from her appearance at the Royal Air Force's anniversary celebration. In his caption he spoke about how chic she looked, and of course followers wanted to know if he'd done her makeup for the occasion. His response? He replied, "She beat that mug herself."
For her looks in Ireland, Markle seems to be sticking to what has become her signature. Her skin remains glowing and natural with her freckles coming through and a bit of a blush on the apples of her cheeks. For her eyes, she appears to be choosing brown tones and adding a bit of smokiness to the look. For lips? It's all about a great nude gloss.
The look is markedly similar to the one she wore for her wedding. While some may have expected Markle to be a bit more heavy handed on her big day, she and Martin (who did her makeup for the royal wedding) stuck to the signature fresh face that she's been doing herself while in Ireland.
While Markle may be a new royal, and sure, she may be wearing custom Dior and Givenchy dresses, she's still a woman who knows what she wants when it comes to beauty. Apparently, she also knows how to do it herself. Perhaps her life is wildly different than yours, but at the end of the day, she applies her makeup in the mornings just like a normal person.