Prince Charles Reportedly Thinks Meghan Is "The Best Thing To Have Happened To Harry"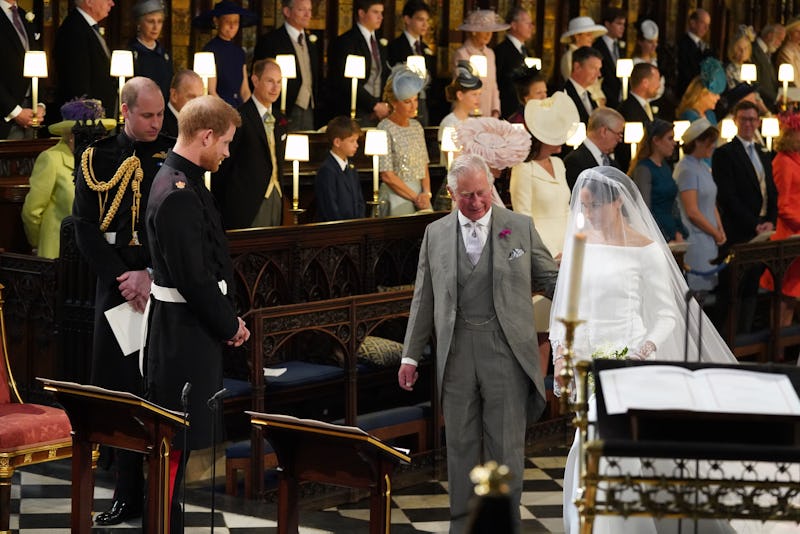 WPA Pool/Getty Images Entertainment/Getty Images
As the summer holidays draw to an end, it spells a return to the real world for much of the nation — and the royal family is no exception. Every year, Queen Elizabeth famously retires to her summer home in Balmoral Castle up in Scotland where the family generally pop in to see he. It's become habit for the Prince Charles to spend summers at the nearby Castle of Mey in Scotland and apparently this time, his son Prince Harry and new daughter-in-law Meghan Markle joined him there. So what was the atmosphere like during their stay, does Prince Charles like Meghan Markle?
According to a source quoted in Vanity Fair, he thinks she's "the best thing to have happened to Harry," which is high praise if ever I've heard it. The magazine claims that Prince Harry and Meghan Markle stayed for "nearly a week" with the future king and spoke to an unnamed family member who suggested it was a real bonding experience for the trio. Admittedly it doesn't sound like it was the wildest time (the article revealed that they "spent evenings dining at the castle, reading, walking dogs, and talking"), but it does sound like a great chance to get to know each other better and chill out after a busy few months.
"Camilla doesn't stay too long, she loves her bucket-and-spade holidays in Devon with her grandchildren, so it must have been a thrill for Charles to have Meghan and Harry stay," the source said. "I'm not even certain the Duchess of Cornwall has stayed for such a long stretch."
It's well known that Prince Charles takes his duties preserving grand royal properties very seriously (for example he spent a decade restoring Dumfries House), but the Castle of Mey is extra special to him. His own grandmother Queen Elizabeth I - a.k.a. the Queen Mother - particularly loved the property and it became a part of her trust. After her husband King George VI passed, she would spend nearly a month there every year to get away from London life before her death. I'm sure having his son and daughter-in-law to stay at a place with such a strong emotional connection for the Prince was a pretty big deal.
It's not a massive surprise that Prince Charles and Meghan Markle in particular have been growing closer, as he famously stepped in to walk her down the aisle after her own father Thomas Markle was unable to do it. (Let's not get into why he couldn't, it's all a little messy, and pretty sad.)
And it seems like he's really making an effort with Meghan's mother Doria Ragland as well, as many noted how welcoming he was with her at the wedding earlier this May. Social media blew up at the sight of him extending his hand to Doria as they chatted away at the ceremony, as well when he escorted down the church steps arm in arm.
The source said that the wedding was "a real turning point" for Markle and her new father-in-law and added that Prince Charles has a "lovely relationship with the duchess".
The source continued, "Charles showed so much love towards Harry and Meghan, and I think Harry will be eternally grateful to his papa for stepping in and giving Meghan's hand in marriage. The bond between them is very close."
Whether or not you believe the reports that Prince Harry and his father were quite distant at one point (a claim the palace has since denied), their shared Scottish summer holiday would suggest they're closer than ever since Harry and Meghan tied the knot. In fact, the Vanity Fair source added that Charles is "closer to Harry than ever" and thinks that the Suits actress had a lot to do with that.
"Charles has been very supportive of Meghan and everything she is going through with her own father. He's got a real soft spot for her and thinks she's the best thing to have happened to Harry," the insider said.
So sweet. Here's hoping their bond only grows as time goes on - they might be royalty, but everybody needs their family to lean on.