Meghan Markle's Dad Just Shared An Emotional Statement About The Wedding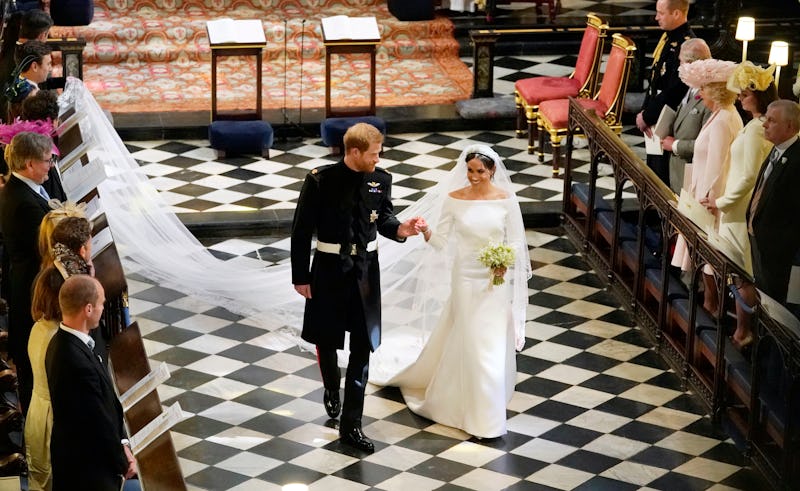 WPA Pool/Getty Images Entertainment/Getty Images
He's been sharing updates all week, and now that the wedding has actually taken place Meghan Markle's father, Thomas Markle, Sr., has spoken once again. Meghan Markle's dad commented on the royal wedding, and said he wishes he had been there. In a statement given to TMZ on Saturday, Thomas said,
"My baby looks beautiful and she looks very happy. I wish I were there and I wish them all my love and all happiness."
In addition, TMZ reports Thomas said that watching the wedding was "emotional and joyful."
In the days leading up to the wedding there was much back and forth over whether or not Thomas would be attending and walking his daughter down the aisle. On May 4, it was announced by Kensington Palace that Thomas would walk Meghan down the aisle at the wedding and that her mother, Doria Ragland, would accompany Meghan to the ceremony in a car. Given that it was an official announcement from the Palace, this seemed all set, until, on Monday, May 14, TMZ reported that Thomas would no longer be going to the wedding, following the reports that he staged paparazzi photos of himself seemingly preparing by doing research and reading a book about Great Britain. Thomas told TMZ he believed the photos — which Meghan's half-sister, Samantha Grant, said were her idea — made him look "stupid and hammy" and he didn't want to embarrass Meghan further.
Then, the very next day, Tuesday, May 15, Thomas told TMZ that he would be attending the wedding, if given the OK by his doctors; he was in the hospital for chest pains after suffering a heart attack a week earlier. But, later that same day, Thomas talked to TMZ again and said that he couldn't attend as he would be having heart surgery on Wednesday, May 16.
After Thomas announced that he wouldn't be able to attend the wedding, Meghan released the following statement:
Sadly, my father will not be attending our wedding. I have always cared for my father and hope he can be given the space he needs to focus on his health.
I would like to thank everyone who has offered generous messages of support. Please know how much Harry and I look forward to sharing our special day with you on Saturday.
This left the question of who would be walking Meghan down the aisle unanswered. Before her dad's role was announced, it had been rumored that Meghan wanted her mother to escort her. So, after Thomas confirmed he wasn't attending, some thought Ragland might take on the part. But, on Friday, the day before the wedding, Kensington Palace confirmed that Meghan had asked Harry's father, Prince Charles, to walk her down the aisle. Their statement read:
Ms. Meghan Markle has asked His Royal Highness The Prince of Wales to accompany her down the aisle of the Quire of St George's Chapel on her Wedding Day. The Prince of Wales is pleased to be able to welcome Ms. Markle to The Royal Family in this way.
While Thomas wasn't able to attend the wedding, the now Duchess of Sussex's mother was a big hit with viewers. Not only did Ragland ride to the ceremony with Meghan in an incredibly fancy car, but she was clearly emotional during wedding, which got viewers emotional, too.
It's unfortunate that Thomas wasn't able to attend, since Meghan had wanted him to, but it seems like with the support of her mother, her many friends, and her new husband and in-laws, the bride had a lovely day and is over the moon about being a newlywed.