Ellen Pompeo's Emmy Message To Sandra Oh Shows How Strong Their 'Grey's' Friendship Really Was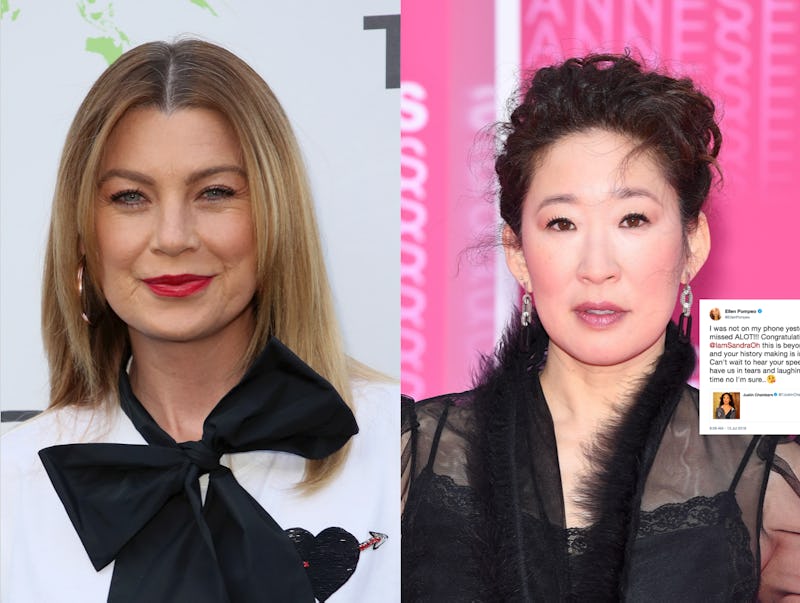 David Livingston/Getty Images Entertainment/Getty Images; Pascal Le Segretain/Getty Images Entertainment/Getty Images; Ellen Pompeo/Twitter
They might as well start calling it Grey's Family at this point, because once you're part of the Grey's Anatomy cast, they never stop rooting for you. Even though they haven't been costars since 2014, Ellen Pompeo congratulated Sandra Oh on her Emmy nomination Friday as if the pair just walked off the Grey's Anatomy set. But even though the two have gone their separate ways professionally, Pompeo's genuine excitement for her friend can be clearly read in the tweet, and the whole message is positively bursting with enthusiasm. It's enough to bring a tear to your eye whether you're a fan of the series or not.
"I was not on my phone yesterday and clearly missed ALOT!!! [sic]," Pompeo tweeted on July 13, the day after the 2018 Emmy nominations were announced. She continued, "Congratulations @IamSandraOh this is beyond well deserved and your history making is incredibly moving." Not content to stop there, Pompeo also made clear that she's pretty sure her old friend is going to go home with the hardware, adding, "Can't wait to hear your speech!! Which will have us in tears and laughing at the same time no I'm sure." Adorable, no? She capped off this sterling example of a strong female friendship in action with the kissy face emoji, and hearts everywhere were warmed.
What Pompeo is referencing, of course, is Oh's groundbreaking and long overdue nomination in the Emmy Awards' Lead Actress category. Not only is it an honor that's never been bestowed on Oh herself — Grey's brought the 46-year-old five consecutive Emmy wins, but it was in the Best Supporting Actress category — but it's also the first time that an actress of Asian descent has been up for the nomination at all. (In 2018. Yikes.) Shondaland, Grey's creator Shonda Rhimes' production company, also congratulated Oh on her history-making nomination.
Oh is up for the award for her performance in the BBC America spy thriller Killing Eve, in which she starred as the titular Eve Polastri, a British intelligence offer who goes toe-to-toe with a deadly assassin who goes by the name Villanelle. The series explores the nature of obsession — both women are highly capable and at the top of their fields, and an intoxicating level of admiration infuses their attempts to destroy each other. In short, it's an elaborate, demanding role, and Oh nails it, making her deserving of every ounce of praise, whether from her former Grey's co-workers or otherwise.
But the fact that Pompeo has made such a point of praising her old friend is the cherry on top of this sundae. Because while the "competitive women locked in mortal combat" dynamic is a compelling one to watch onscreen, it's incredibly refreshing to see things go a different way off-screen. Just like doctors Christina Yang and Meredith Grey are in the fictional medicine world, Oh and Pompeo are two of the biggest names in the game right now. And in an industry where there's woefully little room at the top, you might expect to see some jostling from a couple of heavyweights.
But just like it wasn't Cristina Yang and Meredith Grey's style to throw their weight around, it isn't Oh and Pompeo's style, either. Instead, it's been nothing but mutual support and love passing between the two of them. During promotion for Killing Eve, in advance of its premiere, Pompeo repeatedly plugged the show, calling her friend's talent "otherworldly," and retweeting a Vanity Fair article in which Oh shared how frustrating it had been to hunt for another role post-Grey's that was worth sinking her teeth into.
For her part, Oh was supportive of Pompeo's fight for a higher salary in that same article, even as she implied that her own salary negotiations had gone very differently. In short, these two women are able to support and appreciate each other even as their environments encourage them to do exactly the opposite. And watching a strong female friendship like that unfold is almost as rewarding as watching these talented actors get the acclaim that they deserve.