Kit Harington Gave Rose Leslie The Sweetest Shoutout After 'GoT's Emmys Win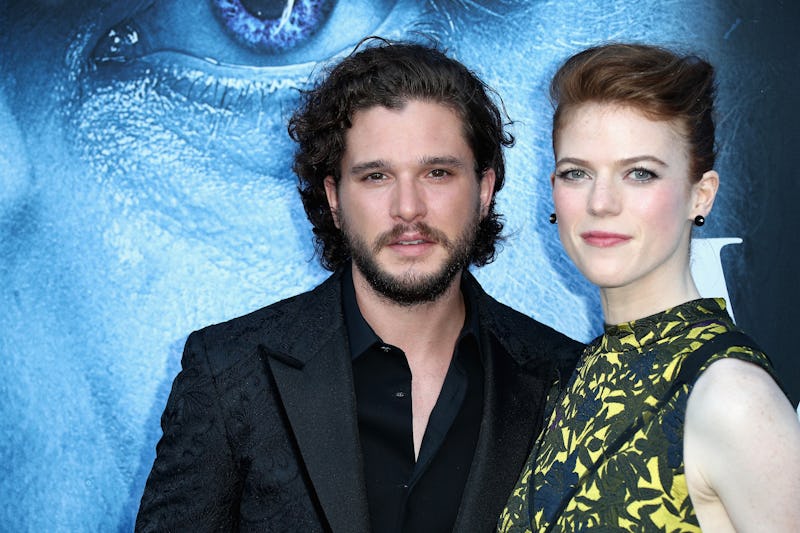 Frederick M. Brown/Getty Images Entertainment/Getty Images
It's been a few months since Game of Thrones fans have seen or heard anything from Jon Snow and Ygritte. They've always been known as a notoriously private couple, but have kept especially quiet since their wedding back in June. During a post-Emmys win interview, however, Kit Harrington shouted out his wife Rose Leslie, Variety reported. His short and sweet statement will totally tug at your heart strings, so be forewarned: Romance is coming.
On Sept. 17, HBO's Game of Thrones took home the award for Outstanding Drama Series at the 2018 Emmys. As members of the cast — including Emilia Clarke (who plays Daenerys Targaryen), Nikolaj Coster-Waldau (Jaime Lannister) and Gwendoline Christie (Brienne of Tarth) — gathered backstage for interviews after their win, one reported asked Harington how being on the show had changed his life.
With almost no hesitation, the 31-year-old actor replied,
"I met my wife on this show, so, in that way it gave me my future family and life from here on in. That's the main thing it did for me. It's changed it completely. The last 10 years. You cannot ask for a better job to have in your twenties, to take you through your twenties than to be an actor in Game of Thrones. It's been the most amazing thing. It's changed it completely."
How sweet is it that the first thing that came to Harington's mind was his wife? So sweet, right? It appears Leslie wasn't able to attend the Emmys this year, but she still remained at the forefront of her husband's mind.
Also, can we talk about how he said, "it gave me my future family"? Does that mean he and Leslie are planning on having kids soon? Could Leslie be pregnant like, now? This is definitely how rumors start, by the way. Neither Harington nor Leslie has publicly confirmed anything recently about if and when they plan on starting a family. It's interesting that he referred to it, though.
The two stars first met while filming Game of Thrones together back in 2011. As Jon Snow and Ygritte, their characters fell in love on-screen — and then Harington and Leslie fell in love off-screen, too. In 2016, Harington opened up to Vogue Italia about how he and Leslie came to be.
When asked what his favorite moment filming the show had been so far, the actor replied,
"The three weeks in Iceland when we were shooting the second season. Because the country is beautiful, because the Northern Lights are magical, and because it was there that I fell in love. If you're already attracted to someone, and then they play your love interest in the show, it's becomes very easy to fall in love."
Swoon. So romantic. Harington and Leslie went on to announce their engagement in September 2017, and officially tied the knot at a castle in Scotland in June 2018.
Plenty of people accidentally forget to thank their loved ones when they win an award, but Leslie was clearly first on Harington's list. Even though they didn't get to celebrate Game of Thrones' big win together at the actual show, they've got a lifetime to celebrate all kinds of wins together — big and small — from here on out.