Emma Watson's New Book Club Pick Is The Biggest YA Novel Of The Last Year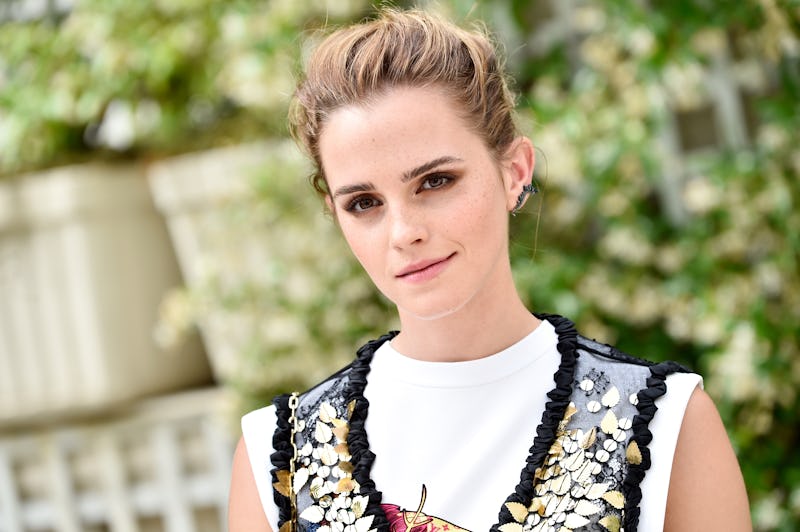 Pascal Le Segretain/Getty Images Entertainment/Getty Images
If you haven't been reading along with Emma Watson's feminist book club Our Shared Shelf, it looks like this summer is the perfect time to join up. Because it was just announced on the Our Shared Shelf Goodreads page that the picks for May/June are Angie Thomas's stunning YA novel The Hate U Give, and Kate Moore's nonfiction release, The Radium Girls — and both of them need to be stacked on your summer TBR right now.
For those unaware, Our Shared Shelf focuses on books by women that portray a diverse view of womanhood and intersectional feminism, and explores how those things relate to our current political climate, culture, history and more. Past picks have included memoirs like Gloria Steinem's My Life On The Road and Terese Mailhot's Heart Berries, as well as novels like Margaret Atwood's The Handmaids Tale. So these newest picks are definitely the perfect addition to the club's lexicon.
The Hate U Give in particular has been a smash hit since its publication in Feb. 2016 — so far sitting in the top three of the New York Times bestseller list for 61 weeks — for good reason. Thomas's story, inspired by the Black Lives Matter movement, takes an unflinching look at the realities of police brutality through Starr Carter, who witnesses a police officer fatally shoot her unarmed friend, Khalil. Thomas's book has only become a more relevant entry into public consciousness, and for a massive celebrity figure like Watson to endorse the story and help spread its message is hugely important.
The Hate U Give by Angie Thomas, $10, Amazon
Moore's The Radium Girls, too, tells an important untold story. This time, about the real women who, after the discovery of radium and its use as a wonder drug in everything from body lotion to tonic water during WWI, begin to toil in radium-dial factories across the country. With such a coveted job, these "shining girls" are considered the luckiest alive — until they begin to fall mysteriously ill. As the fatal poison of the radium takes hold, the girls find themselves embroiled in one of the biggest scandals of America's early 20th century, and in a groundbreaking battle for workers' rights that will echo for centuries to come. With women still fighting for their rights — and safe workplaces — across the world, this is a story that has echoed across generations.
The Radium Girls by Kate Moore, $16, Amazon
If you've been hoping to add some feminist picks to your summer reads, Watson has just made choosing your tote bag reads that much easier. To join the Our Shared Shelf discussion on The Hate U Give and The Radium Girls, head over to their Goodreads page and join now!