Eva Longoria Just Schooled Anyone Who Thinks #TimesUp Is Just A Fad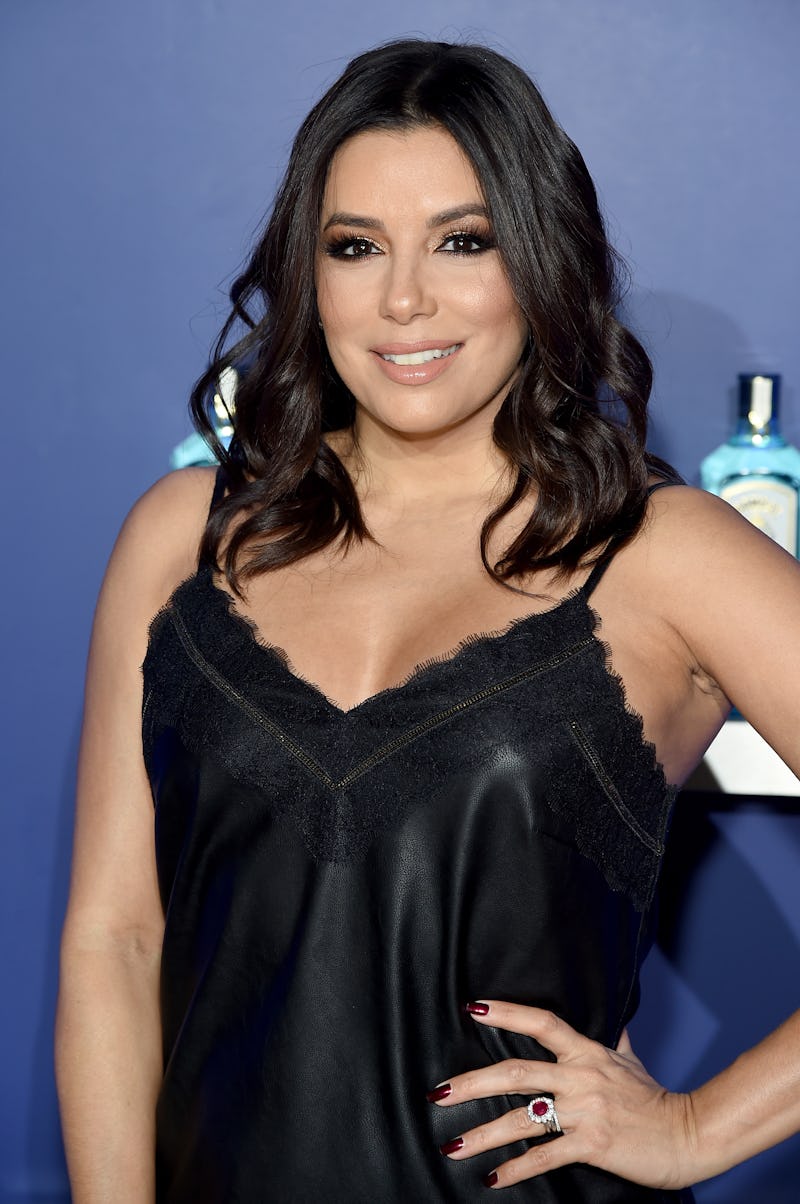 Jamie McCarthy/Getty Images Entertainment/Getty Images
2018 has only just begun, and there are already some big changes — on New Year's Day, women in the entertainment industry banded together to announce a new initiative, Time's Up. It will focus on gender equity, closing the pay gap, and eradicating sexual harassment in the workplace, and the best part? It's not just for Hollywood — it's for every industry, all the time. To date, the organization has raised over $15 million as a legal aid fund to help women fight back against harassers in the workplace. And at the 2018 Golden Globes, Eva Longoria's #TimesUp statement set the tone not only for the night, but for the time in which we are living — "it's not a moment," she said. "It's a movement."
The movement, of course, being the willingness of women around the world to speak out in regards to sexual harassment, pay disparity, and other workplace problems. Since the news of Harvey Weinstein's many indiscretions broke in October 2017, there's been an outpouring. The more names of men accused of misconduct, the louder it got, and right now, we're living in a new age. Women have truly had enough of staying silent about the things they face on a daily basis. It's understandable — every woman has a story, and it's time to start speaking up. Abusers love silence, because it means that no one is comparing notes, and that lets the abuse proliferate. Now, women are, and it's not just a fad — this is something, a way of life, that is sticking around.
Time's Up was responsible for the idea that everyone attending the Golden Globes should wear black. In an interview with the New York Times, Longoria said, "This is a moment of solidarity, not a fashion moment. For years, we've sold these awards shows as women, with our gowns and colors and our beautiful faces and our glamour. This time the industry can't expect us to go up and twirl around. That's not what this moment is about."
On the red carpet, many stars echoed these sentiments, even going so far as to call out the network they were being broadcast on (E!, in this case) for failing to pay their male and female anchors the same. In an interview with Giuliana Rancic, Will & Grace star Debra Messing spoke eloquently about the Time's Up mission:
"I am wearing black to thank and honor all of the brave whistleblowers who came forward and shared their stories of harassment and assault and discrimination. I'm wearing black to stand in solidarity with my sisters all over the globe. And I'm here to celebrate the roll out of this incredible initiative, Times Up. Time is up, and we want diversity, we want intersectional gender parity, we want equal pay."
It wasn't long, though, before Messing called out E! for their gender pay gap. She said.
"I was so shocked to hear the E! doesn't believe in paying their female co-hosts the same as their male co-hosts. I miss Catt Sadler. So we stand with her, and that's something that can change tomorrow. We want people to start having this conversation that women are just as valuable as men."
The feeling of activism was electric on the red carpet — Connie Britton wore a "poverty is sexist" t-shirt. An array of actresses brought real-life activists with them on the red carpet in lieu of fancier, more well-known dates. The actors and actresses that attend the Golden Globes have platforms, and in the spirit of Time's Up, giving this platform to others that can help people who don't have a voice is far more important. This is a movement that's not going anywhere.
If you or someone you know has been sexually assaulted, call the National Sexual Assault Telephone Hotline at 800-656-HOPE (4673) or visit online.rainn.org.