Emma Stone's Golden Globes Date Is The Same Legendary Woman She Portrayed On Screen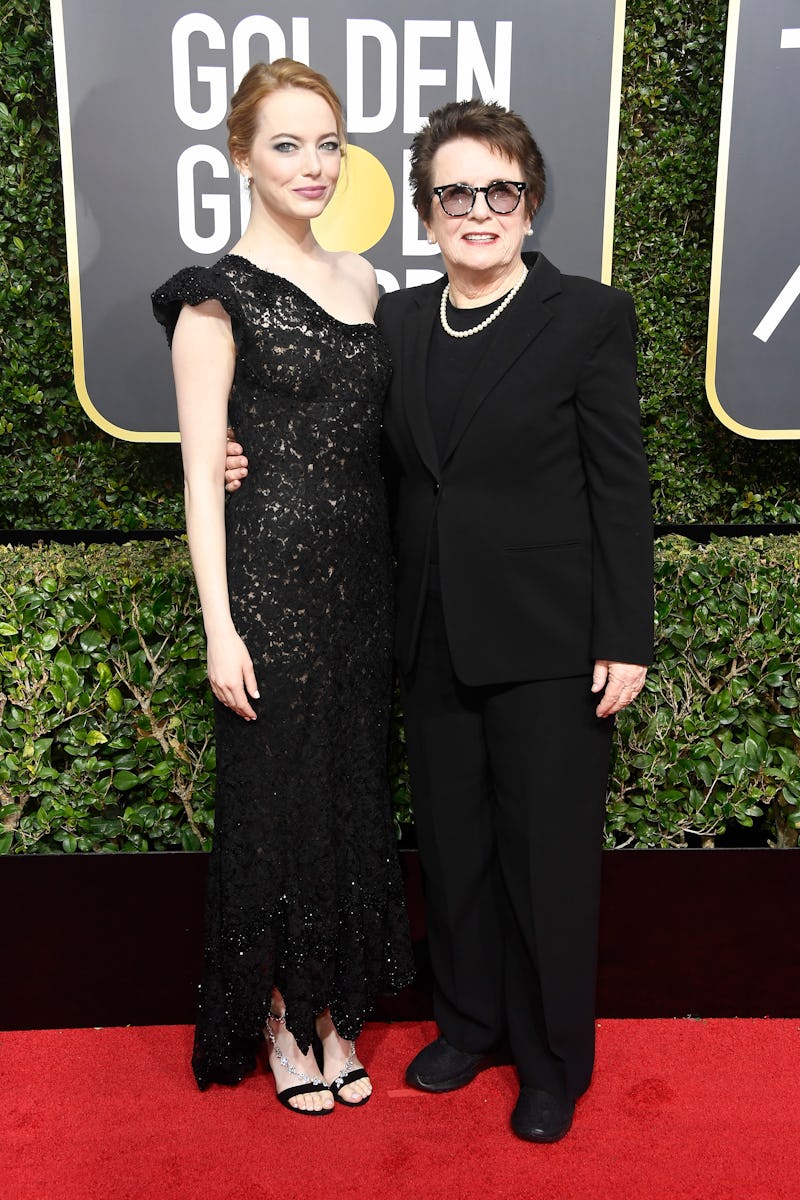 Frazer Harrison/Getty Images Entertainment/Getty Images
If you thought the Golden Globes would be an apolitical award show, you couldn't be more wrong. Women in Hollywood are having advocates and activists accompany them on this year's red carpet, and it's an awe-inspiring gesture. Emma Stone's 2018 Golden Globes date is Billie Jean King. Yes, the tennis legend, who Stone portrayed in Battle of the Sexes, the same movie that earned her a Best Actress in a Motion Picture of Comedy nom. Honestly, there's no better choice to accompany her on the carpet, especially given King's history in activism on and off the tennis court.
UPDATE: Around 7 p.m. EST, Stone and King arrived on the red carpet and were interviewed during NBC's arrivals special. King said, "It's great, we're here in solidarity wearing black."
As for the reason behind their wardrobe choice, they're joining the many women and men on the carpet who are advocating on behalf of victims of sexual assault, harassment, and discrimination. Of that unacceptable behavior, King said, "It's got to stop, it's got to stop right now... All genders, together."
She also said getting to know Stone, as well as the rest of the cast and crew, through the movie "means the world to me."
EARLIER: In addition to Stone, actors including Michelle Williams, Emma Watson, Susan Sarandon, Meryl Streep, Laura Dern, Shailene Woodley, and Amy Poehler are bringing gender and racial justice advocates as their guests to the Globes. Per a press release ahead of the event, this is a way to "show of support for victims of sexual harassment and assault."
The advocates also released a joint statement, which reads in part:
"As longtime organizers, activists and advocates for racial and gender justice, it gives us enormous pride to stand with the members of the TIMES UP campaign who have stood up and spoken out in this groundbreaking historical moment. We have each dedicated our lives to doing work that supports the least visible, most marginalized women in our diverse contexts. We do this work as participants in movements that seek to affirm the dignity and humanity of every person."
Besides her impressive tennis accomplishments, King founded the Women's Sports Foundation and the Women's Tennis Association. According to USA Today, King fought for equal pay for women in sports, and she also advocates for LGBT rights. On top of that, she works with the Elton John AIDS Foundation.
As for what makes her accompanying Stone on the red carpet all the more meaningful, Battle of the Sexes spotlights the "Battle of the Sexes" tennis match that King played against Bobby Riggs in 1973. Riggs' apparent arrogance had him convinced he'd beat her, even telling Time, "Billie Jean King is one of the all time tennis greats... but she doesn't stand a chance against me. Women's tennis is so far beneath men's tennis." Of course, she proved him wrong and won the match, proving women are capable of so much more than people give them credit for — whether on the court or off.
And the significance of Stone's red carpet guest wasn't lost on Twitter. Before the show even began, people expressed their excitement.
Even Reese Witherspoon tweeted about the meaningful moment:
At the time of reporting, Stone and King haven't yet arrived together at the big event, but the tennis star wrote on Twitter, "We're ready to root on Emma and Steve for their fabulous performances in @billievsbobby. #goldenglobes #TIMESUP #WhyWeWearBlack." In the snapshot, she's seen wearing black, in solidarity with the other women and men deciding to wear the color in support of the Time's Up initiative, which is advocating on behalf of sexual assault and harassment victims.
This won't be King and Stone's first time posing together on a red carpet either. When Battle of the Sexes premiered in September, the two came together. According to The Hollywood Reporter, Stone said at the time, "I've never played a real person before and it's, like, this person is an icon and an absolute badass that I could never even hope to be exactly like." She continued,
"Capturing the essence was very important to us. It was super challenging, but [King] was so warm and welcoming and open to all of it. She was generous with her story that it made it much easier than if she was like, 'Please don't make this movie about me, good night.'"
There's no doubt these two have bonded for life, and seeing them celebrate the movie's success together at the Globes — as well as shedding more light on King's invaluable activism — is the perfect tribute.