Louis Vuitton Is Donating 2,500 Masks To MTA Workers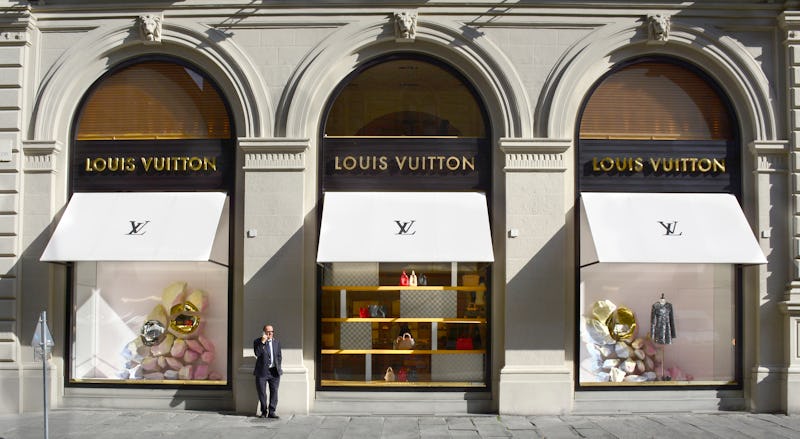 Robert Alexander/Archive Photos/Getty Images
As the world struggles to cope with the Coronavirus pandemic, the fashion industry is banding together to offer up support to those in need. From the smallest jewelry designers to the largest fast fashion retailers, brands are pledging to help people devastated by the impact of the virus in a myriad of ways. Some designers are donating to organizations like No Kid Hungry to fight child hunger in the wake of schools temporarily closing. Others are using their resources to produce more hand sanitizer or deliver masks and scrubs to healthcare workers.
Ahead, find the growing list of designers and brands who are stepping up to help during a time of crisis.
Vestiaire Collective launched a celebrity sale during which all proceeds from the sale (including 100% of the brand's commission) will be donated to the World Health Organization, France/Paris Hospitals Foundation, Madrid's La Paz Hospital, and the Italian Lombardia Region Fundraising to help support the fight against Covid-19. The charity sale will include pieces donated from style icons like Kate Moss, Anna Dello Russo, and more.
Versace has pledged to donate $5000,000 to support local relief efforts in association with COVID-19. Specifically, the funds will be give to "the Intensive Care Unit of San Raffaele Hospital in Milan to provide critical aid to those battling the virus, and Camera Nazionale Della Moda Italiana for the 'Italia, we are with you' project, an initiative that donates ventilators and medical equipment to Italy's hospitals." Versace previously donated ¥1 million to the Chinese Red Cross Foundation.
After New York Governor Andrew Cuomo said he's looking for manufacturers of masks to provide medical supplies (which NYC specifically will run out of in 2-3 weeks), Siriano responded by tweeting that he has a full sewing team working from home that can contribute. "If @NYGovCuomo says we need masks, my team will help make sone," he wrote.
Meghan Markle's go-to footwear brand, Sarah Flint, is donating 25% of the proceeds from any purchase between 3/17 - 3/24 to Lions Club International to support the hospitals Istituto Clinico Beato Matteo and Ospedale Civile di Vigevano in Vigevano, Italy.
Inditex, Zara's parent company, will be donating masks in Spain for coronavirus patients as well as healthcare workers. In a statement by the company, they shared that they "will make a delivery at least once a week of materials [they] purchase directly."
LVMH has instructed three of their perfume factories (previously producing for Christian Dior, Givenchy, and Guerlain) to start to make hand sanitizer as the world is at a loss, donating the products at no charge to French authorities as well as the largest hospital system in Europe.
The acclaimed brand, helmed by Kerby Jean-Raymond, is organizing a supplies drive for medical workers and direct $5,000 in funds to obtain supplies. The brand is also setting aside $50,000 to help sustain "minority and women-owned small creative businesses who are currently in distress."
Brent Neale announced on Sunday that she would be donating 30% of all sales to No Kid Hungry, through Friday, March 20.
Hill House is offering a 10% discount site-wide as a shopping incentive, donating an additional 10% of all bedding and bath sales to both God's Love We Deliver and Room to Grow.
Jewelry brand Retrouvaí will be donating 25% of all website sales to No Kid Hungry through March 22.
Through April 30, KkCo will be donating 10% of sales to No Kid Hungry.
Until further notice, SVNR will be donating 50% of web sale profits to Meals On Wheels. Additionally, the brand started a Go Fund Me for ventilators and protective gear for healthcare workers.
Though they have closed their location in Bergdorf Goodman in New York City, Kentshire is donating 10% of sales online to God's Love We Deliver.
Brandon Maxwell announced that he would be manufacturing masks and gowns to healthcare workers who are aiding in the fight against COVID-19.
Skms will be donating 20% of all profits to Baby2Baby's COVID-19 Emergency Response Program.
Allbirds has begun to donate shoes to anyone in healthcare or otherwise working to help fight the spread of Coronavirus.
Everlane will be donating all proceeds from their 100% Human collection to Feeding America's COVID-19 Response Fund.
The denim company has announced their plans to donate 20% of all profits to low-income families through Baby2Baby.
WWAKE. Is running a giveaway in which individuals are able to nominate healthcare workers to be entered to win jewelry from the designer each week.
A portion of online sales site-wide will be donated to the United Way's COVID-19 Recovery Fund.
Chanel joined the ranks of other luxury brands around the world, announcing on Sunday that they would begin to produce efface masks for healthcare workers in France as soon as approved by French authorities.
10% of all sales from the shoe brand will be donated to Doctors Without Borders and Direct Relief until April 15.
Haute Hijab will be donating 250 hijabs to healthcare workers fighting COVID-19.
Fashion Nova is launching Fashion Nova Cares, along with Cardi B, which will donate $100 every hour for the next 42 days to those in need as a result of COVID-19.
Loewe is donating 40 euros from every product sold in the newest collection between May and August, with an initial donation of 500,000 euros, to educational projects. Additionally, the brand will be donating 100,000 surgical masks to the Spanish Red Cross and will be producing non-surgical masks in its Getafe factory that will be distributed to volunteer workers, Loewe employees, and their families.
Bottega Veneta has donated more than $450,000 to help aid scientific research that will help COVID-19 treatments and vaccines.
20% of all sales from JW Pei's latest under-$100 collection will be donated to COVID-19 relief, through The Mask Fund.
Louis Vuitton is using all five of its American workshops to produce nonsurgical cloth face masks. 2,500 of the aforementioned masks are being directly shipped to the Metropolitan Transportation Authority in New York City.
Read more here:
Can Coronavirus Live On Clothes? Your Fashion Questions, Answered
What Stores Are Closing Due To Coronavirus? The List Is Growing
Coronavirus Anxiety Is Everywhere. Experts Explain How To Feel Better
If you think you're showing symptoms of coronavirus, which include fever, shortness of breath, and cough, call your doctor before going to get tested. If you're anxious about the virus's spread in your community, visit the CDC or NHS 111 in the UK for up-to-date information and resources, or seek out mental health support. You can find all Bustle's coverage of coronavirus here, and UK-specific updates on coronavirus here.
This article was originally published on