"Fiji Water Girl" From The Golden Globes Is Award Season's First Hilarious Meme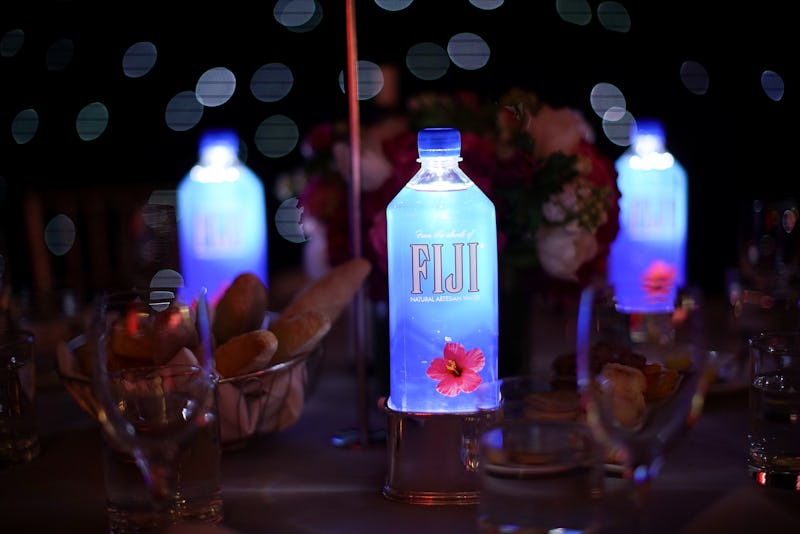 Bennett Raglin/Getty Images Entertainment/Getty Images
People may be tuning into the 2019 Golden Globes to watch some of Hollywood's biggest A-listers, but a new star was crowned before the ceremony even began: Fiji Water Girl. The mysterious woman spent the start of the evening lurking in the background of various celebrity pictures, delivering a confident smirk and proudly displaying a metal tray filled with bottled Fiji water. Already, she's become one of the ceremony's biggest memes, photo-bombing celebs including Camilla Belle, Cody Fern, Richard Madden, Idris Elba, and Jim Carrey, with more presumably to come.
The Fiji Water Girl may have been hired to hand out bottles of artisanal spring water, but she's quietly (and quickly) become an internet hero — and a great low-key spokeswoman for Fiji. After all, her face (and their logo) are now everywhere. "FYI: I have already written 200 pages of the Fiji Watergirl's inner monologue tonight," tweeted BuzzFeed editor Jarrett Wieselman. "The Fiji watergirl is me trying to act nonchalant but also serve face in the background of club photos," wrote another user.
And one of the first things that comes up when you search her name on Twitter? Fiji's official account advertising "Earth's finest water." Now that's good promo.
Fiji Water Girl is giving the brand an impressive start for 2019, entering the cultural conversation on one of Hollywood's biggest nights. It's also a big step up from that time Lil Pump dressed up as a bottle of Fiji on Saturday Night Live to deliver his verse in Kanye West's "I Love It." While Lil Pump is a pretty effective surprise Fiji spokesperson based on his popularity alone, there is one thing that Lil' Pump lacks that the Fiji Water Girl has in spades: a sense of mystique and mystery.
As she continues to blow up during the Golden Globes (people are now photoshopping her into the actual ceremony), the Fiji Water Girl's identity remains a mystery, only further fueling all the hype around her. But chances are that she'll come forward soon enough — who would give up the opportunity to be the next Selfie Kid? She'll probably be on The Ellen DeGeneres Show later this week.
And Fiji, too, will probably want to cash in on her new fame. According to Time, they've been the official bottled water of the Golden Globes since 2015. That kind of sponsorship is an effective marketing tool on its own, but having a living, breathing meme in their midst is an advertising gold mine fellow Golden Globes sponsors Lindt Chocolate and Moët & Chandon can only dream of.
Fiji Water Girl may not end up completely stealing the spotlight from all the celebrities in attendance at the event, but she definitely made her mark. And honestly, good for her — she really seized this opportunity for all that it could offer.
"Fiji water girl stealing the show is my favorite #GoldenGlobes story of the decade," tweeted one viewer. Added YouTube Tyler Oakley: "who is she & why doesn't she have a billboard on sunset??"
Perhaps one day soon, she will!