Frankie Grande Just Supported Ariana With The Sweetest Video, Amid Breakup Reports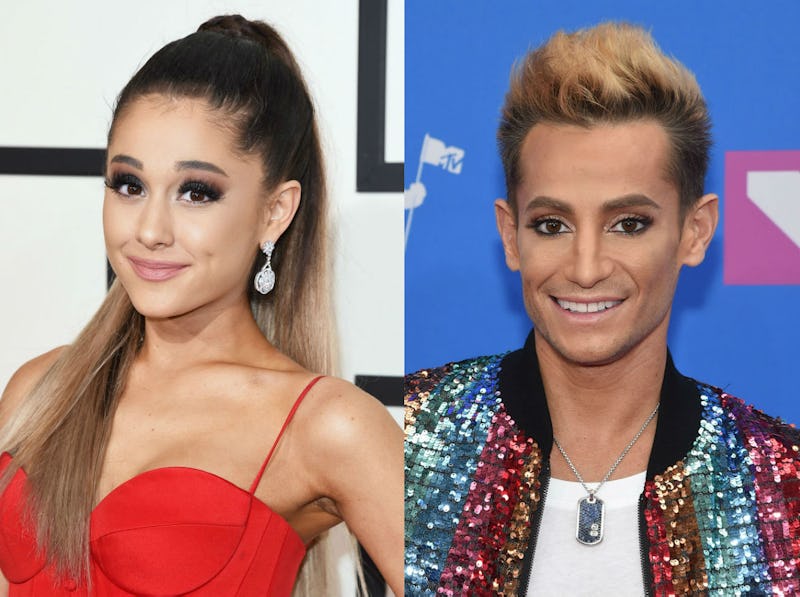 Jason Merritt/Getty Images Entertainment/Getty Images; Jamie McCarthy/Getty Images Entertainment/Getty Images
This is what a loving sibling relationship looks like. On Monday, Frankie Grande supported Ariana Grande with the sweetest video posted on his Instagram Story. He's currently vacationing in Iceland, but that didn't stop Frankie from sending love to his younger sister. He seriously seems like the best big brother ever.
As you can watch below, the former Big Brother contestant said, "Good morning to my beautiful, beautiful sister. I love you so much and you're with me right now in Iceland. Listen!" He then sang a few notes from Ariana's song "Breathin'" before adding to his message, "You know, you gotta keep on breathin' — that's true."
Frankie's sweet words come at what is reportedly a tough time for Ariana. On Oct. 14, and to the shock of many, TMZ reported that Ariana and Pete Davidson called off their engagement and split. Per the website, the two reportedly broke things off after realizing now is not the "right time" for their relationship. TMZ also reported, "We're told the two still have love for each other, but things are over romantically."
A source also told People about Ariana and Davidson, "It was way too much too soon. It's not shocking to anyone." (Bustle reached out to both celebrities' reps for comment regarding the breakup reports, but did not receive an immediate response.)
There's no denying Ariana hasn't had the easiest time lately in general. In early September, the singer's ex-boyfriend and close friend, Mac Miller, died at the age of 26. At the time of the rapper's death, his family released the following statement to E! News:
"Malcolm McCormick, known and adored by fans as Mac Miller, has tragically passed away at the age of 26. He was a bright light in this world for his family, friends and fans. Thank you for your prayers. Please respect our privacy. There are no further details as to the cause of his death at this time."
On Sept. 14, Ariana shared a video tribute for Miller on Instagram. She also wrote a lengthy caption, where she called him her "dearest friend." Part of her post also read: "i'm so sorry i couldn't fix or take your pain away. i really wanted to. the kindest, sweetest soul with demons he never deserved. i hope you're okay now. rest." Frankie also honored Miller with a touching Instagram.
Ariana was also expected to attend the 2018 Emmys, but she didn't for an understandable reason. "Contrary to reports, Ariana will not be attending the Emmys tonight," her team told People at the time. "Pete has also opted to not attend to be with her in New York."
Her team's statement continued,
"Given the events of the past couple of years, Ariana is going to take some much needed time to heal and mend. She will be staying close to home and using this period to spend time with her loved ones and work on new music without deadline. She thanks her fans for their understanding."
It's understandable that she's taking time to heal, between dealing with Miller's death and past horrific events, including the May 2017 Manchester bombing at a show during her Dangerous Woman tour. She's also been open about dealing with anxiety and PTSD following the terrorist attack.
Ariana has definitely dealt with a lot recently, so she most certainly needs not only time to herself, but loved ones by her side. It's nice to know her brother, Frankie, has his sister's back.