Ariana Grande Opened Up About The Manchester Attack & Her Comments Show So Much Strength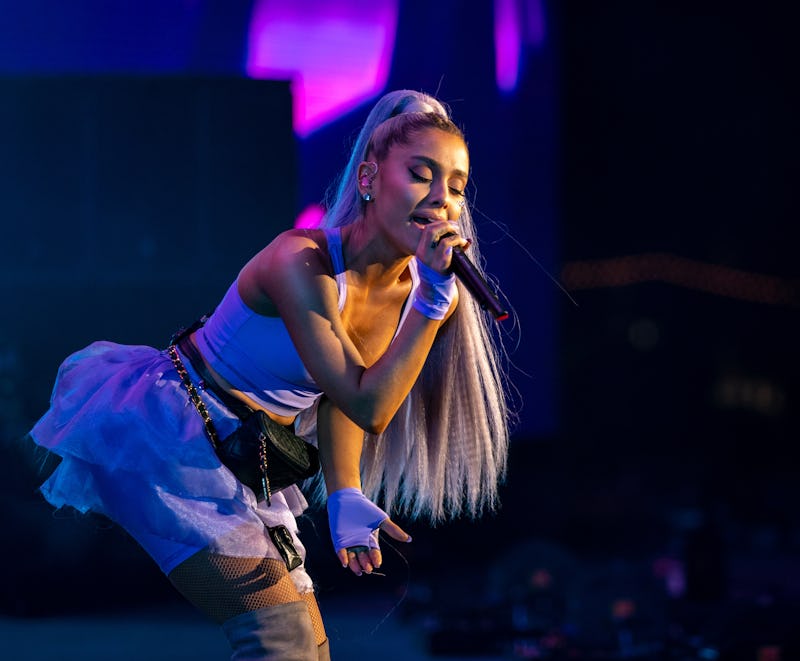 Christopher Polk/Getty Images Entertainment/Getty Images
If you're looking for a bit of inspiration, Ariana Grande just may be able to give you a healthy dosage. The Dangerous Woman artist has been through a lot over the past year, and within her recent profile piece for Time, she talks all about it — including her dynamic approach to her new music. But Grande's comments on the Manchester attack shows so much strength, and can totally teach folks a thing or two about resilience.
In a recent issue of Time, Grande, along with nine other budding activists, was highlighted as a "Next Generation Leader," and the title couldn't have beeen more suited for the pop star. Just last May, moments after performing for thousands of fans at the Manchester arena, a bombing occurred — injuring close to 800, and claiming the lives of 22 concertgoers, according to BBC. The tragedy shook the world, including Grande, to the core, but instead of letting the heartbreak overtake the moment, everyone deeply affected banned together, showing an enormous amount of love and support for one another.
Two weeks after the attack, Grande did what most would've considered impossible, and held a benefit concert, entitled One Love Manachester, in honor of those impacted. And together with fans and countless celebrity names who donated their time, $12 million was raised for the bombing victims, and the performances, which streamed all over the world, marked the beginning of true healing.
While speaking to Time, the artist deemed the attack as "the absolute worst of humanity," but refused to talk about it too much, as to not give it much power. For Grande, she said that she thinks about the attack every single day, and she knows that it's going to take some time to process. But, "the last thing I would ever want is for my fans to see something like that happen and think it won," Grande said in the interview. And that spitfire attitude, mixed with the grief she's still experiencing on a daily, is totally what her newest single, "No More Tears Left to Cry" appears to be all about.
The April 19 release, which is set to appear on her upcoming album Sweetener, starts off as a slow ballad, but surprising switches to an uplifiting pop track, illustrating Grande's approach to healing after tragedy.
In the interview, Grande explains, "The intro is slow, and then it picks up. And it's about picking things up." And the lyrics definitely show just how resilient the Florida native is. Grande powerfully belts: "Comin' out, even when it's rainin' down. Can't stop now, can't stop so shut your mouth," before going into, "Oh, I just want you to come with me. We on another mentality. Ain't got no tears left to cry" — pointing anyone who's stuck and in needed of healing in the right direction.
Though admittedly still trying to find her own peace after the tragedy, Grande shared how she's able to to experience happiness on a daily basis, telling Time, "When I started to take care of myself more, then came balance, and freedom, and joy," and as a result, "It poured out into the music." The video, which perfectly matches her strength-filled tone, was all about trying to find your placement after hardship. The montages of Grande walking on rotating walls and ceilings showed how difficult it is to bounce back, but, as one must do with everything in life, Grande keeps moving until she finds her ground.
Let Grande tell it, and she told Time that she felt "like I'm finally landing back on my feet now." And seeing her healthy, happy, and thriving a year later, especially after feeling as though she'd never perform again post the Manchester attack, could totally inspire those battling hardships to keep pushing too.