'Full Frontal's Allana Harkin Won't Let Fear Win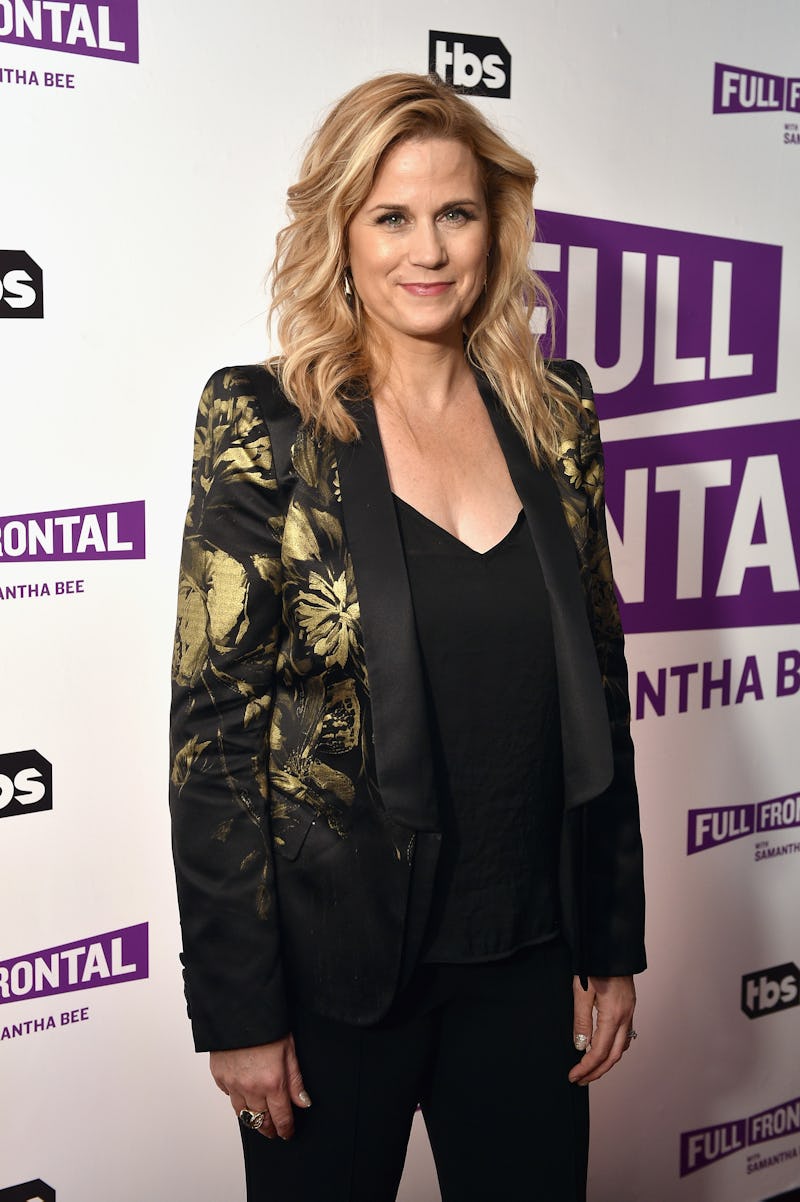 Bryan Bedder/Getty Images Entertainment/Getty Images
There's plenty to get pissed off about right now, especially when it comes to politics. With news breaking every day that may make it seem like the end of times is nigh, it's easy to feel resigned or discouraged. Don't be; it's time to take action. At least, that's what I learned from speaking to Full Frontal's Allana Harkin, who believes women should be politically active now more than ever. According to Harkin, there's no reason to stay quiet.
When speaking to Bustle over the phone recently, Harkin explains why she is "100 percent" in favor of women getting vocal. "People are rising to service, especially women. ... So many female voices are so loud to me right now, in such a positive way," she says, "and I see people taking action way more than even I am." This is an interesting observation for the Full Frontal producer and field reporter, who's arguably an active political figure right now because of the nature of her work.
However, Harkin admits there's a difference between being on a politically charged comedy news broadcast and actually doing the work that needs to be done. "I get to be on the show, this is my job. But I see women doing things all across the country, all across the world, like, all across Canada [Harkin's country of origin] that are making a difference," she says. "Whether it's protesting, whether it's writing letters, whether it's just being extremely vocal in a way you've never been vocal before."
Harkin also gives women (including you, awesome reader) a call to action: "I think women need to fight against that feeling of feeling fragile, like they don't have a voice. Because why not now? What are you waiting for?" It's hard to convey how serious yet sincerely kind she sounds in that moment, while telling me that women can't let fear get the best of them in a time where our opinions and action are necessary.
"Whether it's protesting, whether it's writing letters, whether it's just being extremely vocal in a way you've never been vocal before."
She continues, "As cliché as it sounds, there's no better time than now. Your opinion of how you feel is not going to get better formulated five years from now. You already know what you want. You already know what you want to say. Just say it now. Don't wait. "
If you do, at any point, find yourself overwhelmed — perhaps needing a dose of sanity — Harkin does feel that comedy can be a balm. For her, comedy "is catharsis," and she's seen that idea evolve in the last few months through the audience at Full Frontal.
"When people come into our show ... they really want to be there. Our audience now is so different than a year ago because now there's sort of a 'We're all in it together' mentality. You feel like your team just showed up. It's an amazing feeling. It's like we all know each other because we're brought together by the destruction of the country," a final note that she balances out with a laugh. There's always going to be doom and gloom, but Harkin gives the impression that laughing at that darkness not only helps keep you sane, but it helps you fight back.
So please, take Harkin's advice, because damn, is it good advice. If you can speak up, speak up. If you can take action, take action. And, if all you can do is laugh, then by God, laugh until you can't laugh any more.