These Gal Gadot & Patty Jenkins Tweets Emphasize The Power Of Women Supporting Women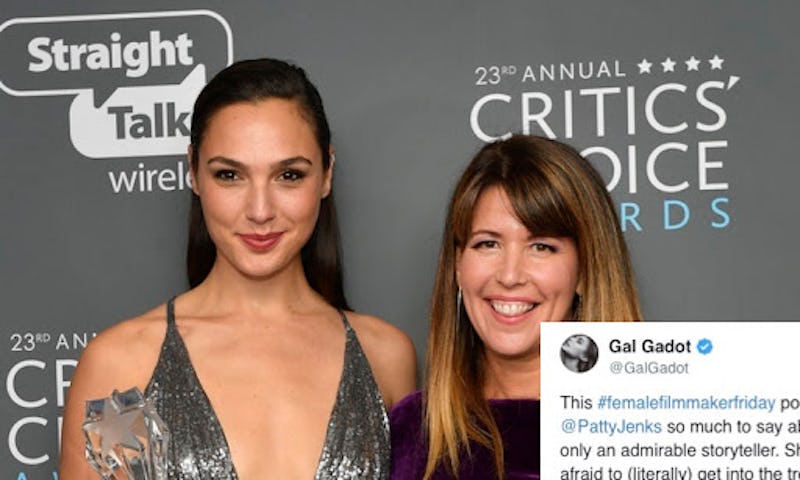 Matt Winkelmeyer/Getty Images Entertainment/Getty Images; Gal Gadot/Twitter
Once again, Wonder Woman is proving to be a total inspiration. On Friday, Feb. 2, Gal Gadot praised Patty Jenkins in a tweet that will warm your heart. Jenkins, who directed Gadot in Wonder Woman, is partly responsible for giving the world a truly amazing female superhero film, and her efforts have touched many lives, including that of her star. Seeing women support each other is always heartening, but there's something extra special about the way Gadot and Jenkins share their appreciation for one another, especially using the hashtag #femalefilmmakerfriday.
Gadot tweeted,
"This #femalefilmmakerfriday post is for the incredible @PattyJenks so much to say about this incredible woman. Not only an admirable storyteller. She is a wonderful leader, not afraid to (literally) get into the trenches. Lucky to call her a collaborator, friend, sister in film."
Jenkins has become one of the most famous female directors working today, and for good reason. She guided Wonder Woman to become a blockbuster hit in an age where conventional thinking seems to dictate that female-driven superhero movies can't be successful. Jenkins previously directed Monster, which led to Charlize Theron winning a Best Actress Oscar in 2004, but Hollywood didn't seem to understand just how gifted the director truly is — at least not until she made box-office magic happen in 2017.
As far as Jenkins is concerned, her star deserves just as much love. Jenkins responded to Gadot's beautiful message on Twitter with a message of her own. The director tweeted,
"Oh my dear collaborator, friend, sister and true partner. Thank you so much! Working with you and watching your skills, bravery and heart everyday, is a highlight of my life, and I can't wait for more everyday."
Gadot and Jenkins' working relationship is a powerful reminder of the magic that can happen when women are allowed room to collaborate. Together they brought a movie about a hero who was strong, feminine, moral, and resilient to life. And thankfully, they're set to do it all again for Wonder Woman 2.
It's clear from their tweets that Gadot and Jenkins are so appreciative to be a part of each other's lives. They worked side by side for months to make sure that Wonder Woman could be the best that it possibly could be, and the result was a movie that made the famous hero more relevant than ever before. That's the power of women telling stories together, and that's why the Female Filmmaker Friday hashtag is such a brilliant idea.
The hashtag was created by Crazy Ex-Girlfriend co-creator Aline Brosh McKenna and Crossroads director Tamra Davis, and it was born out of a desire to see social media flooded with photos of women working behind the camera. In a recent interview with Variety, McKenna explained the hashtag came about after she saw Davis sharing photos of herself directing on Instagram. McKenna wanted to see more images like the ones that Davis shared, and so they devised the tag. The director told Variety,
"People went for it, and honestly it was just sort of a desire I had because I thought those images were really cool and just wanted to see them. And it is an inspiring thing to see. It does make the distance shorter, being a young girl sitting on your bed imagining it, if you have an image of someone doing it. I thought it would be fun, and I am on hiatus, so I'm not as busy. It took off in such a great way. There are images of a girl loading a 16mm camera under a blanket to Ava DuVernay and everybody in between. There were a lot of people that I didn't even know had directed, so I think it also just kind of got the word out about some female directors that people didn't even know existed.
Female Filmmaker Friday puts faces to the names of the talented women working across the industry to make films and television series that speak to audiences everywhere. It also provides an avenue for them to connect with one another and aspiring filmmakers everywhere as evidenced by the messages of mutual empowerment shared by Gadot and Jenkins. These two incredible people are proof that the hashtag is doing its job and bringing women together in a meaningful and moving way.