The Stark Sisters Are Heading To 'Carpool Karaoke'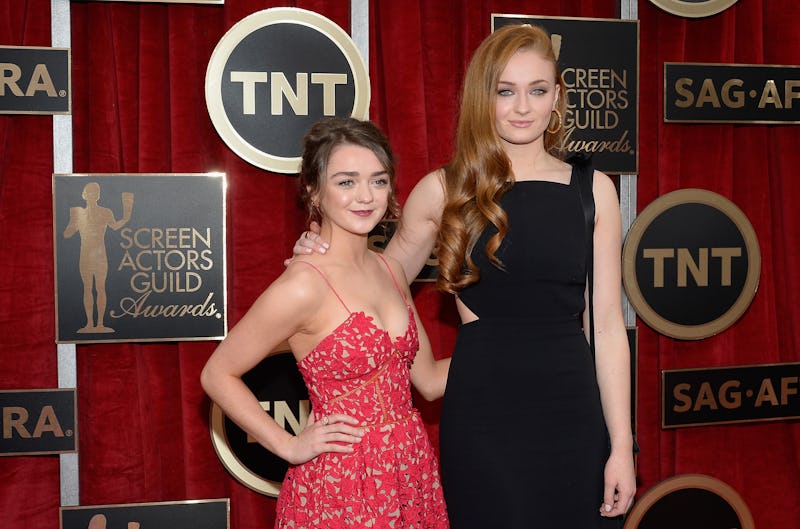 Kevork Djansezian/Getty Images Entertainment/Getty Images
Sansa and Arya Stark are going to work through their issues with song, you guys. Well, sort of. According to Mashable, real-life Game of Thrones BFFs Maisie Williams and Sophie Turner are visiting Carpool Karaoke. The new series is a spin-off of Late Late Show host James Corden's popular segment where he and celebs like Adele drive around while belting out their favorite songs.
The series is Apple Music's new original show, and it has an impressive lineup of guests for Season 1. In addition to Williams and Turner, John Legend, Alicia Keys, Ariana Grande, Seth MacFarlane, Will Smith, and Corden himself are all set to stop by. As wonderful as all of the other celebs are, the Stark sisters are definitely going to be the highlight.
Williams and Turner are currently at the South by Southwest Festival for the Game of Thrones panel, and the duo took the opportunity to film an announcement of their upcoming Carpool Karaoke episode. As usual, they were in full on bestie mode as they made their announcement in the most adorkable way possible. Seriously, is there anyone on the planet who doesn't want to hang out with those two? Check out their official announcement before you answer that question.
The Game of Thrones' stars epic friendship has been well-documented on the Internet. Not only do the actors have matching tattoos, they also frequently pop up on each other's social media feeds. They even sported matching Halloween costumes last year. In short, their friendship is legendary, and their guest appearance on Carpool Karaoke is only going to reaffirm their unwavering status as ultimate BFF goals.
There's no word yet on what these two ladies will sing, but if Williams and Turner belt out a Spice Girls tune, the entire Internet may die from happiness. Whatever song (or songs) they choose to sing, they are sure to be girl power anthems befitting queens like themselves. The only thing I know for sure is their episode needs to get here ASAP.
In the meantime, you can busy yourself daydreaming about a possible Arya and Sansa Game of Thrones Season 7 reunion. It has been five long seasons since those two have shared a scene together, and it is way past time for the Stark girls to hangout onscreen, as well as off. Although, something tells me it will take more than a little singing to make Arya and Sansa as close as Williams and Turner.
Then again, friendships as pure as the one that exists between Williams and Turner are rare in Westeros and in real life.