This Photo Of Carrie Fisher's Dog Watching 'The Last Jedi' Trailer Will Break Your Heart All Over Again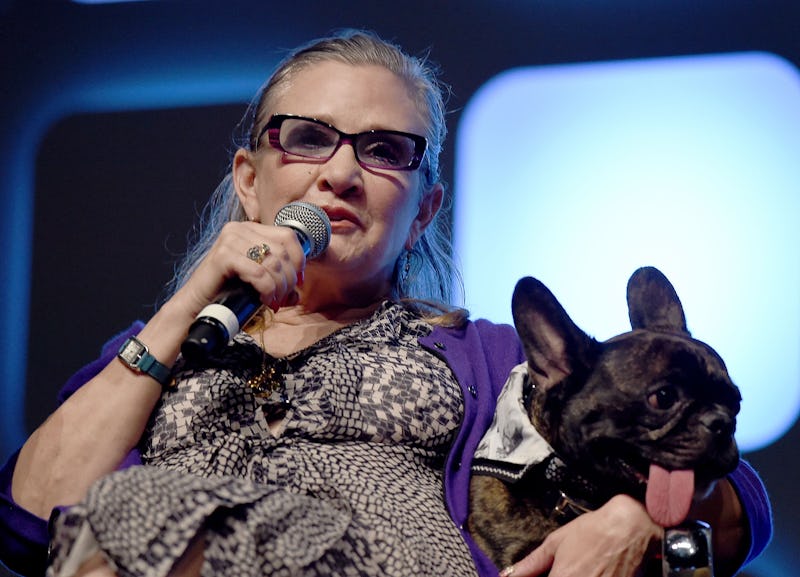 Ben A. Pruchnie/Getty Images Entertainment/Getty Images
Nearly a year after Carrie Fisher's untimely passing, a recent photo of Gary Fisher watching The Last Jedi trailer will make you sob all over again. In a snapshot posted to Fisher's beloved French bulldog's official Instagram, the precious pooch can be seen looking on at his mom's final portrayal of General Leia Organa in the forthcoming film from the Star Wars franchise. The touching photo of the 5-year-old was topped off with an equally heartbreaking caption,
"Just watched the new trailer of The Last Jedi and my mom looks more beautiful than ever. #garymisseshismom #garyloveshismom #garyloveshisfans"
The moving post certainly tugged at the heartstrings of Gary's 145,000 followers, as it's amassed a plethora of fan comments and has been liked more than 39,000 times since being posted late Monday night.
Gary notably served as a therapy dog for Fisher after she adopted him from her daughter, Billie Lourd, sometime around 2012 to help her deal with bipolar disorder, according to Today. Just weeks before her mother's death, Lourd explained her mother's connection with Gary, telling Kathie Lee and Hoda, "He was mine first and she actually stole him from me because she fell in love with him."
The dog would be by Fisher's side until the very end, as indicated by Today. He was even with her on the December 2016 flight from London to L.A. when she went into cardiac arrest. As Fisher's ubiquitous sidekick, Gary became an integral part of the 60-year-old actor's daily activities and often accompanied her to several high-profile events during the final years of her life, including both the Tribeca Film Festival and White House Correspondents' Dinner in April 2016.
While detailing her struggle with bipolar disorder in 2013, Fisher explained some of the qualities that made Gary so special to her during an interview with the Herald-Tribune. She revealed,
"Gary is mental also. My mother says Gary is a hooligan. Gary is like my heart. Gary is very devoted to me and that calms me down. He's anxious when he's away from me."
Fans became quickly acquainted with the pup as Fisher would often share many of their precious moments together on her personal social media accounts. The two certainly shared an undeniable bond before her passing. Upon her death, Gary was reportedly placed in the care of Fisher's assistant Corby McCoin, according to People.
The eighth episode of the Star Wars franchise, The Last Jedi, is a follow-up to the 2015 hit, Star Wars: The Force Awakens. The recently released trailer, which premiered during the Monday Night Football telecast, closes out Fisher's legendary role as Princess Leia — a part which she has continuously reprised since the franchise's original film debut in 1977.
The snippet hones in on the two newer main characters of the series: Kylo Ren, a character which was introduced by Adam Driver in Awakens saga, and Rey, played by Daisy Ridley. Clips of the sneak peek also reveal important appearances from the iconic Luke Skywalker, a role which has long been portrayed by actor Mark Hamill, and most notably features Fisher as the unforgettable General Leia Organa. The forthcoming film is reported to be Fisher's last big screen role following her shocking death late last year, according to CNN.
From what is alluded in the film's nearly two-and-a-half-minute trailer, it appears that fans will soon witness the fate of Princess Leia's beloved character when the feature hits theaters on Dec. 15.
After close to 40 years as a household name in the entertainment industry, Fisher's presence will certainly be missed — both on and off screen. And although she may no longer be among us in this earthly life, her spirit will, no doubt, remain engrained in the hearts and minds of Star Wars' aficionados for a long time to come, especially thanks to heartfelt posts from loved ones like Gary.