This Revelation About The 'Game Of Thrones' Books Will Actually Make You Laugh Out Loud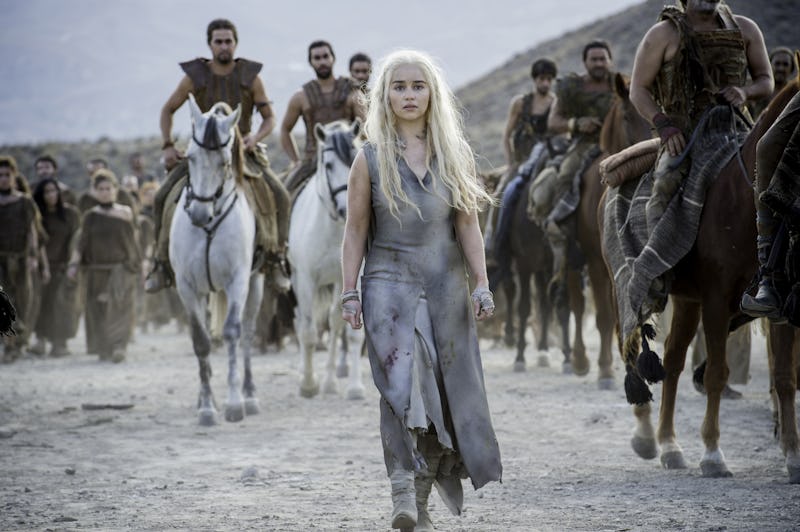 Macall B. Polay/courtesy of HBO
When all is said and done, the wildly popular A Song of Ice and Fire series will eventually span seven novels, six prequel novellas, a two-volume history, a comic book series, several reader guides, companion books, seven seasons of an HBO television series, at least five on-screen prequels, and who knows what else. But when he was first struck with the idea for A Game of Thrones, author George R. R. Martin actually thought it might actually be a short story. Luckily for the millions of readers and viewers who have come to love his epic fantasy series, A Song of Ice and Fire has come to be so, so much more.
In a recent interview with Alison Flood of The Guardian, George R. R. Martin opened up about his most famous book series, how he feels about the fame and fortune it has brought him, and what it is like to write with millions of fans around the world waiting to see what you come up with next. He also talked about how he first came up for the idea for a Game of Thrones in 1991. "When I began, I didn't know what the hell I had. I thought it might be a short story; it was just this chapter, where they find these direwolf pups," Martin told The Guardian. "Then I started exploring these families and the world started coming alive."
Since that first glimmer of an idea, Martin's story about feuding families, fire-breathing dragons, and White Walkers has grown into an international phenomenon. But over 20 years ago, it was just a book: A Game of Thrones, published in 1996 as part of a planned trilogy that would include A Dance with Dragons and The Winds of Winter. The more Martin wrote about Westeros and the many families that vied to control it, though, the more obvious it became the story could not be told in three novels. Soon enough, A Song of Ice and Fire became a planned four then six book series until it eventually became the planned seven book series we know today: A Game of Thrones, A Clash of Kings, A Storm of Swords, A Feast of Crows, A Dance with Dragons, and the still unpublished The Winds of Winter and A Dream of Spring.
Of course, the question fans keep asking — When will The Winds of Winter be out? — is the one Martin doesn't have an answer to. At least, not yet. It's not because he doesn't want to write the next book in his beloved A Song of Ice and Fire series, it's that the immense popularity of both his original novels and the HBO show have made writing them more difficult. "The show has achieved such popularity around the world, the books have been so popular and so well reviewed, that every time I sit down I'm very conscious I have to do something great," Martin said, "and trying to do something great is a considerable weight to bear."
Under the mounting pressure of an ever-growing fandom, Martin has managed to stay incredibly busy churning out A Song of Ice and Fire content as well as several other projects, on screen and off. Fire & Blood, the first in his planned two-volume history of House Targaryen, hits shelves Nov. 20. Martin is also currently working on five different Game of Thrones prequels with HBO, serving as an executive producer of an upcoming adaptation of Nnedi Okorafor's Who Fears Death, and developing superhero series Wild Cards. This is all in addition to a few other shows for HBO Martin can't yet talk about, according to the author.
With so many projects going on, it is no wonder Martin hasn't had time to finish The Winds of Winter yet. Luckily for fans, there is plenty of other A Song of Ice and Fire content to enjoy while they wait for it's highly anticipated, still to be determined release.