Kelly McCreary From 'Grey's Anatomy' On Why She's Dedicated To Getting Out The Vote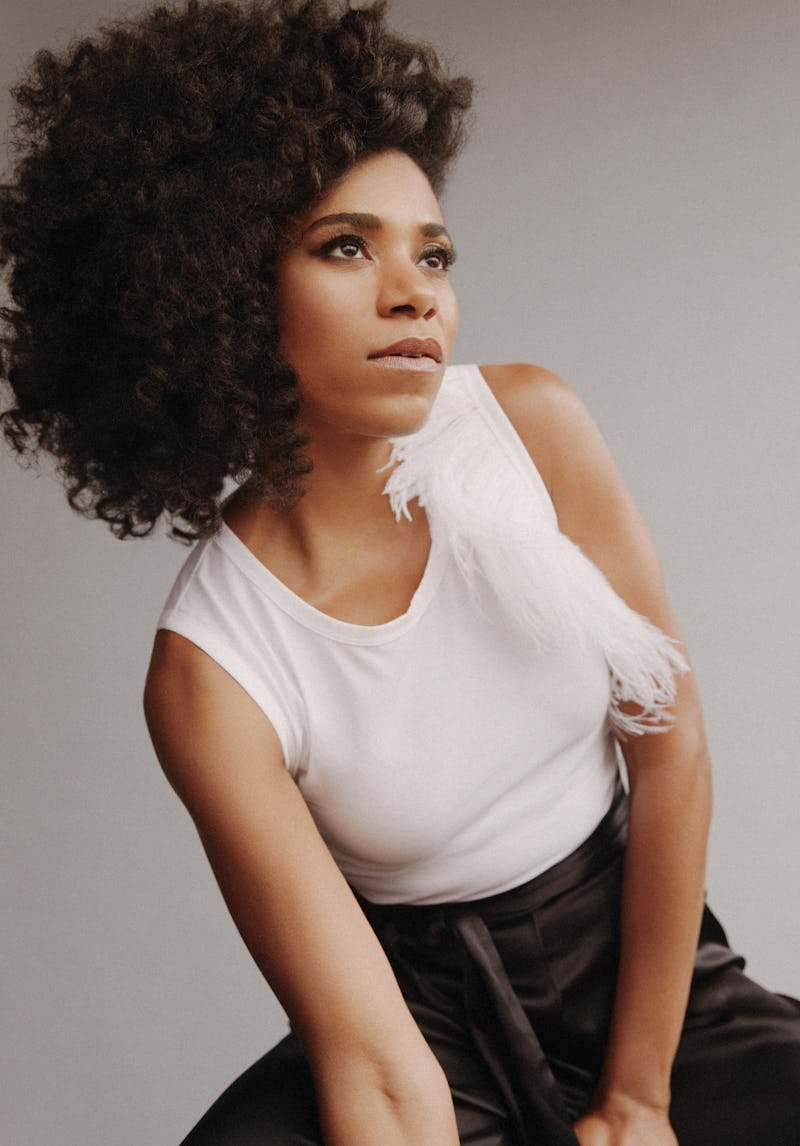 Gray Hamner
Grey's Anatomy cardiac surgeon Maggie Pierce is an intense person, almost as intense as her predecessor Cristina Yang. She is the youngest cardio chief ever at Grey Sloan, and she seems like the type of person who finds endlessly cataloging old magazines to be relaxing (no judgment here). Kelly McCreary, who plays Maggie, might not be quite like Maggie in many ways, but these days she's using up all of her energy off set to do one very important thing — encouraging Americans to vote in the midterm elections. When she's not saving lives or fretting over the state of her love life on Grey's Anatomy, McCreary is working with When We All Vote, an organization dedicated to ensuring that every American who wants to head to the polls can do so and convincing those on the fence that their vote matters. "I believe in voting. I believe passionately and deeply," McCreary tells Bustle in a recent interview. "Many of the things that are wrong or difficult or challenging with what's happening right now can be changed. Our persistence is the one power we have."
According to the organization's website, When We All Vote is "a new national, nonpartisan not-for-profit" that "brings together citizens, institutions, and organizations to spark a conversation about our rights and responsibilities in shaping our democracy." McCreary says that she's passionate about voting because it allows frustrated Americans a means of power, a way to feel like they can do something as the world crumbles around them.
"A lot of people are looking around the world right now, and to put it mildly, they don't like what they see," McCreary says. "When you feel like there's nothing you can do about any of this, you have to remember, other people felt that way too before where we are now, and they mobilized and got their communities to the polls and made the change. And that is how things are done in this country." Voting is a privilege and a civil right, McCreary says, and she is doing what she can to "impress that upon as many people as I can."
McCreary refuses to say how optimistic she is about a "blue wave" happening on November 6 — she prefers that people continue to work hard for the result they want. "I am feeling like there is a lot of work to do," she says. "We are getting to the polls to vote for people who… have our democracy at heart as they run for office. Let's just keep our nose to the grindstone and keep doing this."
In "doing this," McCreary has the full backing of her Grey's Anatomy team, from Ellen Pompeo to creator Shonda Rhimes. For McCreary, it's tremendously important that her private life is supported by her work life and that she can combine them this way. "Everything is political, and it's really hard to divorce the identities that make your existence in this country controversial from yourself when you go to work," McCreary says. "I feel very grateful to work for an employer who supports people who want to use their voices to stand up for themselves and other people who may not have the same resources and power that we do."
It's one of the reasons she's so grateful for the Grey's Anatomy family. She adds, "This show is such a legacy, and it's a really nice feeling. It's a satisfying feeling. I feel tremendously lucky." Maggie's storyline has come to the forefront in the past few seasons, dealing with a deeper relationship with Richard Webber, her biological dad; the death of her adoptive mother; and a new romantic relationship with Jackson Avery. While fans are split on whether or not #Jaggie is a viable romantic pairing, McCreary doesn't seem to dwell on fan opinions.
"Lots of couples are contentious… I think that audiences love a good story, so what I'm excited about is that in this upcoming episode, we really get to see Maggie and Jackson as they both sort of learn more about what makes the other and themselves tick," McCreary says. "I think that the more people spend time with these characters, the more they will have the opportunity to really appreciate the journey that either one is on together." McCreary also teases more "surprises" at Grey Sloan, including Meredith's "finding her way back to romantic fun" — something all Grey's Anatomy fans are ready for.
While McCreary can't spoil what's due to happen on Grey's Anatomy for the rest of the season, she's not shy about driving home her point about voting on November 6. "It's not going to happen overnight, and there will be wins and losses," McCreary says, "But we just have to keep fighting another day, and change will be inevitable." With women like McCreary and her Grey's Anatomy team behind getting out the vote, it's almost hard to imagine their efforts won't be an astounding success.