Twitter Could NOT Get Enough Of Grocery Store Joe During The 'Men Tell All'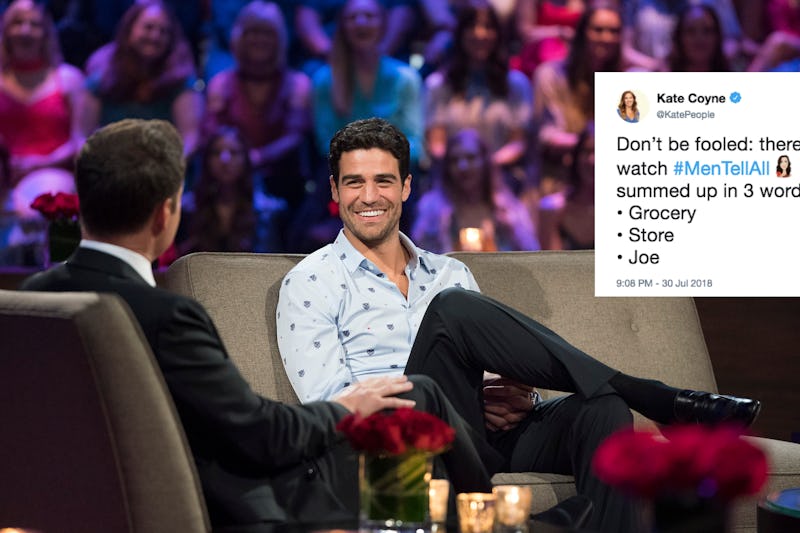 ABC/Paul Hebert; Kate Coyne/Twitter
During Monday night's episode of The Bachelorette, most of Becca Kufrin's "exes" returned for the Men Tell All special. There were a lot of petty fights to entertain (and annoy) the viewers, but Twitter just couldn't get enough of Grocery Store Joe during the Men Tell All.
He was only on Becca's season of The Bachelorette for one night, but he captured the hearts of the viewers. Week after week, the fandom tweeted about him. Usually when a beloved contestant gets eliminated, Twitter users blow up lamenting the loss but by the next episode, the viewers are onto the next trend. Joe the Grocer kept on trending every single week.
Of course, he was asked to appear on the Men Tell All episode. Yes, he didn't have much to tell since his Bachelorette experience was very brief, but everyone wanted to see him even if he didn't have much to say.
Thankfully, Joe was just as endearing during his sit-down with Chris Harrison as he was he was during Night 1 of the season. He even seemed a little bit uncomfortable with the onslaught of attention he's received. Ironically enough, his uneasiness with the attention garnered even more attention.
This man could breathe and the fandom would be into it. The viewers had a lot to say in response to last night's episode.