'grown-ish' Star Francia Raisa On What 'Open Ethnicity Casting' Really Means For Hollywood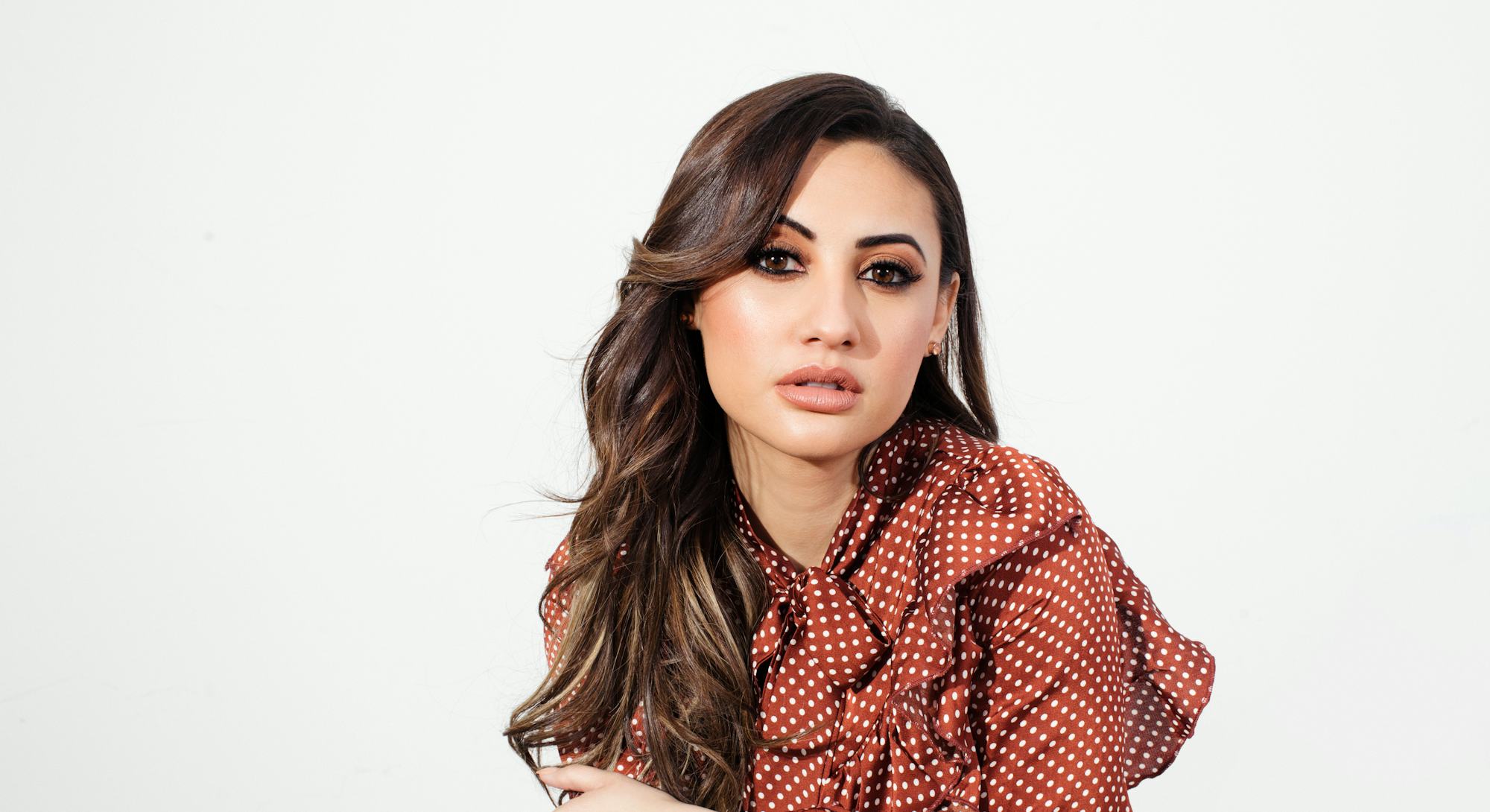 Ben Ritter/Bustle
If you've read any news about Hollywood lately, you know that the industry is far from perfect: It's long treated straight, white males as the default. But recent calls for more representation — through campaigns like #OscarsSoWhite and beyond — have begun to bear fruit: Black Panther continues to break box-office records, proving that an all Black cast can be warmly accepted by the moviegoing public, while the success of TV shows like black-ish and its spinoff grown-ish have shown that audiences are interested in a diverse array of stories. But despite all the steps forward Hollywood has made, there are still plenty of times someone makes a decision that takes the industry a couple steps back. And grown-ish star Francia Raisa keeps it pretty real when it comes to how Hollywood's diversity struggles have affected her career.
Sitting in Bustle's New York offices, the actor, who is of Mexican and Honduran descent, explains how the hurdles she's faced in her career thanks to her race and gender often felt like facts of life. "Casting directors use a program called Breakdown Services when they're looking for actors where they name the project, the producers, and the director, and the character descriptions for each character. And at the end of it, it always says, 'Latina. Black. Caucasian'," Raisa says. "Growing up, those listings were so specific that even if a role sounded perfect for you, if it said 'white,' you couldn't go in." And while a kind casting director could sometimes make an exception, it usually wouldn't amount to much: "Then you're sitting in a room with a bunch of blondes," Raisa points out.
But now, according to Raisa, many roles are "open ethnicity," which gives more women of color like her the opportunity to audition for parts that allow them to really flex their creative muscles. Of course, it's still not a perfect system, but it's an important step forward. "Sometimes I read the scripts and go, 'Well, this is clearly written for a white girl,'" Raisa says, "but regardless, I'm getting an opportunity to be in the room, and I'm celebrating that."
And Latinx actors sorely need these opportunities. Despite comprising nearly 18 percent of the U.S. population, Latinx people had only three percent of speaking roles in 2016's top 100 films, according to a University of Southern California study. And things weren't much better on the TV side — a report from The Opportunity Agenda found that of 40 popular broadcast, cable, and streaming shows on air between April 2014 and June 2016, the Latinx community was only represented in six percent of them; about half of those roles were as characters shown engaging in criminal activity, according to The Hollywood Reporter.
It's a problem that was glaring enough that after this year's Oscar nominations, which were widely lauded for their diverse slate of candidates, the National Hispanic Media Coalition slammed the Academy's "institutionalized racism" against Latinx people and protested the awards, popularizing the #LatinosLeftOut hashtag to point out the erasure of their identities on screen (if you needed more evidence of this, just know that despite the recent success of the Oscar-winning animated film Coco, a Latinx actor hasn't won an Oscar since 2009, when Penelope Cruz took the Best Supporting Actress trophy for Vicky Cristina Barcelona).
So clearly, there's a lot of work still left to do in terms of Latinx representation in Hollywood. Which is why Raisa was thrilled to get the opportunity to play Zoey's Cuban-American, Republican roommate Ana Torres on Freeform's grown-ish, the black-ish spinoff following the Johnsons' eldest daughter Zoey (Yara Shahidi) as she navigates college life. Following in the footsteps of its groundbreaking older sibling, the show, which was recently renewed for a second season, has garnered critical praise for tackling issues affecting young adults — from sexuality and drug use to the plight of being a student-athlete and dating while black — with humor and wit. And though the 29-year-old Raisa was initially concerned about playing an 18-year-old, ("I was very insecure about going out for roles that were younger... I've heard, 'You're too old' since I was 24," she adds) she ultimately decided it was too good an opportunity to pass up.
Ben Ritter/Bustle
Ben Ritter/Bustle
Raisa acknowledges that playing Ana isn't perfect representation — she's Latinx, but not Cuban herself — so she diligently immersed herself in Cuban culture and heavily researched the Republican Party for the role. Ultimately, though, she realized that Ana is more than just the sum of her ethnicity and political party. She's just your average girl leaving her hometown for the first time and heading to college, and her specific set of beliefs happen to inform the very relatable experiences she has at Cal U.
"Like Ana, I grew up Catholic in a very conservative home. My dad did not let me do a damn thing. I couldn't even go to a birthday party," Raisa says. "Weekends I was at home, or I could go to the movies with family, but never out with friends. He was so strict and Ana has had that same experience herself," Raisa says of how she relates to her character. Ana is known for being the occasionally naive yet sweet voice of reason grown-ish, but in Season 2 Raisa is hoping the buttoned-up Ana finally loosens up and tries more new things.
And after getting her start on teen-centric projects like The Secret Life of the American Teenager and Bring It On: All or Nothing, Raisa herself is already eager to do just that. A black belt in Kenpo karate and a WWE fanatic, Raisa dreams of combining her desire for further representation in Hollywood with her martial arts skills, perhaps by playing "a badass Latina assassin." The fact that there has yet to be a movie made that centers on an explicitly Latinx superhero (while there have been a few Latinx superheroes and supervillains on screen, the Latinx community has yet to have its Black Panther moment despite there being plenty of Latinx comic-book characters to choose from) only makes this feel like an even more natural fit.
"Productions are still asking for Mexican accents, and I'm like, 'Well, this is my Mexican accent.' Not all of us have broken English."
"A few years ago, a fan tagged me in a post that said, 'Dream role for Francia, would be for me to see her as White Tiger [A.K.A. Angela del Toro] in a Marvel movie' and I was sold," Raisa says, immediately putting her hands on her hips in a superhero stance. "My dream is to do an action movie one day, and I would be honored if I could even just to read for that part."
But while waiting for her big superhero role to manifest, Raisa refuses to wait idly and is committed to changing the landscape for Latinx people in Hollywood. "There are things that still need to change, stereotypes that still exist," she says. "Productions are still asking for Mexican accents, and I'm like, 'Well, this is my Mexican accent.' Not all of us have broken English."
To combat these stereotypes, Raisa wants to direct and produce the stories she and other women of color want to see. First up on her list is a project that will shed light on an often overlooked group during the civil rights movement. "Back in the day, when there were black and white bathrooms, or black and white fountains, where did the Hispanics go?" Raisa asks rhetorically. Though she won't offer any further details on her idea, it's easy to see why the forgotten history of Mexican-Americans during the civil rights movement would pique her interest. After all, most people haven't even heard of Mendez v. Westminster, a landmark case that ruled in 1947 that the forced segregation of Mexican-Americans into "Mexican" schools in California was unconstitutional. Stories from this time period are powerful, and Raisa wants to share similar ones with the world.
"I don't want to wait around to see if things change in the industry. I want to make things happen with my own hands," Raisa says. "And Eva Longoria, Gina Rodriguez, America Ferrera, and the rest of the women in the #FiercelyLatina movement have made me feel like, 'OK, you can do it.'"
It's clear that Raisa would prefer to be inspired by the difference that she can make rather than wallow in anger over what still needs to change in Hollywood. She's similarly optimistic when we discuss the ultimate act of kindness that recently thrust her into the spotlight: her 2017 kidney donation to best friend Selena Gomez, who has lupus. It might be frustrating to be more known for giving a kidney to a global superstar than for one's own acting work, but Raisa insists the surge in media attention hasn't bothered her. In fact, she says the experience has only made her more grateful for life.
"It doesn't bother me, honestly, because I know what I'm bringing to the table, and I know that I'm working my ass off," she says. "And yeah, it put my name out there, and people got to know me more, but to us, it's just like a normal friendship." If anything, Raisa says, she doesn't want Selena to feel forever indebted to her. "'I still want to call [Selena] and be like, 'How come I wasn't invited to this?'" she jokes.
Going through something as painstaking as donating a kidney and spending months recovering can make everyday troubles seem trivial, and Raisa says the process gave her a new view of life — she compares it to how losing a loved one can force someone to realize that life is short. "My perspective changed a lot," Raisa says of how she looks at life post-kidney donation. "Listen, I'm very grateful to be in the position that I'm in. I have my dreams and I want more, and I want more. But in the interim, I've learned to just be content and happy with what I've got." And there's no doubting that Raisa will surely have even more soon.
Hair by Angela Calisti for Oribe at Dew Beauty Agency
Makeup by Gilbert Soliz for the Only Agency using Marc Jacobs Beauty