These 'Will & Grace' Reboot Photos Will Give Leo Fans Hope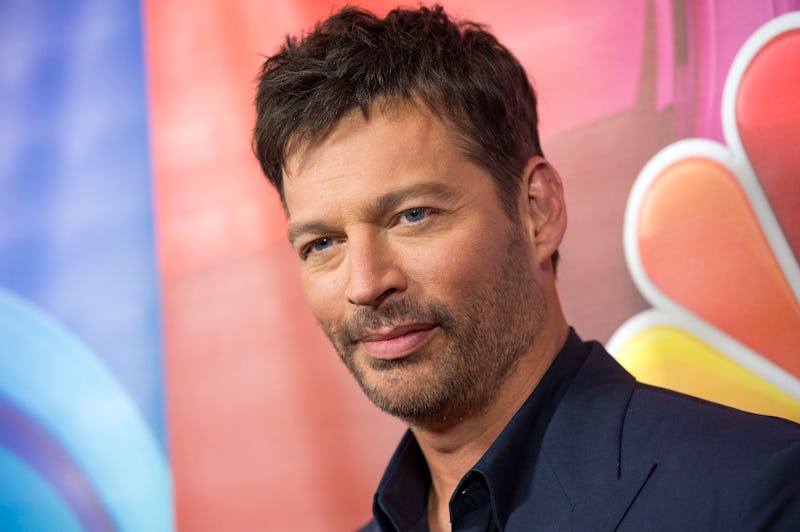 VALERIE MACON/AFP/Getty Images
Take heart, Leo and Grace fans, Harry Connick Jr. will appear in the Will & Grace reboot, and there are pictures to prove it. Debra Messing and Megan Mullally shared selfies from the set with the guest star, and both of the actors seemed ecstatic to have him back — even if it's just for one or two episodes. As you may have heard, the reboot will be ignoring the finale which saw Leo and Grace moving to Rome with their daughter. In fact, neither Will or Grace's children will exist in the new season.
While it makes sense for the writers to push the reset button to keep Will and Grace under the same roof, seeing Leo written out of the Grace's life was a bummer. At least now fans know for sure that they will be treated to some Connick Jr. goodness in the new season. Even though his happy ending with Grace is no longer part of the story, seeing Leo again will add a whole new layer of awesome to the reboot.
Connick Jr.'s character definitely made his share of missteps during his time on the show, but outside of Will, no other man has ever meant more to Grace. It wouldn't feel right for their romance not to be addressed, especially given the alternate reality of the original finale. Messing seems to agree — at least about having Connick Jr. back. She wrote on Instagram,
"Time to swooooooonnnnn. Yup! He's backkkkkkkkkkkk. That southern gentleman that stole all of our hearts- @harryconnickjr . There will never be another Leo."
She's not wrong, guys. Time has clearly been kind to Leo.
Mullally shared a similar sentiment on her own Instagram page. She wrote,
"this one. SUCH A GREAT GUY. so fun to be around. we love you @harryconnickjr welcome back!"
There's currently no confirmation of exactly how many episodes Connick Jr. will guest star in, but even it it's just the one, his appearance could offer Grace and Leo fans a glimmer of hope. Maybe there's a way for these two to find their way back to each other without sacrificing Grace and Will's friendship.
And hey, even if Grace and Leo are officially over, there's no such thing as too much Connick Jr. If you need proof, then just take a look at him playing the Will & Grace theme song with Sean Hayes.
Give in to the nostalgia, Will & Grace fans. There's no point in trying to resist the charms of Connick Jr. — and really, why would anyone want to?