Harry Styles' Friendship With A British DJ Is The Most Adorable Thing You'll See This Week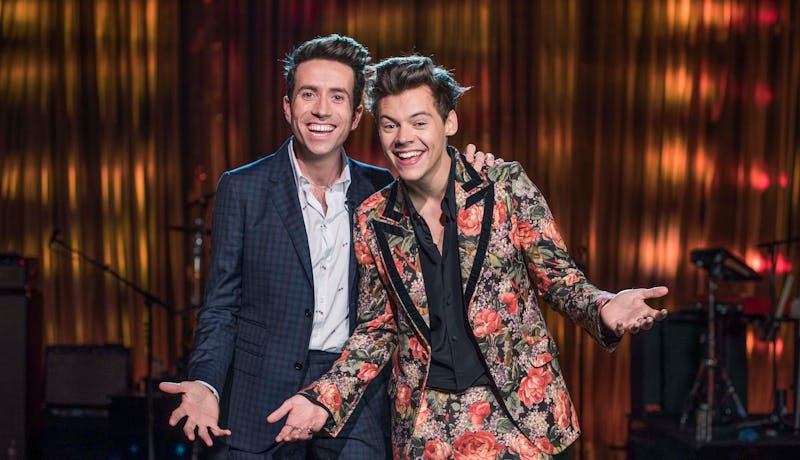 James Stack/BBC America
Harry Styles is coming back to the U.S. on tour in June, but you'll be able to watch him play some tunes sooner than that. British radio DJ Nick Grimshaw hosts Harry Styles At The BBC, airing on BBC America Friday, April 20 at 9 p.m. ET. (The concert special already aired on BBC One in the U.K. in November 2017.) Why is the "Sign Of The Times" singer sitting down with this particular host? Well, Nick Grimshaw and Harry Styles are friends — and the relationship between these British buds is pretty delightful.
As the host of the Radio 1 Breakfast Show for BBC Radio 1, Grimshaw gets to interact with a lot of A-listers. (Including Styles' bandmates, on occasion.) But his relationship with Styles evolved from professional to personal-and-professional relatively quickly. Styles became famous when One Direction competed during Season 7 of The X Factor in 2010. (Grimshaw himself became a judge of the reality competition show for Season 12 in 2015.) And by 2011, Styles and Grimshaw were flaunting their friendship over social media for all the world to see — like when Styles tweeted that he was supposed to be going to Grimshaw's house for Christmas that year.
Their friendship caused such a stir that some people even thought they were romantically entangled. But in September 2013, British GQ asked Styles directly about the dating rumors. Styles said, "We're not dating, no. We're just friends." In a 2017 interview with The Sun, the artist said that he "never felt the need to" clarify his sexuality publicly. (Grimshaw is gay and told Radio Times in 2015, "I never felt as an adult that I even had to come out.")
If you've ever listened to one of Styles' appearances on the Radio 1 Breakfast Show, then you know all about this pair's familiar banter. And fortunately, Harry Styles Live At The BBC features not just an interview and several performances, but also a couple of segments with Harry and Grimmy just hanging out. So to prepare yourself to see Styles and Grimshaw's bromance in full force during this intimate concert special, here are some of the highlights of their friendship over the years.