Harvey Weinstein's Wife Announces She's Leaving Him & Calls His Actions "Unforgivable"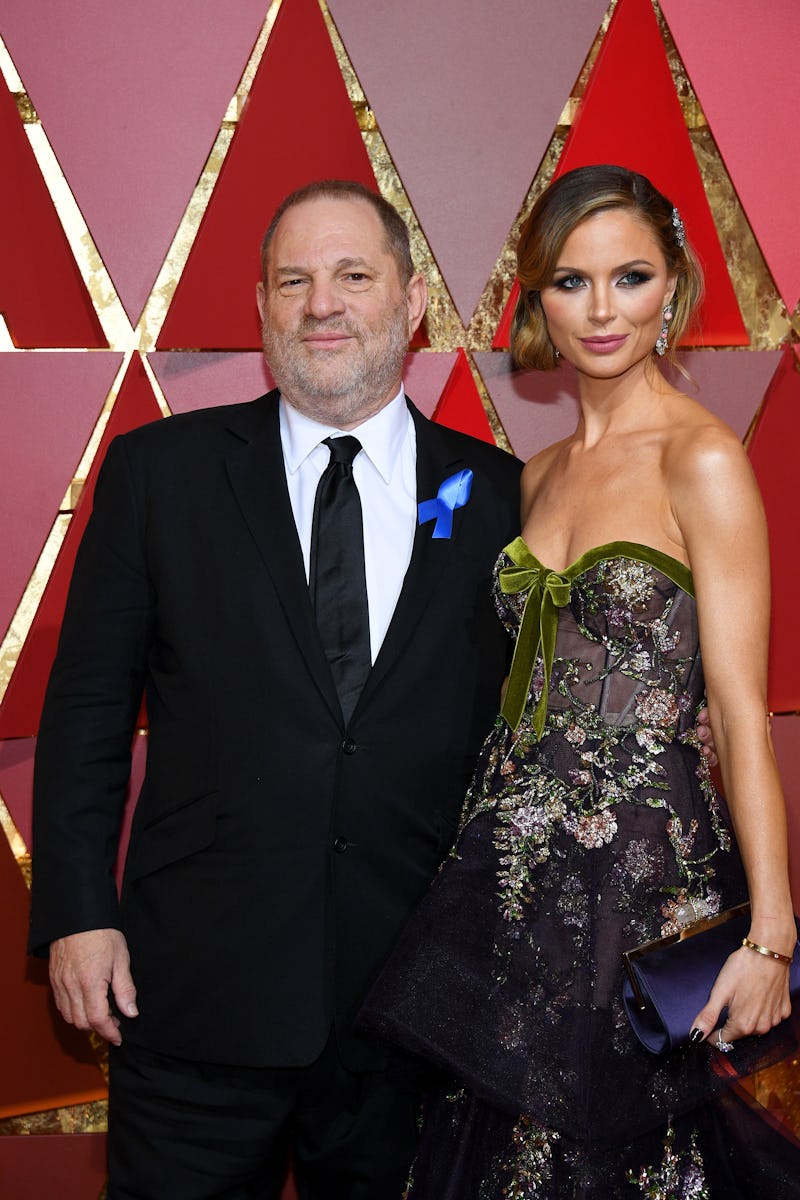 Kevork Djansezian/Getty Images Entertainment/Getty Images
The latest response to the Harvey Weinstein allegations comes directly from his wife. According to People, Weinstein's wife Georgina Chapman is leaving him, following a string of accusations against the movie producer. On Tuesday, Oct. 10, Chapman released the following statement to People,
"My heart breaks for all the women who have suffered tremendous pain because of these unforgivable actions. I have chosen to leave my husband. Caring for my young children is my first priority and I ask the media for privacy at this time."
According to E! News, Weinstein and Chapman have been married since 2007. The pair has two children together, India Pearl, 7, and Dashiell Max Robert, 4, People reported. He has five children in total.
This news comes on the same day that The New Yorker published an exposé by journalist Ronan Farrow, where 13 women shared their experiences with Weinstein, including alleged rape and sexual harassment. Meanwhile, The New York Times published an additional report with harassment allegations from Angelina Jolie, Gwyneth Paltrow, and other women. A spokesperson for Weinstein told both publications, "Any allegations of non-consensual sex are unequivocally denied by Mr. Weinstein. Mr. Weinstein has further confirmed that there were never any acts of retaliation against any women for refusing his advances."
Last week, when the New York Times published their initial report, uncovering decades' worth of allegations against the movie producer, Weinstein claimed his wife was standing by his side. He told Page Six,
"She stands 100 percent behind me. Georgina and I have talked about this at length. We went out with Lisa Bloom last night when we knew the article was coming out. Georgina will be with Lisa and others kicking my ass to be a better human being and to apologize to people for my bad behavior, to say I'm sorry, and to absolutely mean it."
Bloom has since resigned as Weinstein's legal advisor. However, the day the Times story broke, she released a statement to Bustle that read, in part, "Harvey Weinstein and I have had many wide ranging conversations over the last year about rumors and allegations against him. He denies many of the accusations as patently false." His attorney, Charles Harder, announced plans to sue the Times, claiming that their story was "saturated with false and defamatory statements," according to The Hollywood Reporter.
On Sunday, Weinstein was fired from The Weinstein Company, "in light of new information about misconduct by Harvey Weinstein that has emerged in the past few days," according to a statement to THR.
Since the news first broke, several celebrities have spoken out against Weinstein and showed support for the alleged victims. Big-name stars ranging from Meryl Streep to Jennifer Lawrence to George Clooney have given statements, voicing their disappointment. Meanwhile, Lena Dunham wrote an op-ed encouraging more men to come forward in support of these women. Similarly, Rose McGowan tweeted for more male allies to step forward, as well as calling for the entire board of The Weinstein Company to be dissolved, even sharing a petition.
McGowan is one of several actors mentioned in the initial report, published by the Times last week. She reportedly received a $100,000 settlement following an alleged incident in a hotel room with Weinstein at the Sundance Film Festival in the '90s; however, she declined to comment for the Times report. (According to a legal doc obtained by the Times, this settlement was "not to be construed as an admission," but instead a way to "avoid litigation and buy peace.") At least eight women reportedly received settlements following alleged harassment and unwanted touching from Weinstein, the Times reported. According to the Times, Weinstein and his reps declined to comment on these settlements, including who paid for them.
As for Weinstein himself, TMZ is reporting the producer is going to rehab for sex addiction in Europe. He has yet to comment on the situation himself, but his wife's statement is surely not the last that will pop up in the coming days.
If you or someone you know has been sexually assaulted, call the National Sexual Assault Telephone Hotline at 800-656-HOPE (4673) or visit online.rainn.org.