This Red-State Democrat Just Announced Her Kavanaugh Vote With A Message For Survivors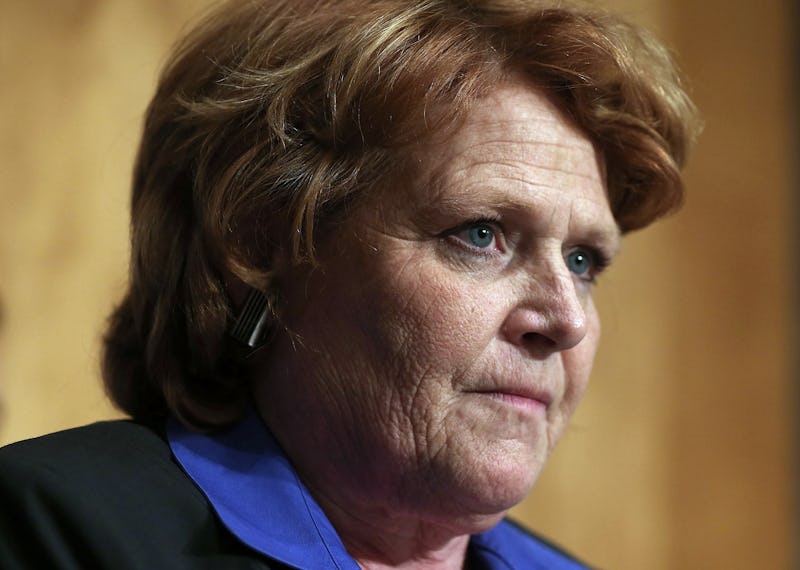 Alex Wong/Getty Images News/Getty Images
As the Senate prepares for an impending vote on Brett Kavanaugh's confirmation, five senators' votes will make a crucial difference. The Republican senators who were previously undecided on Kavanaugh appear to be leaning toward a "yes" vote as of Thursday, but a red-state Democrat, Heidi Heitkamp, announced that she would vote against Kavanaugh.
In a statement issued on Thursday afternoon, the senator from North Dakota announced that she would not vote to confirm Kavanaugh because she has spent much of her career combating domestic violence and abuse.
"Our actions right now are a poignant signal to young girls and women across our country," Heitkamp said. "I will continue to stand up for them."
Heitkamp also specifically addressed Christine Blasey Ford's testimony, during which Ford alleged that Kavanaugh had sexually assaulted her at a party when they were both high school students. Kavanaugh has denied Ford's allegation, but Heitkamp described Ford's testimony as "heartfelt, credible, and persuasive" while questioning Kavanaugh's "temperament, honesty, and impartiality."
"[Ford] had nothing to gain and everything to lose by coming forward with her deeply personal statement," Heitkamp said. "When I listened to Dr. Ford testify, I heard the voices of women I have known throughout my life who have similar stories of sexual assault and abuse."
"Survivors should be respected for having the strength to share what happened to them — even if a generation has since passed," Heitkamp added.
According to Vox, Heitkamp was one of just two Democrats who was previously undecided on Kavanaugh's confirmation. Now that Heitkamp has announced her position, West Viriginia Sen. Joe Manchin is the only Democrat who has not made it clear how he will vote. For Heitkamp, who is running for reelection in a state that Donald Trump won back in 2016, the decision was not an easy one, but she felt she needed to do what was right.
"If this were a political decision for me I certainly would be deciding the other way," Heitkamp reportedly told WDAY News. "History will judge you but most importantly you will judge yourself. ... I can't get up in the morning and look at the experience I've had and say yes."
However, as Vox pointed out, Republicans may not even need Democratic votes in order to confirm Kavanaugh; they just need their own senators to vote along party lines. Of the 51 Republicans in the Senate, three have been undecided — Maine Sen. Susan Collins, Arizona Sen. Jeff Flake, and Alaska Sen. Lisa Murkowski.
According to CNN, Collins and Flake both appear to be leaning toward a "yes" vote; Collins praised the FBI investigation as thorough, while Flake suggested that it didn't raise any additional corroboration. Murkowski, meanwhile, has not made it clear how she will vote, though CNN predicts that she will vote the same way as Collins.
According to The Hill, Heitkamp's decision to vote against Kavanaugh marks a shift from her "yes" vote on Neil Gorsuch, Trump's first Supreme Court nominee. Heitkamp addressed this in her statement, saying that she voted in Gorsuch's favor because she "felt his legal ability and temperament qualified him to serve on the Supreme Court."
"Judge Kavanaugh is different," Heitkamp remarked.
Despite backlash from other Democrats, who have condemned the FBI investigation of Kavanaugh as a "sham," Senate Republicans still plan to begin voting on Kavanaugh's confirmation on Friday, and previously undecided Senators are expected to play a critical role in the vote.
Read More About Brett Kavanaugh's Confirmation Process
Here's What Will Happen Next If Kavanaugh Is Confirmed To The Supreme Court
You Can Now Read Kavanaugh's Entire High School Yearbook — And What He Wrote In It
The Video Of Christine Ford's Opening Statement Is Gut-Wrenching
Trump Mocked Christine Blasey Ford In Front Of Thousands Of People
11 Brett Kavanaugh Petitions You Can Sign To Let Senators Know Where You Stand
How To Contact Joe Manchin, Susan Collins, & Other Possible Kavanaugh Swing Voters