Heidi Klum's Halloween Costume Was A Perfect Throwback To One Of Your Favorite Movies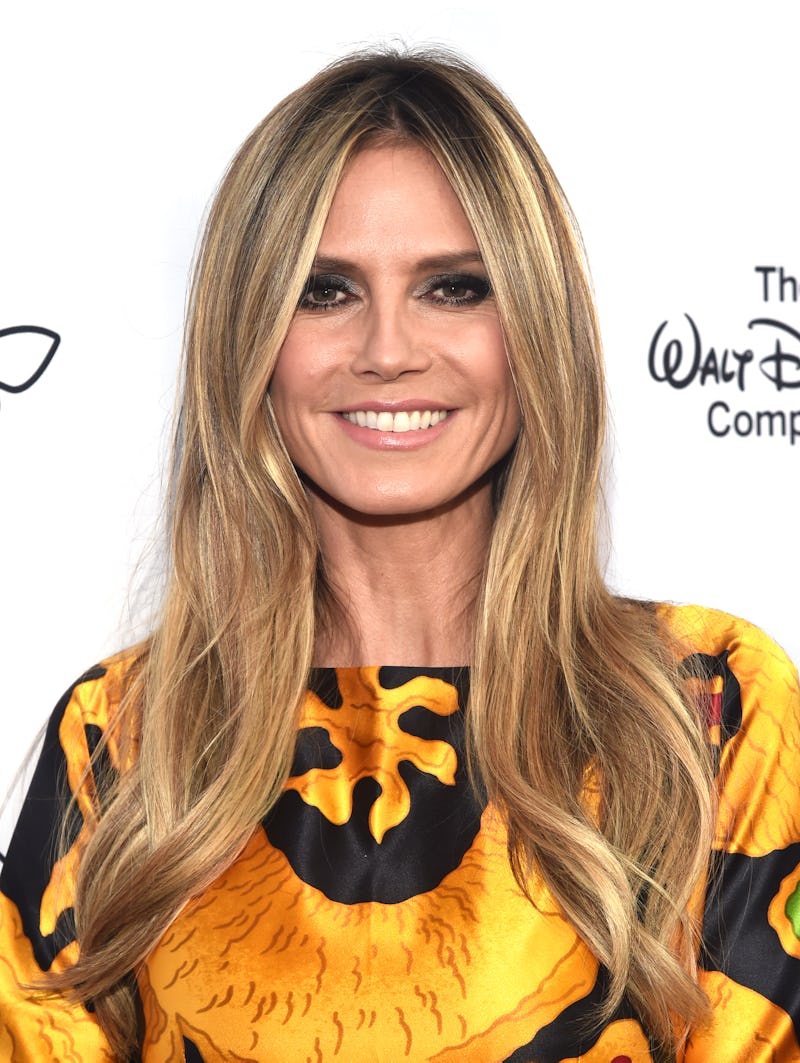 Alberto E. Rodriguez/Getty Images Entertainment/Getty Images
For nearly two decades now, one celebrity has kind of become the unofficial queen of spooky season. Her parties are always off the chain, her costumes always go above-and-beyond, and this year proved no exception. Heidi Klum's 2018 Halloween costume was Princess Fiona from Shrek, as per Entertainment Weekly, and she made the character come to life in an impossibly realistic way.
Seriously, though — who does Halloween better than Klum? The supermodel just stays killing the costume game, and she truly outdid herself this year, in particular. Not only that, but she managed to convince her boyfriend Tom Kaulitz to dress up with her, too. He was the Shrek to her Fiona, obviously.
The couple hosted Klum's 19th annual Halloween party together at Lavo in New York City on Wednesday night, but their costumes made them nearly unrecognizable. OK, actually — their costumes made them totally unrecognizable.
Klum captured much of the transformation process in a few videos she posted on Instagram, and it appears as if getting into character was no small feat. First of all, there were like, layers upon layers upon layers of prosthetics involved. They didn't just put on masks of Shrek and Fiona, they legitimately became Shrek and Fiona. Constructing their faces alone must have taken a considerable chunk of time.
Also, it's worth noting that Klum and Kaulitz's Halloween looks have been in the works for more than a month. They didn't just decide to dress up like these characters on a whim and then call in the special effects calvary the day before the party.
In September, Klum posted a video that showed the beginning stages of creating what we now know would become Fiona's face. She dropped a few more hints about her costume when speaking to People on Oct. 16, telling the publication, "This time it's going to be very cute. It's not gonna be scary; it's going to be very, very cute."
Klum then went on to reveal that the only people who'd get to know what her costume was before Halloween were her boyfriend and her four kids. "My kids know; they always know," she told People. "They always wonder how it's done, and I have fittings and people come over when I have to try different pieces on. So a lot of the times they are a part of the process and they see it happen."
Klum's kids have no doubt seen all kinds of things happen at this point. She's been taking Halloween pretty seriously since before any of her children were even born, and she's really ramped things up in recent years.
Last year, for example, the star looked super spooky as the werewolf from Michael Jackson's music video for "Thriller." In the years prior to that, she's dressed up as Jessica Rabbit from Who Framed Roger Rabbit?, Lady Godiva — complete with a real, live horse, Kali the multi-armed Indian goddess, and Klum's personal favorite, an old lady version of herself.
Think she'll be able to out-do herself yet again in 2019? Only 364 days left to wait and see.