Here Is What Mansplaining Actually Looks Like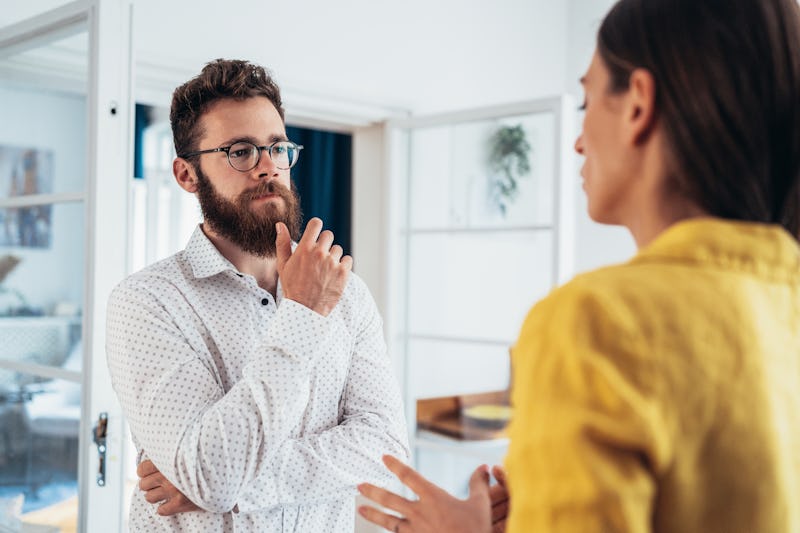 filadendron/E+/Getty Images
Sometimes mansplaining is easy to spot, especially if you follow the trail of sentences that start with "Well, actually…" However, examples of mansplaining aren't always overt; indeed, they have often become so commonplace, we don't think twice about them.
If you need a refresher, mansplaining is when a person (usually a cisgender man) explains something to another person (usually a woman or someone who is non-binary) in a particularly condescending way — typically a topic the person being mansplained to is actually an expert in themself. A "mansplanation" also implies that the person best suited to explain the topic at hand is a man, regardless of subject matter and whether or not the man present is the one most qualified to do the explaining. This is the key difference between a person just explaining something and mansplaining. While a general patronizing tone is a facet of mansplaining, it doesn't necessarily need to be present in order for something to be categorized as such. Like a comment that wasn't "meant to be racist" but was still perceived as racist, impact usurps intention.
Mansplaining is harmful because it insinuates that women and non-binary individuals are less qualified than cisgender men to speak on any given topic. It implies men know best, regardless of subject matter and expertise. It is rooted in the sexist notion that a person's thoughts, opinions, and ability to express those thoughts and opinions are superior and more valid when that person is a man. If you're curious what mansplaining, both overt and coded, looks like in practice, here are seven examples from real life.