Kylie Jenner's Platinum Blonde Met Gala Bob Wasn't Her Idea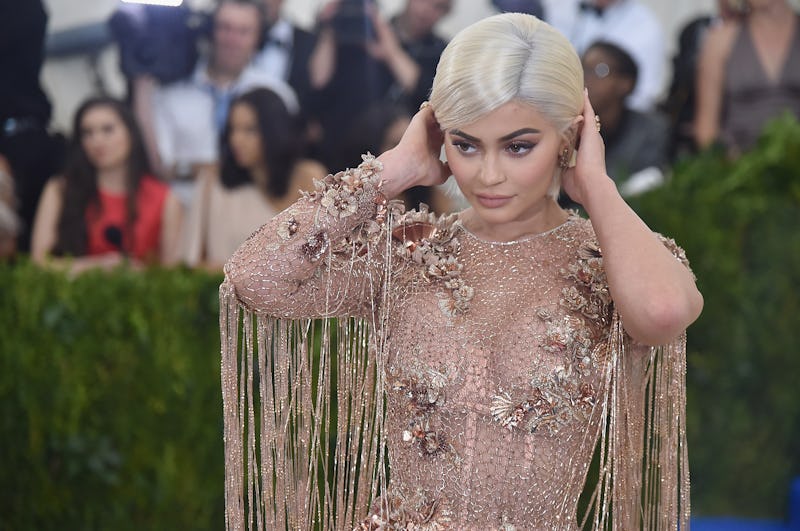 Theo Wargo/Getty Images Entertainment/Getty Images
When designer and fashion doyenne Donatella Versace tells you to do something, you do it. Kylie Jenner rocked a platinum blonde bob at the 2017 Met Gala. Jenner wore a beaded and fringed Versace dress to the event, which marked her second year attending, and it was the teen's take on the nude dress trend.
Jenner slayed that shock of glossy, platinum blonde hair, which was fashioned into a short, tucked-behind-the-ears, deeply side-parted bob. If you are a Kylie Jenner watcher — and really, who isn't?— you'd recall that she opted for a black bob and Balmain at the 2016 Met Gala. Given the makeup mogul's propensity for wearing wigs, one can surmise that Jenner's light locks at this year's Met Gala were an assist from a wig.
Jenner revealed in the caption of a Met Gala post on her Instagram that she went blonde at the Donatella Versace's behest and request, writing "When donatella wants you to go blonde .. you go fucking BLONDE 👩🏼." It was a head-turning hue and it's not the first time Jenner has gone platinum blonde before returning to her usual and familiar dark locks. Jenner is usually the type to do as she pleases with her chameleon coif but she totally took direction from a fashion icon for the Met Ball. Jenner gave credit where it was due.
White hot!
Her follicles were all about that drama.
It was a blunt blonde bob, too.
Her strands were a killer contrast to the blush, see-through, and curve-hugging gown.
Jenner posted this cute and cuddly sissy selfie with Kendall earlier in the day and she rocked black locks. That's why I think it was a wig. That and the fact that going from dark to light requires several processing treatments and lots of time. Last time she legit went blonde, she documented the process in socials, too. None of that happened this week, it seems.
At this year's Coachella, Kris Jenner's youngest spawn went with college textbook highlighter green strands, along with purple dip-dyed ends.
Before I let you go, let's peep Jenner's 2016 Met Gala dress and hair. Bobs are her thing at the Met's annual ball.