Here's Why You Stopped Watching 'Orange Is The New Black,' Even Though It's Better Than Ever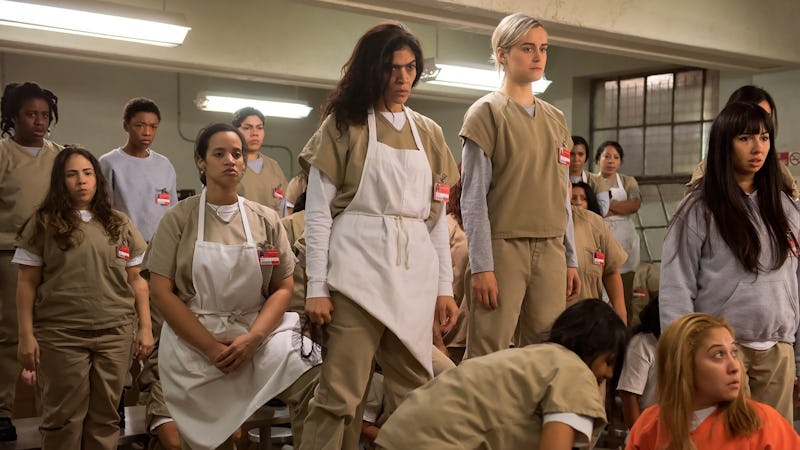 Netflix
On July 27, fans will finally be able to stream Season 6 of Orange is the New Black on Netflix. The 13 new episodes are sharp, funny, and nearly always compelling; the performances of the ensemble cast are all-together stellar. In other words, OITNB's new season, while imperfect, is really damn good. And yet the thing is — you probably don't care. Although Netflix doesn't release its viewership numbers, it feels clear from the response to the Season 6 trailer that excitement over OITNB has waned, and many of those who eagerly tuned in to the show's early seasons don't even have the new episodes on their radar, as they've expressed in tweets. If that sounds like you, don't feel guilty — the reason why you stopped watching OITNB has nothing to do with your TV taste, and all to do with the amount of quality TV there is for us to consume.
Back when OITNB first premiered in 2013, it was only the third Original Series on Netflix — ever. House of Cards and Hemlock Grove had only debuted earlier that year, and Netflix's eventual rebranding as a primary streaming service was still only in its beginning stages. So, when Season 1 of OITNB came out, it made waves. A lot of them. Sprawling, complicated, brutal, and hugely diverse, the show was new territory not just for Netflix, but for TV overall. Within days, it became the show everyone was talking about, earning rave reviews and shooting actors like Taylor Schilling, Danielle Brooks, and Uzo Aduba into stardom.
With that kind of response, it came as no surprise when, a year later, OITNB earned 12 Emmy nominations, winning four. And when Season 2 premiered in 2014, it earned even stronger reviews than the first — and the same amount of hype. The same thing happened with Season 3, out in 2015; even Season 4, out June 17, 2016, was one of the year's most talked about shows, due in large part to the shocking death of Poussey in the finale.
But something changed by the time Season 5 was released a year later. Despite OITNB still widely being considered one of TV's best shows, conversation about the series just... stopped. Sure, some fans were eager to see how Litchfield would deal with Poussey's death in the new episodes, but by and large, people didn't seem to care much about OITNB's return or feel bad if they missed out — a feeling that seems to have only grown over the past few years.
And it's all because of something that's both a blessing and a curse: too much good content. In the four years between OITNB's Season 1 premiere on Netflix and its Season 5 release in 2017, the site went from having three Original Drama or Comedy Series to 30. With acclaimed shows ranging from Stranger Things to The Crown to Making a Murderer, Netflix had become a streaming giant in just a few short years, responsible not just for producing tons of content but producing good content. And it wasn't alone. HBO, Showtime, AMC, Amazon and more followed suit, releasing series like Westworld, Silicon Valley, and Transparent to significant hype and praise. Even on network TV, shows ranging from Jane the Virgin to black-ish earned the praise of critics and the attention of audiences.
And in the midst of all that creation, OITNB got lost in the shuffle. The series was just as good, if not better, than most of the shows that came in its wake, but it didn't matter; there was simply too much new, exciting TV arriving each week for people to care about a show that had already proven its worth several seasons back.
Of course, there are still plenty of people excited about OITNB, and the upcoming season will surely be seen and enjoyed by many viewers. But there's no denying that in the last few years, the prestige TV landscape has gotten even more crowded, pushing OITNB farther into the background. This summer alone, several new shows like Pose, Killing Eve, and American Crime Story: The Assassination of Gianni Versace have commanded audiences' attention — not to mention the highly-praised Season 2 of GLOW, Jenji Kohan's equally large and diverse successor to OITNB.
All of the new shows mentioned are acclaimed for a reason; they're smart, interesting, and worthy additions to the TV world. And many of them, such as Pose and Jane the Virgin, are incredibly important, too, featuring representative casts and touching on topics like LGBTQ+ rights, immigration, sexual assault and much more. But by focusing so much on these new series, we have let older shows like OITNB — ones just as good, necessary, and deserving of our attention — slip to the wayside. It doesn't matter that the Netflix series features heartbreaking storylines about Black Lives Matter or continues to earn Emmy noms for its cast's performances; there's just too much new TV to watch instead, and what's new is, unfortunately, always more exciting than what's old.
OITNB isn't the only show to have suffered from the influx of great new TV. Long-running, high-quality series like The Americans, Queen Sugar, black-ish, and Veep have all seemed to fade into the background of the peak-TV conversation, despite being consistently excellent. Unfortunately, there are just too many great shows out there for viewers to watch and care about.
Yet while the lack of fanfare over OITNB Season 6 (and similar shows) is understandable, it's not deserved. Yes, the series no longer stands out the way it did, nor is it the only major series taking on controversial topics like racism and sex work. But the fact that it's one of a crowd now doesn't make it any less important; if anything, it makes it even more so, because it was at the forefront of that movement.
So when Season 6 premieres in late July, carve out some hours in your schedule between Sharp Objects and Queer Eye to give it a watch. OITNB is too good, even six seasons in, to be forgotten, and we're doing it a disservice by collectively letting that happen.