Stop Everything, Hilary Duff Just Hinted At The Possibility Of A 'Lizzie McGuire' Reboot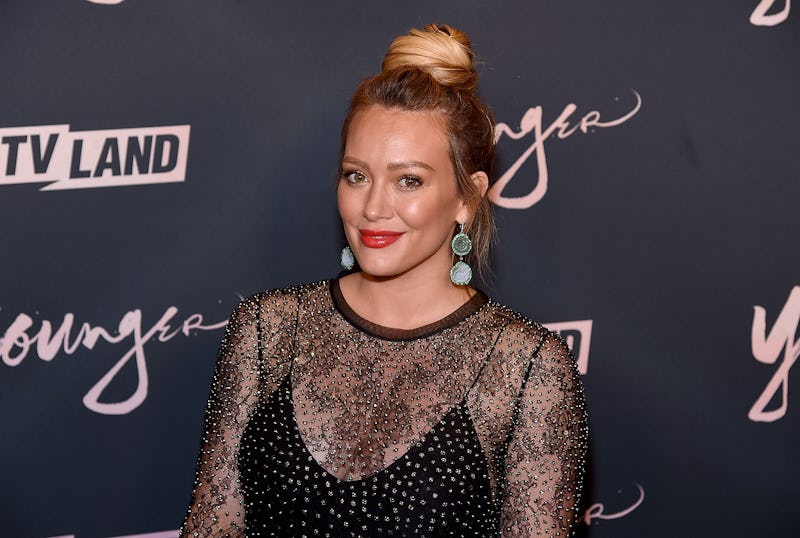 Jamie McCarthy/Getty Images Entertainment/Getty Images
It seems that Hilary Duff is full of surprises these days. On Tuesday, June 12, just days after sharing the announcement that she is currently expecting her second child, Duff revealed her interest in a Lizzie McGuire reboot, sending fans in a complete frenzy on Jun 12 for the second time in less than a week. In a recent sit down with Buzzfeed, Duff answered fan questions about her past along with queries about future endeavors and shared some amazing news that fans of the early 2000s Disney series can certainly get behind. When asked about her thoughts on bringing forth a Lizzie McGuire reboot, Duff explained to Buzzfeed:
"Honestly, the idea sounded terrible two years ago when reboots were happening, but you never know. I don't know. I loved Lizzie McGuire and it might be really fun to see where she is now."
The now 30-year-old entertainer became an instant teen idol in 2001 after landing the titular role on the sitcom which was later spun into a film of the same name. In the years following, she remained a household name, appearing in numerous films, such as; Agent Cody Banks, Cheaper by the Dozen, A Cinderella Story and Cheaper by the Dozen 2. She also became a successful singer, releasing five studio albums over the years.
Responding to a fan question about her early stages in the business, Duff was prompted to relive the moment when she first realized that she was famous. She shared with Buzzfeed:
"Oh, I know the exact moment. Lizzie McGuire aired and that weekend I went to go meet my friends at the mall, and I literally had to hide in a janitor's closet. It was like the craziest thing. I had to call my mom from the closet — like someone who worked at the mall was getting me into a closet and my mom had to pick me up. It was really crazy. It was actually a little scary."
Reflecting on her more memorable episodes of Lizzie McGuire, Duff continued:
"My favorite episode is 'I Want a Bra' ...a bra, a bra, a bra, a bra. First of all, I think filming it was absolutely mortifying for me, because I had probably just gotten a bra in real life anyway. But when I watch it back, I like that it's so funny. All the episodes are kind of like an embarrassing memory book, but none of them really haunt me."
This past May, Duff also celebrated the 15th anniversary of The Lizzie McGuire Movie's release by recounting details of its filming during a sit down with The Hollywood Reporter.
Moved by the time that has passed, Duff exclaimed, "Oh my gosh. Has it been 15 years?" at the start of the video interview.
She continued, speaking about the shoot with THR, saying, "We were in Italy for a portion of it and no one spoke English ... The crew would go and drink wine in the afternoon and then come back to work and no one would finish the work day. So, it was like insane. She added, "it was so different than shooting the show in America."
Reliving the some fun moments, Duff shared, "It was really fun to be on the catwalk and change clothes a bunch of times and be in a bubble dress." She went on to say, "The back of the Vespa was a really important moment for me," recounting what could be considered as one of the film's most recognizable scenes, where Lizzie joy rides on the back of Italian pop star Paolo's vespa."
Now completely grown up and the mother of a 6-year-old son, Duff recently announced her pregnancy with boyfriend Matthew Koma by way of an adorable Instagram post. She shared the big news on Friday, June 8, showing off a photo of her bump while next to Koma. The caption read, "Guess what guys! @MatthewKoma and I made a little princess of our own and we couldn't be more excited!!!!!!"
It sounds as if Hilary Duff has a lot a great things on the horizon for fans to rejoice in. The prospect of a Lizzie McGuire reboot makes things that much more exciting.