Hilary Swank Had A Secret Wedding & The Details Will Make You Want To Plan Your Own Big Day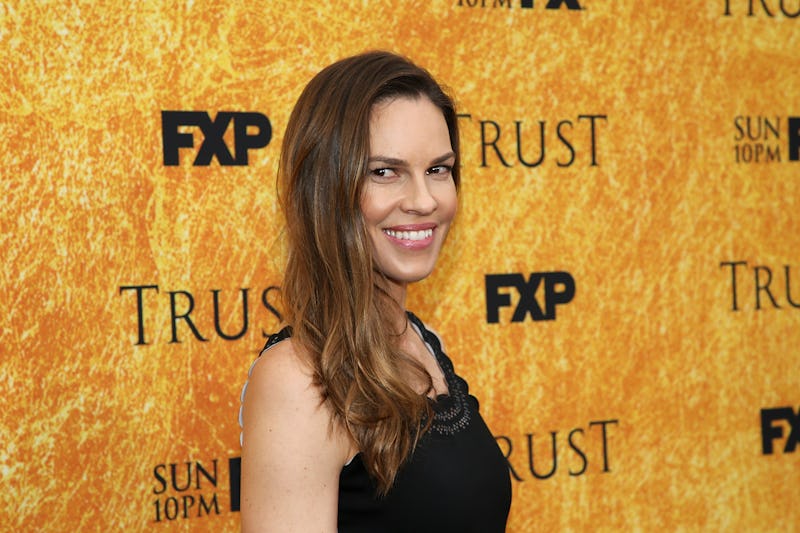 Phillip Faraone/Getty Images Entertainment/Getty Images
Oscar winner and stealth wedding planner Hilary Swank secretly married Philip Schneider over the weekend, Vogue revealed on Tuesday, Aug. 21. You can see photos of the ceremony and the reception at Vogue. The social venture entrepreneur proposed to Swank in 2016, and the two tied the knot at the Santa Lucia Preserve in Carmel, California among the redwood trees. "It's a stunning private community surrounded by 20,000 acres of conservancy and an intimate redwood grove populated with trees that are over 800 years old," Swank told Vogue.
Speaking of stunning, Swank's dress really was something else. According to Vogue, the Trust actor wore an Elie Saab Haute Couture Atelier gown during the ceremony, and then changed into a dress by Maria Grazia Chiuri of Dior for the reception. She wore a pair of Christian Louboutin shoes during the ceremony, and then put on a pair of Christian Louboutin tap shoes for the reception.
Once the wedding guests were finished with dinner and cake, Swank and Schneider channeled Fred Astaire and Ginger Rogers and busted out a tap dance routine to "In My Heart" by Moby. The Million Dollar Baby star told Vogue,
"I doubt we completely pulled off the modern-day version of Fred and Ginger, but we had fun, and our family and friends seemed to enjoy it. We prepared for it with the stellar and unparalleled Chloe Arnold and shocked ourselves and our guests by not stepping on each other's toes!"
And her pair of Louboutin tap shoes weren't the only pair of Louboutin tap shoes at that wedding reception. Swank told Vogue that the designer surprised her with a pair of formal dress shoes and a pair of tap shoes for Schneider. Hey, if you are going to go for a choreographed tap routine at your wedding reception and you are fortunate enough to work with Emmy-nominated choreographer Chloe Arnold and dance in Christian Louboutin tap shoes, then why not work with Emmy-nominated choreographer Chloe Arnold and dance in Christian Louboutin tap shoes? Go big in the redwoods or go home.
Swank and Schneider are now part of the longstanding Hollywood tradition that is throwing an under-the-radar wedding and then sharing the news once the big day is over. Penélope Cruz and Javier Bardem, Ashton Kutcher and Mila Kunis, Cameron Diaz and Benji Madden, Leighton Meester and Adam Brody, and Beyoncé and JAY-Z all opted to take the "let's announce our wedding date after we get hitched" route.
Every piece of this wedding really does sound spectacular, but there is one detail that may take the (wedding) cake: Olivia flippin' Benson was there. Mariska Hargitay was the maid of honor in Swank's wedding, because of course she was. Hargitay is Swank's best friend and has been her best friend for a long time, so uh, you really don't have to be a detective to piece this one together. Hooray for friendship.
Hooray for wildly fancy tap shoes, hooray for redwood trees, hooray for Hargitay, and, of course, hooray for Swank and Schneider.