The Political Climate May Have Actually Benefited Our Dating Lives In A Major Way This Year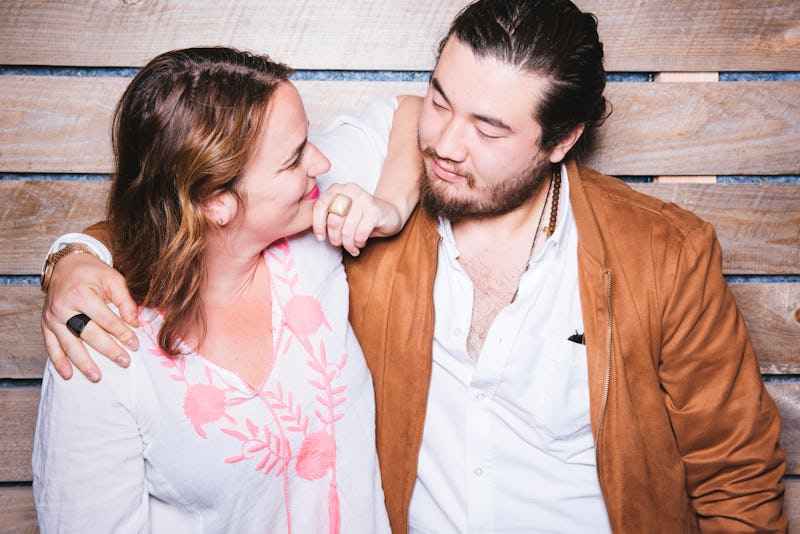 BDG Media, Inc.
I'm sure I'm not the only person who feels like 2017 has dragged on forever — all year long, there's been one piece of bad news after the other, and dang, was it exhausting. Between natural disasters and shootings and all the terrible decisions the Trump administration has been making, it's hard to believe that there could be any news capable of even slightly redeeming this garbage year. But as 2017 mercifully draws to a close, I finally have some good news to report — at least where our love lives are concerned, that is. Believe it or not, dating has changed for the better during 2017 and it might actually be thanks (in part) to our political climate.
As part of their annual Year in Review, dating site OkCupid analyzed data from more than 20 million user profiles and compared it to last year's data to see how things have changed (or stayed the same) when it comes to our love lives. One of the most compelling data points is just how much daters talked politics this year: compared to 2016, mentions of politics increased by a whopping 26 percent — which is really saying something when you consider what a hot topic politics were during the run-up to and aftermath of the election last year.
"In 2017 we saw the biggest increase in the intersection of politics and dating — both within the OkCupid ecosystem and beyond," Melissa Hobley, CMO of OkCupid, tells Bustle. "Politics went from being a 'dealbreaker' to a 'dealmaker' — with daters saying that their own personal views and those of their potential dates mattered more than ever before."
How Politics And Dating Go Hand-In-Hand
If you're familiar with any old-school dating etiquette, you'll know that there are certain topics that are supposed to be taboo on dates — and politics almost always tops the list. But as things stand right now, that advice couldn't be more outdated: talking politics has become common, and even mandatory, for many daters.
"While a potential date's ideology might have been an afterthought in years past, in the current climate, it has taken on extreme importance among many people."
"We live in increasingly polarized times," Jonathan Bennett, Dating/Relationship Expert and Owner of The Popular Man, tells Bustle. "It makes sense that this polarization would also carry over to relationships. While a potential date's ideology might have been an afterthought in years past, in the current climate, it has taken on extreme importance among many people. This would undoubtedly lead to fewer random hookups and casual dates and result in seeking out more like-minded people for a deeper connection." Although there's nothing at all wrong with having or desiring casual sex and dates, the one silver lining in this frustrating and downright frightening current political climate is that, for those of us seeking deeper, long-term connections, it's helping us make progress in figuring out what we want.
We're now having difficult but necessary conversations, and being forced to think about what really matters to us, both as individuals and in our relationships. And here's the good news that will (hopefully) brighten the end of your year: according to data from OkCupid, what daters want is heartwarming AF.
Compared to 2016, mentions of the word "love" in users' profiles increased by 13 percent, and several other romantic buzzwords also saw more use: "devotion" increased by 13 percent, "passion" by 22 percent, and "meaningful relationship" by 25 percent. But perhaps most importantly, "respect" increased in mentions by 19 percent this year —  which is a very reassuring sign that things are, slowly but surely, moving in the right direction.
Why Daters Craved Deeper Connections In 2017
Assuming that OkCupid users aren't alone in their increased desire to find love and make real connections this year, it's extremely encouraging to hear that daters are being upfront about wanting a partner, in spite of (or perhaps because of) the tumultuous time we're living in. But why is it that such a bad year might bring people closer together and influence them to seek out a more meaningful relationship?
"Many individuals want to find committed, serious relationships where they can navigate an uncertain life together," Bennett says. "I'm convinced this atmosphere has led many men and women to engage in serious soul searching about their core relationship values versus superficial dating preferences. And, many people have decided that they want their relationships to reflect their core values. So, viewpoints and behaviors that previously might have been tolerated have now become dealbreakers."
Now more than ever, we're looking for partners who share our core values, and our political views have inevitably become some of our biggest dealbreakers and dealmakers. So even though you can't directly credit President Trump with helping us all to seek and form deeper, more meaningful connections in 2017, I think it's worth it to at least say a small thank you for being so awful that we all feel compelled to find someone to lean on in order to make it through his time in office — because if there's one thing we need more of these days, it's love.