Ariana Grande & Pete Davidson Met At Work Like A Couple Of Normal People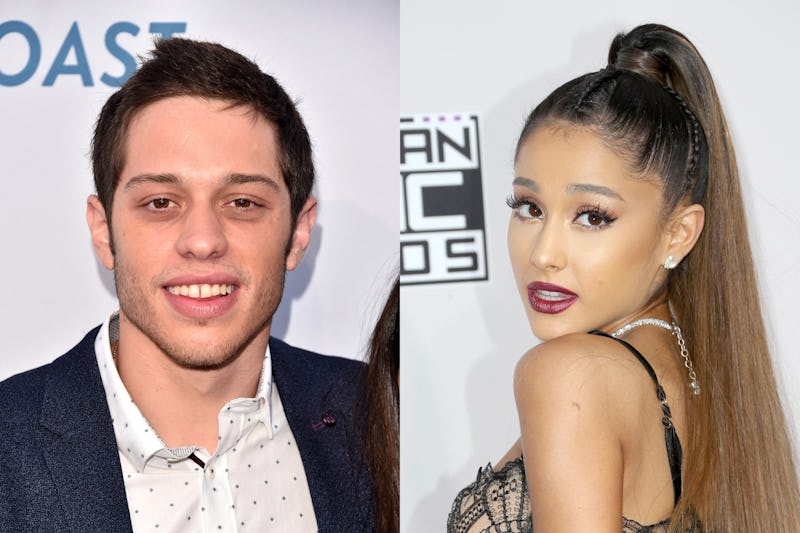 Alberto E. Rodriguez/Getty Images Entertainment/Getty Images; Frederick M. Brown/Getty Images Entertainment/Getty Images
It's summertime, meaning it's time for some summertime bangers and some summer love. Suddenly, Pete Davidson and Ariana Grande are very much dating, driving the point home with a very lovey-dovey Instagram post announcing they're officially together. They've only been together for a short time, as they both just got out of relationships. No judgment! They already seem super infatuated with each other, so how did Grande and Davidson meet? These two lovebirds have known each other for a few years by now, even though their relationship seems kinda out of nowhere.
Grande and Davidson, both 24, most likely first met back in 2016 on the set of Saturday Night Live. Grande was doing the rare host-musical guest combo, and Davidson actually joined her on-stage towards the end of her monologue and asked, "Do you want to smoke some pot or something?" Apparently those magic words planted the seeds of love. SNL is also where Davidson met his recent ex-girlfriend, Cazzie David, when her dad Larry David hosted the show in 2016, according to The Cut. (Colin Jost and Scarlett Johanson got together after meeting at Studio 8H, too, so love must really be in the air.)
Grande and Davidson were dancing around coming out with the fact that they were officially together, because even when there were just rumors that they were dating, they both got flak from fans. Reports that Grande and her now ex-boyfriend Mac Miller broke up came out in early May, and she posted an Instagram story officially announcing that she and Miller did end their relationship, but that there was still love between them. She wrote about Miller in her Instagram story:
I respect and adore him endlessly, and am grateful to have him in my life in any form, at all times, regardless of how our relationship changes or what the universe holds for each of us!
On May 23 Grande shut down a Twitter user who seemed to imply that their break up had something to do with Miller for his getting arrested for an alleged DUI. Grande replied fiercely on Twitter, writing, "shaming / blaming women for a man's inability to keep his sh*t together is a very major problem. Let's please stop doing that."
And on May 24, Davidson posted an Instagram story suggesting that he was dating Grande. He wrote a message that addressed comments from fans saying he shouldn't be with her because of his mental illness (Davidson has been open about having borderline personality disorder). He wrote:
i been hearing a lot of "people with bpd can't be in relationships" talk. i just wanna let you know that's not true. just because someone has a mental illness does not mean they can't be happy and in a relationship.
It's been a bit of a rough start, but they don't seem to mind. They're already wearing Harry Potter costumes together. Grande also posted an Instagram of them all snuggled up with the caption: "thought u into my life 💭 woah ! look at my mind 💡⚡️🙈."
They might even have the same tattoo, as sleuthing fans have noticed it looks like they both have tiny tattoos of clouds on their middle fingers. The clues are everywhere.
Good luck to these two kids! It might not make sense to some, but love doesn't always make sense, you know? But Davidson, beware: If you do anything to hurt her, Ariana Grande's fans will be after you real quick.