The 2017 SAG Awards Will Shake Up The Oscar Race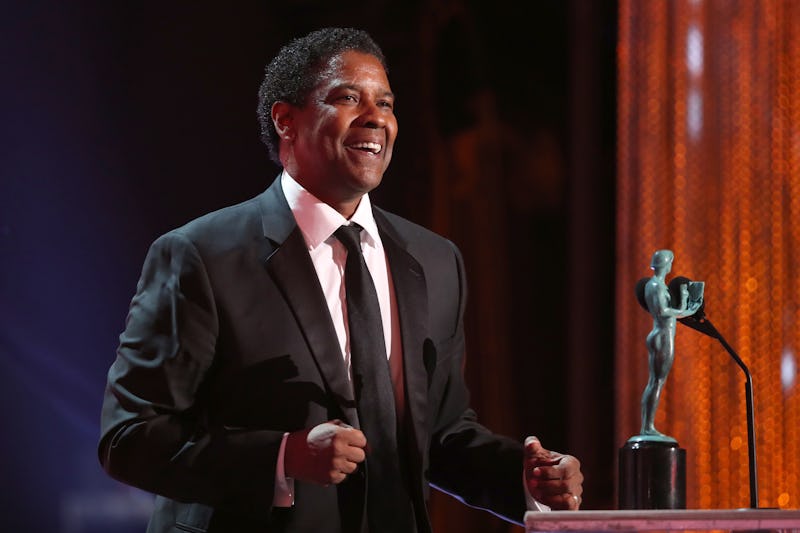 Christopher Polk/Getty Images Entertainment/Getty Images
The road to hell is paved with good intentions… and the road to the Oscars is paved with precursor awards ceremonies like this weekend's 2017 SAG Awards. These precursors — also including the Golden Globes, the BAFTAs, and the various other guilds like the PGA and DGA — ultimately have but a tangential effect on the Oscar winners, since those honorees will be decided only by members of the Academy of Motion Picture Arts and Science. But they are also invaluable in terms of publicity, momentum, and prestige; and so they occasionally have the ability to change the entire landscape of the awards season in one night. So how did the SAG Awards affect the 2017 Oscar race?
Last year, three of SAG's four individual winners went on to repeat with the Academy; the only one who didn't (Beasts Of No Nation's Idris Elba) wasn't even nominated at the Oscars. And in both of the two years before that, SAG went four-for-four in Oscar accuracy. In some ways, the results of Sunday's ceremony made things even more predictable for next month's Academy Awards; in other ways, they shook things up in a major fashion. It all depends on which category you're talking about. So let's look at each trophy handed out at the SAG Awards and dissect what they mean for each winner's Oscar chances.
Best Supporting Actress
This one is pretty much a done deal. For months now, it has been assumed that the How To Get Away With Murder star — who came so close to winning her first Oscar five year ago for The Help before losing out to Meryl Streep in The Iron Lady — would finally take home a little bald man this year for her fierce supporting turn in Fences. So far, she has won the Critics Choice Award, the Golden Globe, and now the SAG Award. Next stop, Oscar; nothing is stopping this train.
Best Supporting Actor
The Moonlight actor became a presumed frontrunner for the Supporting Actor prize when he picked up a raft of critics awards early in the season. But that momentum seemed to hit a snag when Ali shockingly lost the Golden Globe earlier this month to Nocturnal Animals' Aaron Taylor-Johnson. His SAG victory helped get him back on track… but there's still a little wiggle room for vulnerability here. Fortunately, he won't be competing against Taylor-Johnson again at the Oscars (his co-star Michael Shannon was nominated instead); and, ironically enough, Moonlight's waning Best Picture chances (more on that in a moment) could be good for Ali, if voters decide they want to award the acclaimed indie drama in at least one major category.
(It doesn't hurt that Ali was technically a double winner last night, earning an additional trophy for his part in the cast of Best Ensemble winner Hidden Figures.)
Best Actress
Natalie Portman became the favorite in this category pretty much as soon as it was announced that she would be playing JFK's mourning wife in Jackie; after all, Academy voters do love a good biopic. But although she beat La La Land's Emma Stone at the Critics Choice Awards, Portman's quest for her second Oscar has significantly slowed since then. The fact that she and Stone competed in different categories at the Golden Globes (she in Drama, Stone in Musical/Comedy) should have allowed both of them easy victories; but while Stone predictably won for her performance as aspiring actress Mia, Portman suffered a shocking defeat on the Drama side, losing to French actress Isabelle Huppert for the thriller Elle.
Then the Academy made their ambivalence for Jackie clear when they snubbed it in key categories like Picture, Director, and Cinematography; in fact, it only earned three nominations (for Actress, Original Score, and Costume Design), compared to La La Land's record-tying 14 nods. The SAG Awards were the competitors' second direct face-off, and this time Stone was the one who emerged victorious. Portman has one last chance to turn things around at next month's BAFTAs, but it looks like this category is going to the likable ingenue in the movie destined to win Best Picture.
Best Actor
If Stone's win signaled an important if expected shift in the Best Actress race, then Denzel Washington's shocking upset signaled a massive upending of the Best Actor race. So far, Casey Affleck has absolutely dominated the awards season, winning every trophy in sight for his performance as a grieving everyman in Manchester By The Sea. He was widely expected to continue his victory tour at the SAG Awards on his way to claiming his first Oscar… until the Fences star swooped in and stole Affleck's thunder.
For whatever reason — whether because of the fact that Washington had never before won a SAG Award despite two Oscars, or whether due to the sexual harassment allegations against Affleck — this category just turned from a sure-thing into a complete toss-up literally overnight. While logic might dictate that just one loss shouldn't obliterate Affleck's chances at the Academy Awards, this was undeniably a key loss that could have huge ramifications on the Oscars.
Out of all four individual acting categories, Best Actor has the strongest correlation between the SAG Awards and the Oscars; in the ceremony's 22-year history, SAG has only failed to correctly predict the eventual Oscar Best Actor winner four times… and the last time that happened was 13 years ago. Every single year since then, the man who won the SAG Award for Best Actor went on to claim the Oscar a month later. Does that mean Affleck's out of the running? Not necessarily. But now this category looks like it's Washington's to lose, with Affleck the one hoping to pull off an upset — rather than the other way around.
Best Picture
When Hidden Figures won the SAG Award for Best Ensemble, it took everyone in the room by surprise. The award for Outstanding Performance by a Cast in a Motion Picture is often referred to as SAG's equivalent of the Best Picture category, so does this mean that the popular movie starring Taraji P. Henson, Octavia Spencer, and Janelle Monáe is now in the running for the top prize at the Oscars next month?
Not so fast. First of all, the comparison between Best Ensemble and Best Picture is not necessarily a direct one; while the Oscars honor all aspects of a movie in its top category, SAG's Best Ensemble prize is strictly reserved for recognizing the acting of a film. That's why movies with bigger casts tend to fare better in the category. (That's also probably why La La Land wasn't even nominated for the award: because the film doesn't even have an "ensemble," really. Sure, there's a small handful of minor supporting characters surrounding Stone and Ryan Gosling, but can you even remember the name of the singer played by John Legend?)
Secondly, Best Ensemble doesn't exactly have a great track record of predicting Best Picture; the two categories have only lined up 11 times in the 21 years the Best Ensemble award has existed. (Movies that won at SAG but lost at the Oscars include American Hustle, The Help, Inglourious Basterds, and Little Miss Sunshine.)
Finally, Hidden Figures simply doesn't have the support at the Oscars necessary to win Best Picture. Apart from its nomination in that category, it only landed nods in two other fields: Supporting Actress (for Spencer), and Adapted Screenplay. It is missing at least two key nominations for Best Director and Best Film Editing; both are usually seen as prerequisites for winning Best Picture. You can sometimes win without one — Birdman won two years ago without an Editing nod, and Argo won four years ago with no nom for Director — but you absolutely cannot win without both. It has literally never happened in the history of the Oscars. (Some might say the last time a movie pulled it off was 1932's Grand Hotel; but the Film Editing category didn't exist back then, so not even that ancient example really counts.)
Oddly enough, while Hidden Figures' SAG victory is obviously good news for that film, it's even better news for La La Land. It was already on track to win Best Picture, following a record seven Golden Globe wins and a record-tying 14 Oscar nominations, but it has been facing some competition from indie dramas Moonlight and Manchester By The Sea. But if neither of those films could win in a category that didn't even contain La La Land, then neither of them really seem to have enough juice to overtake the movie musical juggernaut before Oscar voting closes in four weeks. (Moonlight garnered one win for Ali, while Manchester went into the ceremony as the most-nominated film of the evening and emerged empty-handed.)
By denying the Best Ensemble prize to either Moonlight or Manchester By The Sea, Hidden Figures should ironically have made La La Land's path to the Oscars even smoother. We'll find out when the Academy Awards are broadcast live on Sunday, Feb. 26.