You're Probably Mispronouncing Kim K's New Baby's Nickname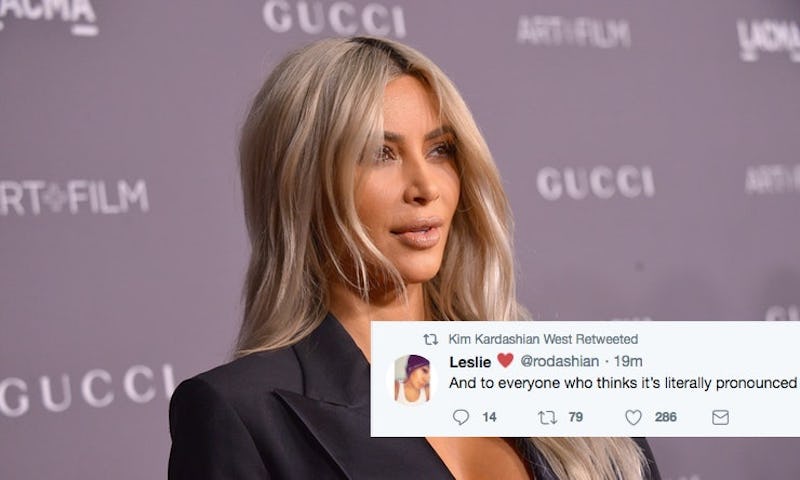 Charley Gallay/Getty Images Entertainment/Getty Images; rodashian/Twitter
They finally revealed the name of their new baby, but there are already more pressing questions from fans. Kanye West and Kim Kardashian's third baby's name is Chicago, but since that's kind of long, of course, the kid already has a nickname. So, how do you pronounce Chi? Keeks is here to explain.
Everyone knows that nicknames are a staple in the Kardashian crew. There's Keeks, KoKo, and even North, whose name is only one syllable yet still goes by Nori. But fans couldn't figure out of Chi's nickname is pronounced "chai" or "shy" or "she." Shortly after the big name announcement was made, Kim luckily retweeted a fan who wrote, "To everyone who think it's literally pronounced as CHI. No. It's 'Shy.'" Kim's expecting sis Khloé even chimed in on Twitter to confirm, writing, "I LOOOOOOOOOOVE her name hey Chi (shy)." Whew, glad that's cleared up.
On Friday, Kim made the name announcement on her site, where she simply wrote Chicago West with her daughter's date and time of birth and weight. The baby's name reveal comes three days after Kim made the sweet birth announcement on her site, revealing her third baby was a girl, and she was born healthy via surrogate.
Although there may be speculation over the name choice, true Kimye fans know where Chicago's name inspiration came from.
Kim didn't mention this in the announcement, but Chicago is Kanye West's hometown and it's a place that's clearly really important to the rapper. He dedicated the song "Homecoming" off his iconic 2007 album Graduation to his hometown — an ode to the city after growing up in the suburban town of Oak Lawn, about 40 minutes outside Chi-Town. Fans are already loving the dedication and Chicago pride.
Overall, though, people seem to be split about the name. Some responded to Kim's tweet with GIFs expressing confusion. On the contrary, one Twitter fan wrote that Kim is the "queen of naming children," because let's face it, she and Kanye have a good thing going here despite any confusion they may have caused now and in the past. (Wonder where Kim got it from, considering Kris Jenner named all her kids with the letter K, excluding Rob, of course.)
But whether they know the meaning behind Chicago West's name or not, a lot of fans are really here for the couple's decision.
And of course, there are fans who are still giving suggestions:
Along with others who are thirsty for even more intel:
Kim has been spilling info little by little, but still, a few remaining questions regarding the Kardashians and their pregnancies linger. Is Khloé going to give her baby an obscure, unique name as well? (Let's not forget Kourtney's kids Mason Dash, Penelope Scotland, and Reign Aston.) Further, will Khloé base her baby's name off of the potential for a fabulous nickname? Honestly, it seems likely.
Also, how will North and Saint deal with their younger sister and her very chic nickname? How will they behave as siblings? In September, Kim told Ellen DeGeneres that although Saint was too young to really know what was going on, 4-year-old North was "really excited" for a sibling. But all that could change when baby Chi starts getting lots of love and attention.
And perhaps the biggest, most burning questions that remain on everyone's mind are: Was Kylie Jenner actually Kim's surrogate, and is Kylie pregnant or not? (Though, by now, the Kylie as Kim's surrogate theory seems to have been proven false. Still, that doesn't mean everyone believes it.) The internet won't stop pressing for more details until it gets some answers.
Or really, until Kylie finally feels like telling everyone what's going on.