Kim Just Shut Down Those Kylie Jenner Surrogate Rumors Once & For All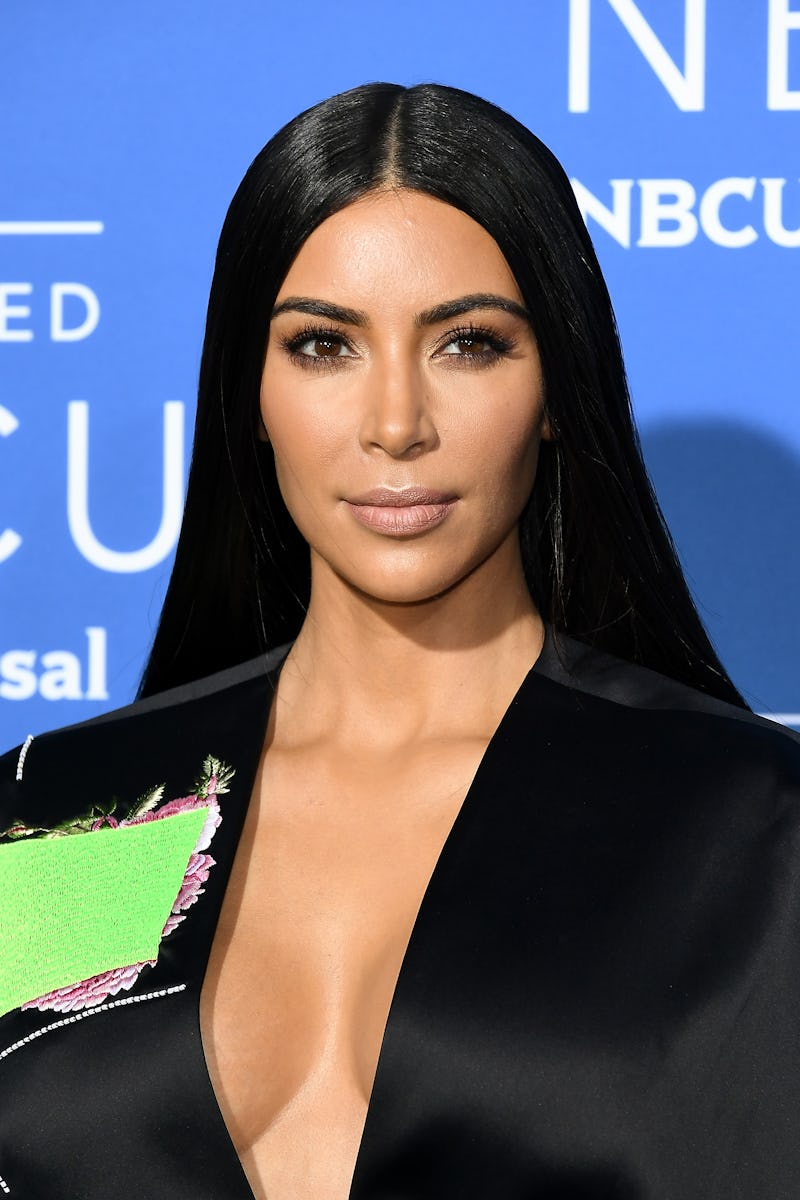 Dia Dipasupil/Getty Images Entertainment/Getty Images
In a post titled "The Truth About My Pregnancy Decision," shared to her website Thursday, Kim Kardashian confirmed she found her surrogate through an agency. "You can either choose someone that you know or you can go through an agency, like Kanye [West] and I did," she writes about the process they chose to select the woman who would carry their third child. Based on this particular quote, it is clear that Kylie Jenner wasn't their surrogate, as some have chosen to believe.
On Jan. 15, Kardashian and West welcomed their third child. They have yet to reveal her name, but as they shared Tuesday, "Kanye and I are happy to announce the arrival of our healthy, beautiful baby girl." Now, in her newest post on her site, Kardashian is taking the time to open up even further about what it was like using a surrogate and also — either accidentally on or purpose — shooting down reports that Jenner was involved at all.
For awhile now, there have been theories circulating that Kardashian's youngest sister acted as their surrogate. When news initially broke in September 2017 that Jenner was reportedly expecting her first child with Travis Scott, most fans just assumed figured she was pregnant with her own child. (At the time of the report, Jenner's rep couldn't be reached for comment.)
However, many started to wonder if she was carrying Kardashian's baby for her. What fueled those rumors even more was when it was rumored on Jan. 12 that Jenner was in labor, around the same time Kimye welcomed their new baby on Monday, Jan. 15. (Jenner's rep did not respond to Bustle's request for comment regarding the labor rumor). TMZ also reported on Jan. 12 that Jenner wasn't in labor and "multiple sources close to Kylie and Travis Scott" said she isn't even due in January (she's reportedly due in March), nor did she go into premature labor.
Even though some might think there is "evidence" that points to Jenner as Kimye's surrogate, well, that really doesn't seem to be the case. In a December 2017 Keeping Up With the Kardashians (executive producer: Kris Jenner) episode, the Selfish author spoke about choosing a surrogate, which, she said, took nearly an entire year.
"You have to, like, make sure that their lifestyle is healthy and they have to go through psychological testing, and it was maybe a year before we finalized our current situation," Kardashian said in the episode. "But I think everything happens for a reason, because the surrogate that I really loved got approved and she is such a nice person, like she's so easy to talk to and she's the perfect fit for us."
The way she talked about her doesn't make it seem like she's related to Kardashian. If it were Jenner, she'd probably have described her differently. She also said in the episode, "I don't want people to find my surrogate. Like I don't want them to harass her. She doesn't know how to handle stuff like that. This isn't her world." Regarding that final statement, well, that is even more proof, because Jenner is very much part of the same "world" as Kardashian.
It definitely seems like they chose the right person, as Kardashian also wrote, "I'm so grateful for modern technology and that this is even possible. It's not for everyone, but I absolutely love my gestational carrier and this was the best experience I've ever had."
The way Kardashian has discussed her surrogate in the past and present it just doesn't seem like Jenner is as obvious of a choice as some fans suspect. When Kardashian tweeted a link to her write-up, she even captioned it, "The truth," which could be her way of silencing conspiracy theorists once and for all.