The Way Kelly Rowland Responded To Serena's U.S. Open Loss Is A Lesson In Female Friendship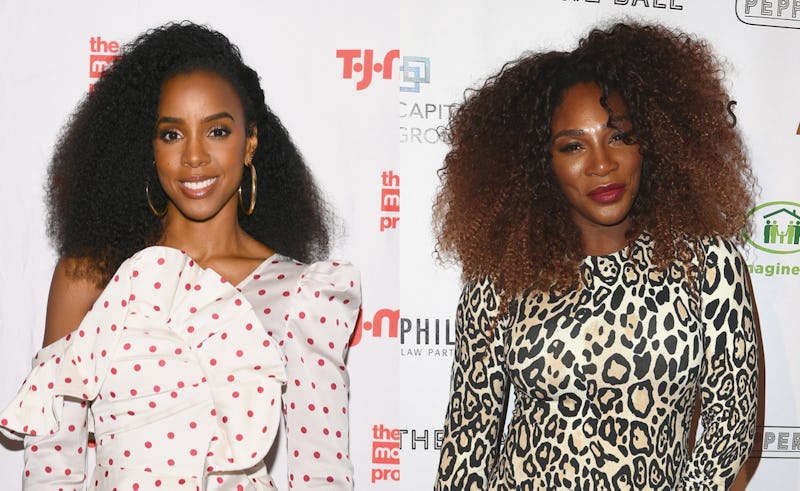 Photo by Dave Kotinsky / Getty Images for T.J.Maxx; Tommaso Boddi/Getty Images Entertainment/Getty Images
Kelly Rowland has always been a proponent of female friendship. She rose to fame in a majorly popular girl group, whose songs like "Independent Women" and "Survivor" became anthems for '90s kids everywhere. And Rowland is still all about women having each other's backs. In a recent interview with Bustle, the Destiny's Child alum emphasizes how female friendships (her self-proclaimed "shecosystem") help get her through the day. Whether that means bonding with Serena Williams over motherhood, or Michelle Williams comforting her over the phone, Rowland gives credit where credit is due.
The 37-year-old is currently focused on encouraging women to embrace their individuality, so they can leave their own mark on the world — just like she and her friends do. "Each woman brings something so unique," Rowland says at an event promoting T.J. Maxx's The Maxx You Project. "There's only one you. The world would be boring if everybody walked around looking the same, sounding the same, dressing the same."
Rowland knows friends can bring out the best, most unique traits in one another and that's why she doesn't hesitate to admit she needs to go on a girls trip, stat. "We come back, we are so recharged. And it's because I was inspired by Lala [Anthony]'s hustle, or I was inspired by something that Serena said," she says, "Or Bey just told me to do something and this was awesome for me."
As for another Destiny's Child member, Rowland says, "I can call Michelle and I can be boo-hoo crying because I'm stressed out, and she knows how to talk me into calming me down. We're just there for each other."
Even though Rowland is friends with some major Hollywood names, she still has pretty simple advice for making friendships work: You have to understand that everybody is busy, but listen to your gut when something's missing.
"When you learn the balance, your heart and your mind start to tell you what you need," she says. "Whether it's more time with your family, or more time with your sweetheart, or more time with your girls."
And knowing when things are off-balance is a testament to intuition — something she's honed, thanks to pal Serena Williams. When asked the biggest lesson she's learned from the tennis champ, Rowland says, "To listen to my instincts. We have great instincts as women."
Not only has she learned from Serena, but she's also supported her in major career moments — no matter how busy they get. In fact, Rowland was actually in the stands when Serena lost the U.S. Open finals against Naomi Osaka. The match sparked attention after Serena accused the umpire of sexism.
Reflecting on the situation now, Rowland recalls, "What I love about Serena is that she stopped for a second and gave Naomi her credit where it was due." She also notes, "When Serena speaks, it's with great passion and respect."
"I've never seen a game like that before where a whole game was taken away," she says, referring to the code violations Serena received. "I think that in some sort of way, she did intimidate [the umpire], and I feel like in order to take his power back that he felt like he lost to a woman, he had to put her in her place."
"That's my view, I could be wrong," Rowland says, as her voice drops, "but I don't think I am."
It's obvious that Rowland cares for her friends in whatever manner they need most. For Serena, that was giving her space. ("We haven't talked about it yet. When she feels like she wants to, she will," Rowland explains.) For her fellow DC member Michelle Williams — who announced she was seeking treatment for mental health reasons in July — that meant asking, "'What do you need from me? I'm here.' Everything dropped at that time, everything was off the calendar."
"She would do the same for me," Rowland says, mentioning that while she'd respectfully rather keep certain details between them, they'll always have each other's back.
At the end of the day, everyone brings something special to the table. Whether that's how much she admires Serena's words of wisdom, or Beyoncé's advice, or Michelle's prayers. "That's why you need different women," she says, before clarifying, "Or I have different women and I love it."
It all comes back to individuality and finding your voice, while also supporting those of the women around you. And if you need a crash-course in doing exactly that, look no further than Rowland, who leads by example.