For This Year's Birthday, Lisa Vanderpump Traded Her Inflatable Swan For Dog Poo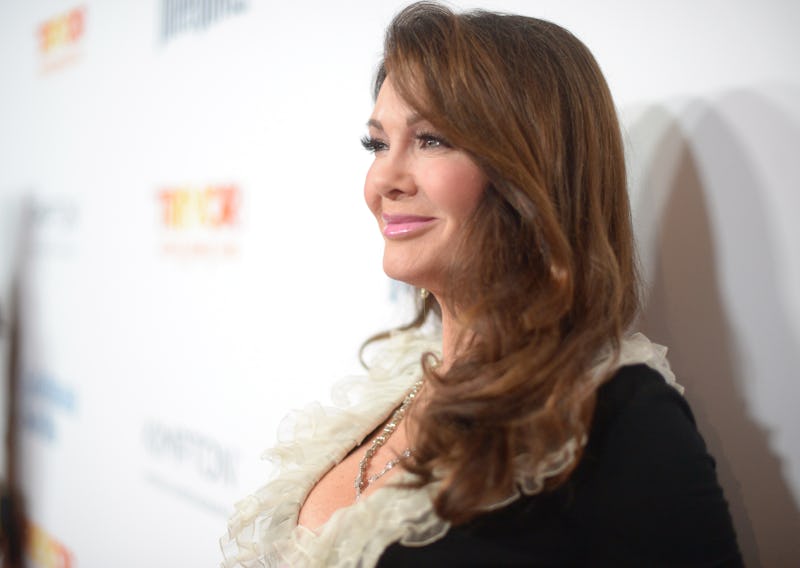 Charley Gallay/Getty Images Entertainment/Getty Images
Raise your glasses high, because it's Lisa Vanderpump's birthday. (Pass up a chance to reference the Vanderpump Rules theme song? Never!) The Real Housewives of Beverly Hills restauranteur kicked off her birthday weekend not with a bottle of rosé, but with a pile of dog poop that was left on the Villa Rosa carpet. OK, she might've had some rosé, too, but she didn't tweet about it. Vanderpump's dog poop story, however, did make its way into the Twitterverse.
At the stroke of midnight on Sept. 15, LVP tweeted, "Uh….oh. Getting older." Her friend (and the person who gave her Schnooky the dog — a detail that could not be more relevant to this story) Loran Morgan tweet-wished her a happy birthday. And at 12:07 a.m., Vanderpump replied, "goodnight and thank for my schnooky. Btw he had diarrhea on my white carpet this morning. Lol."
Wow. Looks like one of LVP's dogs got creative with the birthday gift this year. Forget a simple, easy-to-clean turd. That'd be too uninspired. Instead, Schnooky pulled out all of the stops and got the runs.
Yeah, this gesture might seem discourteous at first; the animal rights activist's beloved dogs were presumably trained to do their business out on the Villa Rosa lawn, so Schnooky likely knows better than to leave a poo on the white rug. But to leave a poo on the white rug on the eve of her birthday is an entirely different story. It's a present that adds a relatable, funny, and surprising element to Vanderpump's day.
LVP's birthday is, traditionally, a most luxurious affair. And dog poop, traditionally, is not luxurious. Some might even call it disgusting. When you hear the words "Lisa," "Vanderpump," and "birthday," you do not picture the elegant reality TV star dealing with a pile of dog poop that materialized in the middle of her all-white living room. The subversion of expectations is what makes Schnooky's gift so brilliant; just when you think you think you understand what a glamorous LVP birthday entails, a dog goes and craps on her floor. Her birthdays are never predictable, that's for sure.
Well played, Schnooks. Giggy, Harrison, Hanky, Panky, Tardon, Diamonds, Rosé, and the rest of the animals that call Villa Rosa home have their work cut out for them. (All jokes aside, hope your stomach is feeling better, Schnooky.)
Last year, the Bravolebrity spent Sept. 15 riding her retired Cavalia horse, drinking tea on the lawn while flanked by Pomeranians, and drinking tea while lounging on an inflatable pink flamingo pool toy. Oh, and she did all of these things while dressed in a jewel-encrusted, hopefully waterproof (and dirt proof and grass stain proof) ball gown. And the year before, her loved ones threw a surprise birthday party for her at PUMP. Beverly Hills Housewives were in attendance, an *NSYNC member was in attendance, Giggy the Pom was in attendance, and a portrait of LVP and Giggy was in attendance. No one does a birthday like Queen Vanderpump, and it looks like this year will keep the tradition alive.
So, what will the ruler of the Sexy Unique Kingdom do this year? How will she celebrate another trip around the sun? What fabulous birthday activities are on the fabulous docket (you know, other than stumbling upon animal droppings)? Well, on Wednesday night, the Beverly Hills Housewife attended a Tiffany concert with her longtime pal Lance Bass. She went and saw a pop music icon perform while sitting next to another pop music icon. Incredible. One more time for good measure: No one does a birthday like Queen Vanderpump.
Sipping tea on an floating swan toy was iconic, but it is so last year. This year is all about Schnooky, Tiffany concerts, hanging out with Bass, and whatever else this wondrous weekend holds.